Just Past Three in the Morning (13)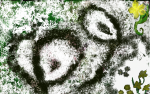 Sun, 08 May 2016
It was itching now. A sign of healing? So that should make him feel better. All it really made him feel was like tearing those three stitches out with his fingers, letting the new blood well up and soothe away that hot, itchy, aggravating sensation. Pigsy felt his hand going up to his head again, and he forced it down with an effort, stuffing it under his thigh to keep himself from tearing that little spot on the back of his head wide open.
Randall laughed.
"Glad you think it's so funny."
"Sorry. Really. Sorry. But you'll see the funny side later."
He could – see it – from an oblique angle, where it might be funny to somebody else. But for him – irritation and self-pity, a touch of self-loathing, and just sore and tired and unsettled: that was the side of things he could see right now. He kept playing the incident over and over in his head, composing fantasies where he'd acted differently, responded faster, more bravely; or just where he'd
seen it coming and been able to avoid it. Stupid things. Pointless.
They'd told him he'd suffered bruising, a mild concussion, a few cuts – all things that would leave no permanent mark except on his mind. Except for this image of himself that he couldn't stop having: this tiny, curled-up victim, this bullied child. Just stand up to them, that's all you have to do. Just stand up to them, and it'll stop. That's what his father had said all those years ago. One act of courage. That's all you need. Is it that hard?
It was. It had been. And he felt like that little boy again, as ashamed as he was frightened. Irritated with himself by how much of his attention it continued to hold.
Randall said: "You need a bodyguard?"
"Why? Do you know one?"
"Hey, I can take on a couple of thugs."
"Because you do that all the time, right?"
"Hard as nails. Quick as a tiger. Fierce as a tige... lion."
That burst of laughter. He'd needed it.
Randall settled himself into the ragged old couch. "I got your back. Seriously."
"My back's okay." Actually it hurt. Much like everything else hurt.
"At least they didn't kill you right?"
"Wow. Er, yeah..." The way that presence behind him had spoken, that snake-tongued voice: Do it. "Actually, I thought for a moment they might."
"For serious?"
Do it. "Just... it was just a second or two."
Randall looked at him with a new expression on his face. If he'd known what to call it would almost be 'tenderness'. Almost. A look that didn't fit his friend, which couldn't quite sit evenly on his face. He said "You're okay, right?"
"Yeah. Sure, yeah."
"Because I nearly died once too if it helps."
"Just once?"
"No, really. I was just a kid, and I cut my foot. It was nothing. It was trivial. But then it got infected. I kept it hidden, I was like six or something and I thought I was going to get into trouble. I mean, you don't, you're a kid, you don't think what could happen. Then the next thing I remember there's pain everywhere, I'm screaming, my foot is just a big ball of pus. I'm in a hospital bed.
"Actually, they say I stopped breathing. They were resuscitating me and everything. The works, dude. Not that I remember any of what went down. But Mum and Dad had the forms signed to cut my leg off. Then, hey, I came right."
"I guess that lends a bit of perspective."
"It was scary enough... when I got older, you know, once it sank in."
Pigsy shook his head. "Your mother..."
"Freaking out. Completely hysterical. Or so I've been told."
"She would have been terrified."
"Well, yeah, she was. Though I was hoping the sympathy surrounding this story was more going to go towards me."
"I like your Mum better."
Randall shrugged. Impossible to offend. Impossible to weigh down for more than a few seconds at a time. "Fair call. She's nicer to you."
"Cooks better. Can change the tyre on a car."
"I can- more or less. I think..."
There was a clattering from outside, just a few falling rubbish tins, but Pigsy jumped all the same. His heart rate took off. His hand moved at his head without his intent. "Damn it, I hate being this jumpy."
"Think of it like reflexes. Sharp as a knife. Hair trigger. Strikes before they see him coming."
I don't do the striking. I do the cowering, and the running away. Because if I could have... without hesitation...
"Look, if you want to put on a cape and tights and go even the score, I'm in."
"I'm not sure if I'd..." No. That face. Those shadowy pieces of a face that were so hard to turn into words, images, composite face sketches – he saw them in his dreams at night, in the dark before he got around to sleeping. He'd know that face. He half-feared running into that face whenever he left his house.
"I'll even let you be the hero, but I want a good sidekick name. Teller Park is where we should start. Right? Pigsy?"
He snapped himself back to reality, back to here and now. People bloody get mugged, just get over it. "I'm fine," he insisted. "It's okay if you stop trying so hard now."
Randall's head flopped back. "Hah! Thank God. I was getting tired."
After some silence: "Heidi texted me."
"Oh, yeah?"
That text. Coming at the time it did. He hadn't responded and couldn't respond, the two moments were too linked up in each other. Her innocent words were imbued with blood and violence – text on-screen, a boot to the kidneys: indistinguishable. All he said was: "She wants to talk."
"Do you?"
"Dunno."
"Just remember."
The break-up. The pain and recrimination. The absolute shredding of his heart inside his chest. He hadn't forgotten.