Just Past Three in the Morning (20)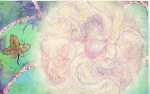 Mon, 16 May 2016
Penny was buzzing. She was flapping around the room, infused with a kind of excitement I don't think I'd ever seen in her.
"He asked me!" She squealed out the words. "He asked me!"
"Penny, what?"
"He asked me to marry him!"
"He what?"
"To marry him!"
"And?"
She turned a blank stare on me, a pause in her glittering frenzy.
"Penny," I caught her. "What did you say?"
"No, he... asked me..."
"And when he did that, what did you say to him?"
"Oh. Yes. Of course I said yes."
Me and Savannah: sitting either side of a cafe table, outdoors in our slant of sunlight, drinking coffees at a place called Black. Frozen where we sat. Penny still fizzing. Other people at other tables listening in with varying degrees of subtlety.
The two of us looked at each other.
"Penny!" Savannah breathed.
Me: I darted up out of my seat and hugged her.
She flopped down into a chair and splayed her hand out across the formica table. There was a ring there, thick gold, and with a trail of small diamonds zig-zagging along it.
"Whoa."
"Wow," Savannah near-echoed me.
"It's beautiful right?"
"Y... yes. Penny, how can he afford it?"
She gave me a truly coquettish smile. "Oh, he wouldn't say. Wouldn't be drawn on it.
Just said that he'd got the whole thing sorted out."
Norton. He worked at the cinema – odd jobs and fixing stuff, unpacking crates, very random. He didn't have money for a ring. Had he borrowed it? I was trying to work out how much it must have cost, I was counting back the months to see how long the two of them had been together. It was only a little bit past a year. And this was marriage. I felt an urge to throw in some notes of caution – had they really thought about the permanence of it all, the forever, the better or worse? A moment later it hit me with its full force, and I just wanted to grin until my face broke, jump up and hug her all over again.
Penny pointed at each of us in turn: "Bridesmaid. Bridesmaid."
"Yes, of course."
"I need you guys to help me plan everything."
"Of course."
"We need a budget first." She was biting her lip in thought.
"What did your Dad say to that?"
Penny shook her head: "Oh, this just happened."
"His proposal?"
"On the way over – that is, before I left to meet you guys. Out of the blue."
Norton: down on one knee, holding out a ring, his voice soft with an unaccustomed sincerity, with hoarded tenderness. The idea felt absurd, the image wouldn't come to me, not completely, even when I really tried.
Savannah was saying: "You haven't told your family?"
"Not yet."
"You have to call them."
"I was on my way to meet you guys."
"And we bathe in the honour of being first to know, but you need to call them. Now."
"Okay." She picked up her phone, her eyes clouding over, phone hovering there in her hand. She looked back at us, suddenly perplexed: "So I'm getting married?" Then the clouds in her eyes burned away; intense blue, revelation: "This is real isn't it? This is happening."
I had another hug in me, and I couldn't hold it in. I kept her longer in that embrace than I thought I was going to. "Yes. This is absolutely real. This is as real as it's ever going to get."