Just Past Three in the Morning (22)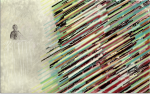 Fri, 20 May 2016
We all dressed up like lawyers. I looked at everyone, and none of us looked like ourselves. Shelley had grown up over the months – too fast, and for all the wrong reasons. She was a fully fledged young woman standing there, dressed in a yellow suit bought for the occasion. It was tailored, and fitted her perfectly - a soft yellow jacket over a knee-length pencil skirt. And she wore a white blouse underneath, all lacy and frilly around the collar. White shoes matched it. She looked nothing like herself, transformed.
Did I too? In a blue suit – long jacket and loose trousers, boldly turned up at the hem, creased down the centre. I wore red under it. I wore my hair up in a bun. Wore make-up. I wasn't even sure why I felt the need to do it: who did we want to impress in these outfits? It couldn't be him we wanted to see us like this.
Uncle Harry in a dark suit, a striped shirt. Davey, another transformation: his suit and his shirt both dark, everything neat and pressed, his hair combed. So unlike him. We'd aged ourselves a decade for this day. Uncle Harry as well – there were lines and grey hairs that had come into their own since that night, a measure of vitality missing, a world-weariness. He was helping Shelley pin a brooch onto her jacket, telling her how lovely she looked, doing his best to keep the hitch of a sob from his voice. Dad was his brother, right? He'd grown up with him the way I'd grown up with Shelley; only they were closer in age and the bond had been different, maybe deeper. He'd talked a lot to Dad in the last few months, coming back from those talks under a storm cloud.
Me? I'd talked to him once:
Me: "Are you all right in here?"
Him: "Well, I'm not meant to be."
"I mean, is there anything you need?"
"No."
"Okay."
"I'm sorry, Heather. For hurting you and your sister this way." Not sorry about her, about hurting her the way he had.
"We're all right."
"You'll need to watch out for Shelley, you know?"
"I already do."
"I don't like leaving you this way. I don't like you having to come here."
Fine, I'd thought, then I won't. I'd heard him say sorry – too small a word and too small a sentence, spoken too calmly, completely incapable of capturing the enormity of what was – and I didn't know what else I was here for. Maybe this: "Just tell me why you did it."
Him: sobbing, head in his hands, inconsolable – though it's not as if I tried – and the guards coming to take him away.
Kind, helpless counsellors teaching me how to grieve. The pins-and-needles of awkwardness as those around me – friends, colleagues, acquaintances – struggled to know what to do with me, what kind of sympathy they should express.
And now, we were a corporate army. Or we looked the part. We got out of Harry's car and we walked – four abreast – towards the courtroom, heads high, eyes ahead. We must have looked for all the world as if we knew what we were doing, as if we were armed for battle, prepared. And inside us all we were nothing of the kind.
#
Beautiful historic building. The walls and ceiling mosaicked in deep colours, in patterns that were complex and gave a subtle impression of music. Big columns against the walls, everything modelled in stone. The seats swung an arc, and were set up theatre-like, sloping down towards the bench, the stand, the skinny little stenographer. High windows let in the sun, let it catch on the wall-patterns, giving an impression of starlight set in velvet.
There was a kind of awe, a quiet that descended on us, going in. Like entering some grand old church – the history weighing down on us, humbling us.
But then they brought him in. He was closer to us than I was ready for – hadn't expected them to bring him right past us like that, suited up, clean shaven, his lawyer by his side. He had a dead look on that clean shaven face, as if he were just going through the motions now, and nothing that was about to happen in here would matter.
Davey tried to take a swing at him. I saw it in his face before I saw him move, how it darkened, and his eyes swam with emotion. He struck out across the handful of metres between us and my father,
hands curling up into fists as he walked. His head was held high, the demeanour of a charging bull. Dad: just looking. His lawyer interposing himself between the two. Uncle Harry reacting first out of our lot, scurrying to intercept Davey and hold him back.
"Why are you defending him?" Davey roaring at his father.
"I'm not! God knows I'm not."
"He fucking deserves it!"
"No. Davey. You'll get us thrown out."
"I don't care!"
"Please," I said softly. We needed us here, this family fortress. I didn't want to do this without them.
Davey shook himself calm. He gave the lawyer a predatory look – and why are you defending him? -before shoving his way past.
It sounds stupid, I know, not to mention selfish, but I hadn't realised how badly Davey was affected until that moment. His aunt and uncle, just as surely as they were my mum and dad. I'd known he would have his own grief; but he'd presented such a strong facade that I hadn't really got the depth of it. He was angrier than I'd known he could get: hunched in his chair, seething, constantly lifting his head to look at Dad.
I'd wondered if he would say something to us – to me and Shelley – while he had us so close, an apology or a declaration of love. It seemed like he should be more than silent in front of us. It seemed like we should have come in by his side, family in the face of whatever wrong he did. We'd united behind Mum instead, and I saw in his eyes that that hurt him.
Well, it's you. It's you that changed everything, not me and Shelley. Your fault. Not ours.
I shuffled into my seat, trying to take courage from my crisp, strong outfit. I held my head up, facing off against the curious, the gawkers. We'd been warned that murder cases had a high profile, that unconnected strangers were going to share the courtroom with us, lapping this up like a good mystery novel or police show. Our lives, is what it is. Me and her, we have to live this.
Shelley turned to me: "I think I hate him."
I felt helpless: "Try not to." "Serves him right." "We all hate him." I had no idea what response would be right, even less idea which one would be true.
"That's wrong isn't it?"
"I don't know. I don't know what we should think." New territory. Unreliable maps. How can you love someone who's done certain things, even though you've loved him from day one, and its natural in your blood, because he's your freakin' father?
"You don't have to think anything," Uncle Harry came down by my side. "And you can feel anything you like."
Aunty Dahlia came to join us, and Aunt Lillian. A little known cousin named Eleanor. They were all dressed as if it were their own day in court. I felt as if we were delegates at some tense and important political conference. Any moment now we would have to decide the fate of the world.
Instead: one man came up on the stand. Our father. He was neat, but looked small, looked haggard, kept his head down. There was a brief moment when he did look our way, when he saw us and seemed shocked by it. Then a red glare from Davey, at the end of the row, sent his eyes back down again.
The lawyer stood up and wove bullshit, painting a cold and vicious marriage – images of sexual refusal and threatening words. I thought: this is meant to make us sympathise. They're supposed to
be mitigating factors: what the fuck's wrong with the world? All these weak excuses, presented with such flourish: they were supposed to make up for the ending of a unique, irreplaceable life? How could they? How could they begin to?
"It's not true," Shelley said. "She never made threats, she wouldn't."
And Dad, having nothing with which to account for himself, telling the floor, and his own white, clenched knuckles: "She didn't love me."
#
Shelley was an eye witness. She had to give evidence.
All at once, the illusion cast by her suit fell away. She was suddenly young again, a kid just out of school. She looked poignantly unsure of herself, not sure how to sit, which hand to raise, where she ought to look.
She had to give her story again, detailing the night; splaying the moment out, eviscerating it so the judge and jury and media could see it for what it was. My heart broke for her, hearing that soft stutter in her voice, watching the way her hands tightened and fidgeted as the questions came and came.
Dad's lawyer: had our parents fought a lot? Had they argued recently? What were the words Mum had used about his tossing his rubbish on the floor like that? Had she called him a lazy bastard? Had she told him he wasn't half the man he should be?
And Shelley: "It wasn't her fault. You can't make this her fault."
"But those were her words?"
"She called him a lazy bastard, I don't remember her saying about him not being the man he should be? Not in those words."
"Did she say she regretted the marriage?"
"No."
"But she said she looked back on her wedding day with shame and regret?"
"She said: 'I do,' well those were the stupidest words I've ever said."
The prosecutor seemed gentler. At least with Shelley. "There were fights and good times, weren't there? Both?" And "I need you to walk us through that night.... her hands were empty when he raised the bowl, she was facing away from him....?"
I felt as if they were putting Mum on trial.
But Mum was already dead. Should we be on his side after all?
#
Guilty.
Life in prison.
Minimum of eight years before the possibility of parole.
Me, in the same suit, a purple silk blouse underneath it. Shelley in a simple black dress, a clean-cut white jacket overtop. The trial had lasted about a month. Dad had tried and failed for manslaughter: the verdict was murder.
I felt glad – I thought – and I felt numb. It felt like an anti-climax. And his face wouldn't quit haunting me – the ruin of it, the dull, emptied out, miserable eyes. His suffering didn't make any of this better.
"One day we'll have to forgive him, won't we?" Me and Shelley sat in the carpark, she had her knees tucked under her legs, arms hugging hard to her back and shoulders. She looked at me steadily as she asked that.
"I suppose we will. When we're ready."
"It's going to take a while though. I'm not ready yet."
She was very changed. The last of her teen angst burned away in the months since we'd lost her – and him. He'd taken the last scraps of her childhood along with her mother, and her faith in her father. Right then, I wondered if I'd ever be ready for forgiveness.