Just Past Three in the Morning (4)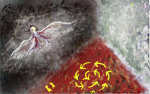 Fri, 29 Apr 2016
The girl was blue-eyed and blond, she was Norton's type: delicate, fairy-boned; her mouth like rose petals on snow. Add to that the fact that he'd – sort of – saved her life, or maybe had, or had at least tried to. Wounded, anyway, in the attempt. Enough, added all together, for him to think of himself just a little bit as her hero. A recipe – with Norton in the mix - for sparks.
Except that Norton was moody right now, and in pain. Sulking, if you wanted to put a less flattering sheen on it. And Pigsy did feel sorry for the guy – his leg was broken in three places, there'd be scarring, and maybe some slight issues with walking. And right now it meant being slung up in a harness, in an unwelcoming hospital bed, out of action, feeling weak.
Norton was not in his element. So he didn't smile when the girl walked into the room.
She still had cuts and bruises, one of the bruises sinking deep and dark into her cheek, striated with deep cuts, with dried blood that looked almost black. The damage somehow emphasised her prettiness all the more. Along with that uncertain smile, the big bunch of flowers in her arms.
"Hi, I'm Penny."
Pigsy got up and found her a seat, he took the flowers off her.
"Thanks."
"No worries. How you doing?"
"I'm okay." She looked straight at Norton. "I feel really bad about what happened out there on Thursday night."
Norton gestured at his leg: "Not so happy about it either."
Probably not going how she'd expected. But she soldiered on: "Listen. I brought you these flowers to say... thank you. I mean I hardly knew what was going on at the time but you... you did kinda come crashing in and save me. So, thanks."
"It's all right."
"I feel bad you got hurt."
"Well, looking both ways wouldn't have done any harm."
"Norton!" Pigsy could see the way her face fell. Poor girl. She looked about eighteen or nineteen. She looked sweet. She'd come in here with flowers. He wanted to shake his friend: what the hell's the matter with you? But you don't shake a guy when he's trussed up in a hospital bed, when just last Thursday you'd seen him land on hard pavement and thought: oh fuck, what if he's dead?
The girl – Penny – said, "Well, I wanted to give you those. I'll work on being more careful, or something. I didn't mean..."
Norton said "Hey, thanks.... they're... bright."
She looked at the flowers. "Yeah. They are."
"Thanks for dropping by."
"I owed you."
"Well... still." He was trying to find his best face now. "I'm glad you're all right."
"I'm getting out today."
"Lucky for some."
Norton!
She said "I really am sorry."
And Norton, recovering again: "Don't mind me, my fucking leg hurts. It talks on my behalf. Gives my penis a rest. Um. I mean...." He held out his hand to her. "I'm glad we both made it, right? And thanks for the flowers."
"Are you stuck here long?"
"A week or so more. They want to do an operation, a few screws or something, but they have to wait for the leg to get back to normal size, and then for some space in the operating theatre. Oh, you get how it is. So yeah, this place makes me crazy. Hey, so long as you're off your leash-"
"My leash?"
"Sorry. What I'm trying to say is that I'd love you to drop by again."
"Done." She flashed a smile that'd melt any guy's heart, not to mention get his dick standing readily to attention. Pigsy could certainly feel it in his pants. He was embarrassed by just how much he could feel it. Thankful for a long shirt and jacket.
Penny pivoted on beautiful legs, in skintight jeans, and walked away into the hallway.
"Wow." Norton breathed.
"You fucked that up."
"Did I?"
"You were kind of an asshole."
Norton had the grace to blush. "Well, this leg hurts. I didn't mean to be unkind. Honest. You know what I'm like."
"She didn't. It wasn't her fault, you know?"
"I know. Do you think she'll come back?"
"To visit you?"
"Yeah." He sounded eager.
Pigsy couldn't exactly blame him. This Penny was a hottie. And she seemed nice. And she was a girl – which was Norton's type: any girl, any sexy pair of tits, a pretty face, some graceful, gliding legs. But she'd probably just been being polite, or perhaps intending on a whim to visit all week. Life would intervene. Another pretty face would swallow up Norton's attention – maybe that Asian nurse he'd had yesterday.
"I gotta go, man. I'll catch you tomorrow."
#
Pigsy's flat was one of twenty in a forbidding, grey-monotone building. He was three floors up. A small window in his lounge overlooked the fire escape, overlooked an alleyway where rubbish bins lined a red-brick wall. A street light shone down over them, spotlighting the raggedy stray cat that was foraging there tonight. Pigsy sat at the little formica table, with his baked beans and toast in front of him, looking down into the alley. Nothing out there tonight but the cat. Other nights might offer up a drunk or two, a few hookers, maybe some kids sitting in a row against the wall, smoking pot. It had a liveliness sometimes, which eased the stillness, the dullness, of his own four walls.
He still had the only anniversary present his ex-girlfriend had given him.
Not quite two years = not quite two presents.
It was a giant ceramic work, an eagle with its wings extended – magnificently coloured and glittery wings – with a woman's face, a woman's raven hair and red lips, a woman's body, breasts barely covered in a depiction of leather strips. Heidi had referred to her as a harpy.
In spite of the ugliness that'd attended the break-up, the ornament still took pride of place on his mantel-piece. It reminded him of Heidi – whose hair had been almost that colour, whose face had been full of stark contrasts. Too angular, probably, for a lot of men - "sharp edges all the way, no soft bits - no way, dude" as far as Norton was concerned – but she'd been beautiful to Pigsy. As this clay-woman was, in her own right: full of pride and strength, wearing her beauty as a weapon – a barely sheathed sword.
He tapped his imaginary woman on the wing, before turning his eyes back to the window, wondering if Norton's flesh-and-blood blond would ever come back into his life.