Lives, Lived and Unlived (Part 2 of 4)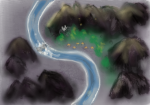 Fri, 26 Oct 2018
It began with a boy.
It began with young Quin Bardsboy racing through the fields and yelling out to everyone: "They're coming!  The northern lords are coming!"
There was commotion, and a few minutes spent with raised voices overtopping each other, with Quin determined to be heard: "The lord's cousin is here with what's left of his army, and the northern lords are coming behind him.  They're going to burn us to the ground!"
"Is he right about this?"
Quin, outraged: "I'm not making it up!  I saw them coming into the castle and I overheard them talking, saying they was on their way and mad because some of the own are dead – knights and lords, I mean, not foot-soldiers.  It'll be vengeance, won't it?  And Hurrendel just gonna be in the way."
Jeddos thought about his family.  And in almost the same instant, about Krislyn.  There'd be nobody safe.
Someone was saying.  "We should gather up the livestock and head for the castle."
"Quickly, before it's locked up."
"And what about our homes and fields?"
"Better you should think about your women."
"Think about them starving?  The northerners'll take everything."
Jeddos weighed it all in his head.  He weighed it and he ran.  His family, living outside the main village, might not yet know anything was afoot.  It might be boots kicking down their door, flames blossoming in the thatch, that would alert them to the danger. It might be too late by then.
The castle was better.  Safer.  His two nieces were tiny, vulnerable; his sisters were old enough now to attract men's notice.  It took no scholar to figure how this night might play out.  Jeddos raced up the hill and along the scrubby ridge that lead to his father's house.  He was pleased to see the thatch not alight, to see no sign of rampaging soldiers, no fields afire, no swords, no spears.  But these were coming.
"We have to go!"  He called out.
His mother came to the door.  She peered out, puzzled.
"There's word.  Soldiers coming."
"Are you sure?"
He'd not stopped to fully doubt the lad.  Quin was young, but he served a few days in the castle, he would have been there, would have seen with his own eyes.  "I'm sure."  He could afford to be wrong later if he had to be, but he couldn't leave his aunt and mother, the girl children, even his father and young brother out here.
Jeddos' father was just coming running from the opposite direction.  He'd heard the same news.
"We go to the castle, don't we?" Jeddos had a lifetime of deference under his belt, his father was still head of the family.  "Don't we?"
"They'll wreck the house and everything in it, we'll lose the crop.  But you're right, we have to.  These are trained soldiers, spoiling for a fight.  It won't be pretty in Hurrendel tonight."
His mother touched her husband's arm, looking over at the fields.  "Such a waste."
"I know it.  But it'll be worse if we stay."
She nodded.  "Gather up any valuables any of you can carry.  We can lead the cow, but we won't have time for the chickens or the goats."
Just so, they became a whirlwind, stacking up furs, cutlery, pulling up rough floorboards to reveal a little chest.  Jeddos' father tucked it under his arm – their full fortune, such as it was.  A bag of grain on his mother's shoulders; Jeddos hefted a barrel of salted ham onto his own.
"Are they going to kill us?"  His brother asked.
"No.  We'll be behind walls."
"What if they bring catapults?"
"Big walls."
"But-"
"Big walls.  Move."
His sisters glanced at him, voicing fears with their eyes.
I'll die first.
Her eyes answered:  And then.  When you're dead? 
He wouldn't be able to fight off armed knights.
The huddle of them descended the hill, staying close, keeping their eyes open.  This was about survival.  Jeddos could already feel it.  Death in the air.  He put his free arm on his sister's shoulder.  "Stay close."
She didn't need to be told.
When they topped the ridge, it was their worst fear.  Jeddos wasn't sure until he saw it that he'd been dreading this.  Down on the plateau, between the castle and the tight circle of the inner village, that's where the men had made camp.  Bright tents peppered the land. Men in rich blue could be seen walking about, displaying their colours as weapons in their own right.  Men of House Verallo.  A big blue tent in the centre must represent their commander – a powerful, landed lord, someone with influence, swords, patience – maybe magic if the worst of luck went against them.
Whatever else he had, he had an army, horses, archers.  The path between Jeddos and the castle went straight through them.  And anyway, the great gate was closed, and would be bolted if not welded.
"There's no way," his mother breathed.
His sister clutched at his hand.
"No way," his father echoed.  These tents, sprung up like weeds, the figures moving around in them.
"What now?" Jeddos asked.
The mountain loomed.  The prospect of anonymity in its shadows, maybe hiding in some cave or crevice, just waiting for the danger to pass.  But the danger might be days or months, and the soldiers would be out there patrolling.
Jeddos' father said: "We'll just have to defend our home, then." It seemed that a part of him welcomed that.  "There's nine of us after all."  Half children.  All peasants. His aunt and mother…
They might pass us by.
He didn't believe that.  He shifted the barrel on his shoulder.  Since there's nowhere to go…
Unwillingly, he thought about Krislyn. He willed her to safety, her and her baby.  Surely Bangrif would fight for them – and he'd have had sense to head for the castle, surely?  And living much nearer…
Worry about ourselves.  We'll have it hard enough.
#
Everybody knew that Lord Saldrian favoured the king.  That he was loyal to him.  And everybody knew that no such same thing could be said about his cousins.  Rumours of tension between the western houses, and the crown – with its northern allies – had been flowing over the hillsides for a number of years now.  There were old men insisting that it was only a matter of time.  Something would set the thing to burning. Sooner or later.
And now it had.  Jeddos dumped his barrel in the corner and helped his father make barricades for the door.  They discussed in tones just louder than breathing what they would do to defend the others – grim choices about making shields of themselves and ordering the girls to take their brother and their cousins and run to Looping Valley, to wait in 'the place' until somebody came to find them.
No fire, no candle, was lit.
And in the darkness, they told stories in whispers, sang songs beneath their breath, waiting for the enemy to arrive.
#
The did so, well into the night.  In a darkness that was broken by their torches.
A heavy-set voice calling out that anyone inside should come out and kneel in front of the house, that refusal would be taken as a sign of hostility, and there would be punishment for that.
Jeddos looked at his father: Do we?
Spreading his hands: How should he know?
His mother was quietly shaking her head.
"Are you sure?"
"They don't know we're inside."
"They'll come in."
"Hide beneath the straw, against the far wall."
It was dark.  They might burn inside here.  But lined up kneeling, before the hungry, angry eyes of soldiers – whatever slight or loss had triggered this attack: they would take it out on the villagers, on the family, however meekly and quietly they kneeled, no matter how silently they yielded up their worldly goods.
The door shattered.
Footsteps came in. There were torches, and if the men looked, they would see these hidden figures, these lumps under blankets and straw.  And if they didn't, maybe they would just set fire to the thatch, and perhaps they'd be able to crawl to safety, perhaps not…
Should we have gone out there after all…?
Jeddos' oldest sister was huddled beneath the shelf on the far wall, but her long auburn hair trailed out from beneath the straw.  One of the soldiers stopped beside her, and from his angle Jeddos could see the smile that slid over his face.  That smile said it all.  The soldier reached down and grabbed her by her thick curls, yanking her up by them and holding her in front of him.  She cringed away, but that just broadened his smile.  And with one of them found, it only took a scatter of seconds for the rest to be unearthed and dragged outside.
And so they knelt in front of the house after all, at the mercy of these swordsmen.  Jeddos counted six, and discounted in his head any chance of resistance. 
Jeddos' father maintained an aura of calm – though Jeddos could see his fingers trembling – as he told the men that he wanted no trouble, whatever he had they could take, he only asked that they not harm his family, who were innocent after all.
The tallest smiled: "How innocent?"
"Please.  No.  You can take all you want but-"
"So we will."  But that included Jeddos' mother, his aunt, his two sisters.  The soldiers dragged them away.  His aunt fought, she bit one on the hand, stamped on his foot, tried to push him away, but he backhanded her – a mailed fisted - and again until she was too stunned to put up a struggle.
Her two little daughters were behind Jeddos.  He kept himself between the soldiers and them, while his brother held his cousins still and against the ground.  They were only tiny girls, so surely… and yet…  He pictured in his head the attack he could make against these animals; but the pictured soured as soon as he saw it in his head: a cold blade, the taste of blood, his mother screaming – and still they'd take the women.
The thatch burned after the soldiers had gone.  Jeddos and his father fought the fire, neither daring speak about what would become of their womenfolk.
We could have done nothing.
But would this sick feeling still be running through his bones if he'd at least tried?
#
The siege lasted six days.
Over that time Jeddos did what he could to begin repairs on the house.  His father helped in silence.  The women came back in the early hours of the dawn to follow that night.  They didn't talk about what happened, nor did Jeddos or his father ask them.  There were bruises, and his aunt's nose was broken. She reached for her little girls as soon as she saw them and asked over and over again if they were all right, if anything had happened to them, if anybody had touched them.
On the sixth day a counter-attack blasted its way out of the castle.  The lord's cousin was reportedly married to a sorcerous of nearly legendary power.  And as they huddled on the ridge watching the battle unfold, Jeddos learned that this was true, that she could call lightning down out of a sky that was blue and unclouded, that she could condense the air into balls of shimmering power and throw it at any unlucky enemy, or she could unweave these balls and throw them over her own men as shielding blankets.
Jeddos saw her wounded in the fighting, dragged inside.
He also saw the enemy retreat and flee.  The feeling that welled up inside him felt alien and bloodthirsty: he wished death on every last one of them.
And he noticed, amongst the fighting: was that Bangrif down there, with a borrowed sword, in amongst the lord's soldiers?  He who'd never had a moment of weapon training.  But he fared all right.  He survived.  Krislyn wouldn't have to mourn her husband.
Krislyn.  Where was she?  What if-?
#
She was safe.  In the grisly aftermath.  Amongst the bonfires of the dead, he saw her standing, holding her baby.
The central bonfire, where the sorceress burned: a weaving of coloured flames as her magic burnt with her flesh.  Her death having shocked her people into numb, broken silence.
Krislyn said quietly: "They say, about your sisters…"
"A lot of men's sisters, and their mothers, and daughters."
"Well, I'm sorry."
"I know.  You weren't hurt?"
"We took refuge in the castle."
"We couldn't reach it in time."
"It's over though."
"Today."
"Do you think they'll come back?"
Jeddos sighed.  "I don't know.  This is war isn't it?  Like everyone's been saying might come.  I don't know what'll happen.  No-one's safe."
She rested her cheek on his shoulder.  "Not even the children."  She pressed her little Veldon against her chest, covering him with her arms.  "These things can last a generation or more.  Growing up… with this…"
He wondered: did she ever see the images: twin girls, another baby, another on the way?  Did she know about an alternative life she could have led?
#
Krislyn would mourn after all.
Bangrif was going to war.
She stood with the mothers and wives, her face a scowl.  Rumour told of how she'd taken his shirt collar in both hands, told him she wouldn't stand for it, that he had a wife and son who needed him.  Their house was burned, and so were their fields.  Maybe the grain wouldn't be enough to last them until the next harvest.  Maybe they would have to eat the seed corn.
The manor will provide.  I'll be one less mouth to feed.  I'll bring back loot, treasure.
You'll come back dead.  Or your body will lie in the field, unburied.
His neighbours told how he'd exploded, how he'd told her she was making a coward of him.  He was needed.  He was a man, he was going to go and there was nothing she could do about it. 
Never!  She'd yelled.
And he'd raised a fist to her: I'll decide what I'm going to do!
Or so the rumour mill would have it.
Krislyn stood with stony eyes, watching as the army marched.  A small army, demoralised, brutalised, angry and grieving.  Jeddos felt it must presage only ill.  This was what would stand against the might and gold of the king himself?  Bangrif would be slaughtered, Hurrendel taken, sold, bargained, bartered. He knew it as if he himself had the Sight.
Picture credit: author's own work.