Lives, Lived and Unlived (Part 4 of 4)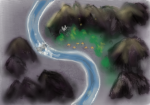 Sat, 27 Oct 2018
Time moved on.  Jeddos learnt in his bones that it was stubborn like that.
He was told by his father that his mother was sick.  That the sickness seemed to run deep in her, and that he feared for her chances of recovery.
Jeddos, himself, was not truly young anymore, but his mother wasn't old.  He couldn't imagine that she'd die.  He hurried up to the house, imagining he would see her already starting to rally, recovering her strength, a smile on her face.
But that wasn't the scene to greet him.
Instead she was weak and grey-faced.  Laying in her blankets with her hands clasped over her collarbone.  His family were gathered. Jeddos swooped to her side, and something in her face relaxed.  "I thought you wouldn't come in time."
"In time?  Stop that."
"Jed, you've been alone too long."
"It doesn't matter."  He looked up at his aunt, "She needs medicine."
"I've brewed her mugrish, but it hasn't cleared her lungs."
If we went to the castle… but these new overlords knew nothing of spellcraft.  Even if they'd been willing to help.
His mother reached for his hands. "How long are you going to wait for her?"
"I'm not."
"But you are.  In your heart."
"I don't…"
"Oh, but you do.  You do.  Do you think I can't see it?  I won't have another time to say so, or this much right to ask something of you.  You need to put aside this longing you have. Open your eyes. I can tell you as a mother, the most precious part of life is the children who come after you.  Open your eyes to other women.  I want you to marry."
He didn't know if he was lying or not.  He promised to look for a wife, to at least think of girls in the village.  Maybe out of the village.  Go to the Elliosh fair with his family next spring.
"I love you, my boy.  Everything about you."
She had words for them all.  To Jeddos it hardly seemed real.  To see her in his mind's eye, alive and well just a couple of days ago, laughing, stirring the pot, and to see her now, this way, and with her hair barely touched by grey.  It felt so unthinkable.
His father sat with his hands in his head, moaning quietly to himself as the night swept the day away over only an hour or so.
#
She burned in the fields, and her ashes blew in the wind.
Jeddos stood in the iced over furrows, watching as a storm came in.  His family had been with him at first, but eventually they'd all gone off, heading home, downcast, lost.  His aunt had asked him if he wanted company, somebody sleep at his house with him tonight.  And he'd shaken his head. In his hut there wouldn't be loneliness.  In his hut there'd be the visualised dreams of another life.  He'd lay beside the phantom of Krislyn, listening to the imagined arguments of children never born.
"She wants me to wed," he told his aunt.
"Yes, and your sisters as well."
"They're old enough.  Past."
"But frightened, as you can imagine."
"She's right though, isn't she?"
"About all of you."
#
He told himself that he worked harder, digging and mending and clearing, to help his family in their need.  He told himself that he worked from dawn until dusk because there was work that needed to be done.  He went home to his fantasy house, lay awash in the visions that came almost every night now, woke up, performed the same routine again.
When Hurrendel's new lady came up to his meadow, Jeddos bowed low to her.  She was as distant a figure as her husband, age just beginning to creep in around her eyes, but she had a softness about her as well, she seemed non-threatening, almost a little bit afraid, herself.  She'd come to ask if he would consider marriage.  "There are a number of young widows in the village now, women who would benefit from a husband.  I've been told you never married."
"No."
"Do you not think it time?"
He was ready to say that he was not the marrying type, that he didn't think a wife would find any happiness in his bed or beneath his roof.  He wondered for a moment: could it be Krislyn? – Bangrif was so long gone that she was as good a widow in the town's eyes. He realised in the same moment that it wasn't something he wanted.  Time had changed her, her loneliness, the challenges of raising Veldon unaided, had worn her out, and there was a bitterness in her now, a sharpness to her countenance.  The Krislyn he wanted was the Krislyn who'd never exist, the Krislyn of his unlived life.
The lady tilted her head, weighing up his silence.
He said, "I'll consider a woman, if there's one you'd recommend me.  But my sisters have gone too long without marriage. Will you help them?"  There.  Had he asked too much?
The lady smiled.  "Gladly.  I know what fate did to them."
Fate? Allies of yours.  Men ruled by your friends.  Though he let his face only show quiet deference.  It wasn't directly her fault.
She gave a generous smile, showed straight, neat, pearlescent teeth.  "We have a deal then."
#
And in the meantime, Veldon grew to manhood.
He grew into the flamboyant type, who was always the centre of attention.  Who was admired and despaired of. A breaker of rules and conventions.  A rogue and a heartbreaker.  There was a tremendous amount of Bangrif in him, and a thread of darkness that sometimes flashed out of those pale, glittering eyes.  He was a force to be reckoned with, and though nobody had ever yet done so, it seemed as if he was not a young man to be crossed.  He had a temper – as his father had at times – and it seemed as if he might be capable of the same bitterness that seemed to have consumed his mother.
She had become a quiet figure, one who lived in seclusion – almost as Jeddos himself had spent so many years doing.  She was devoted to her son, but seemingly to little else, stubborn in her wait for a husband who never came home.
After the Elliosh fair, a rumour began.  Bangrif was neither as dead nor as far away as everybody had presumed.  Quent, Tingen's son, had seen him.  With his own eyes, he said, walking about, dressed all nice; and there was a woman on his arm, dressed like a merchant's daughter from one of the cities, with her fluffy bonnet tied under her chin, and her dress in panels, as the latest fashion went.
"If he's remarried," Jeddos said, "then it can't be legal."
His wife looked at him, nodding quietly, uneasy with the subject.
This wife, Amtelda, had been Lady Rothsilde's choice.  She was nearly ten years younger than him, having lost her husband to a fall on the mountains.  She was a timid woman, perpetually unsure of herself, doing her best to be a good wife to Jeddos, but sensing always that his heart was elsewhere.  She could see him as he followed the visions when they played on his walls, and although she couldn't see them herself she knew what he looked at. It turned out his pining for a life with Krislyn was well known about the village.
"He still has a wife."
Amtelda said softly: "Has anybody told her?"
"I don't know.  I won't be the one."
"Of course."
"But there's no way I can imagine that she won't learn the truth."
"Her heart will break," Amtelda said, and was it his imagination or had Jeddos heard a glint of satisfaction in her voice?
#
He was alerted by screaming.  Loud enough that it carried across the fields to where he was out on his own, clearing a ditch.  The memory of the attack all those years ago would never leave those villagers who'd been around to see it.  The prospect of the same… He couldn't ignore it, and he ran across the hill, his chest burning by the time he got there.
He saw the girl first, a young one, Lota's daughter, named Elslyn, and another girl, Haswith, standing over her, both shrieking.  As he got closer he saw the worst of it, that there was blood on Elslyn's face, and that she knelt over a prone figure, shaking it, clinging with white, clenched fingers.
Jeddos was the first to reach them, but their cries would attract others.
Are they back?  Over a decade washed away with the moment.  Right back in the house, beneath the straw, listening to the door being kicked in…
He ran up to the girls, and grabbed Haswith by her arms.  She seemed the less distraught of the two, and the one who wasn't injured.  He held her until she looked at him.  "What is this?"
"He's dead."
"Are you sure?"
She nodded.  "Elslyn's brother."
Jeddos knelt beside the body.  It was as Haswith had said, Elslyn's older brother, but only by a year or two, not quite seventeen, and he'd been stabbed in the chest, and his throat had been slashed at, a rough job, maybe in the heat of a scuffle, but the blade had done its work, the boy's neck gaped open and his shirt was soaked with blood.
Elslyn had taken a couple of cuts to her face, her nose was bleeding, and her eyes were wide with horror.  She had her brother by the frayed ends of his shirt and was shaking him desperately.
"Let go," Jeddos told her, kneeling beside her.
She wouldn't.
"You can't help him now."
But she wouldn't let go of him.  Her fingers were like iron.  Where her strength was coming from right now he didn't know.  She whispered, "I didn't help him."
"She tried," Haswith said, "that's what happened to her."
"I didn't save him."
"You couldn't have.  Honestly."  He looked back up Haswith.  "What happened here?"
"It was Veldon."
"What… do you mean?"
"It was Veldon what did this."
"Krislyn's son… Veldon?"
"There was a fight. Veldon pulled out a knife.  He just started stabbing, and when Diron tried to take the knife off him he slashed at his neck with it.  I don't know if he even meant to the blade to connect."  She choked down a sob.  "It did though, didn't it?"
#
There was going to be a manhunt.  Veldon had drawn a blade while the other boy – years younger – had been unarmed.  And now the other boy was dead.  His father was wild with anger, he wanted to split his son's killer apart with his bare hands.  He wouldn't be stilled, and his threats carried over the hills.
The men gathered, and some of the women.  Krislyn tried to talk to Diron's father, she clasped at his hands begging him to let her son tell his side of the story, just let him tell what'd happened.  He roared in her face, entirely animal, throwing her hands aside.  He looked as if he might strangle Krislyn in lieu of having her son's neck instead.
"He'll have to hang," some of the men were saying.
Jeddos knew they were right.  The charge would be murder.  There was such a cold inevitability about it all.  Jeddos would join the hunt, he'd bring Veldon back – by force if need be – and he'd deliver him for trial.  And Krislyn would grieve.
"Give him a chance," she begged Aldlon – Lord Wolldenreed's man – who the castle had sent in to represent the manor.
"He'll have his chance at trial."
"He can't have meant to."
"Your boy's a killer, woman.  In some countries they would hang you too for not raising him better."
"His father…"
"Should probably hang as well."
"He isn't…"
"No.  I'll bet."  He divided them into groups and sent them out, armed, into the hills to bring Veldon back.  Jeddos had to go.  He was torn – Diron having been harmless, his sister having witnessed his violent death – but his duty was clear.  He let Amtelda kiss his cheek as he left.
They searched through the night and into the day, but it seemed Veldon – like his father before him – was long gone.
#
The court declared Veldon outlaw.
What other outcome could there be?  If he was found he could be – should be – killed on sight.  No one was to help him, shelter him, feed him, give him goods or money.  Any sighting must be reported.
And in the meantime, young Diron was laid to rest.  Another burning in another field.  The air must be so thick with the ashes of the dead.  Jeddos wondered sometimes if there weren't just everywhere around them, running invisible fingers over arms and shoulder, down backs, flickering through hair.  There were rumours that Diron had had his eye on a girl, that the two had pledged secretly to marry, and were just working up the courage to approach their parents.  Another rumour added that the girl had been one who'd caught Veldon's eye as well – the source of the fight, most likely.  And on the subject of Veldon: it was supposed by some that he had gone in search of his father, had found him living in Elliosh, and had set up there with him and his new woman.
Krislyn watched in silence and at a distance.  She felt the hostility of Diron's family.  Her self-imposed isolation would become increasingly mutual, reinforced over time by itself, until she became the lonely old woman shut up away from her neighbours.  Jeddos couldn't imagine how life could ever bring her happiness now. 
He wondered if he should dare approach her – all the things that had happened in their lives, between and around them.  But her pain radiated out of her body, too much for him to turn aside from.  He spoke a brief apology to Amtelda – since this would hurt her, and stoke up the jealousy she had every right to feel – and went to Krislyn's side.
She looked up, looked through him.
"I'm really sorry," he tried.
"It makes no difference.  Nothing does."
And words, really, were useless.  He put his arm around her and stood with her, watching as the mourners slowly moved away in ones and twos.
Krislyn cried into his shoulder, unedited and anguished.  She whispered, "This is such a dreadful world, isn't it?"
#
Jeddos wondered if this would make him a murderer.
Perhaps it would.
Or maybe he would reach this fabled cottage and find it empty.  This witch – if she lived – would have to be something approaching two hundred years old.  It spoke something of her legend that he was even making this journey, that he might even consider that he'd find her there.  Or not.  Perhaps she only appeared to women, only helped women with their lives.
Or ruins them, as the case may be.
Perhaps he hoped he wouldn't find it, that he could go back home having done what he could, having done his best.  But no, the cottage was there, three heavy stone walls, a stone slab of a roof, the whole thing covered in moss and a growth of wildflowers.  A leather curtain hanging where a door might have been. A small, ragged, and yet dignified old woman stood in the doorway, arms folded, clearly awaiting him.
"I've come for your help," he said, although there was also a knife beneath his shirt.
"Of course," she said.
"I want to know if you can change the past."
"Ah, Jeddos," she reached to take his hand, "Come inside.  I will help you as best I can."
END
Picture credit/discredit: author's own work.
Shameless Marketing Ploy: the setting for this story, the village of Hurrendel, is one of the principal locations in my e-book, The Price of Blood.  Which you can find right here, at Amazon.com.  Just so you know...