Maybe A Spell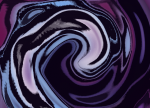 Fri, 02 Oct 2020
It was always a spell. By this time of night, it would always turn to some kind of magic or other. Geelie would fuss around, making plans, tidying, dusting, fidgeting, talking of sleep but going nowhere near the bed. But eventually it would come down to this hour around midnight, and she'd turn to Novisha and say "Maybe a spell. Maybe a spell would help."
Novisha frowned, "I don't think you should. It makes her worse."
"Maybe it does. But have you heard it out there? Her dreams are going to bring them down on us for sure."
"You say that's your reasoning."
"Well listen. Listen good to what's out there. Do you really want to let that in here?"
Novisha didn't make a habit of admitting she was wrong, and in spite of nearly thirty years in her company, she wasn't going to do so to her sister of only two years seniority. She moved to the window and pressed her face up against the curtains. She could hear the sounds coming from outside the window, the raucous, drunken assemblage of them. The rallying cries and whoops of joy and spite. Joy-and-spite, intertwined with each other so that they were one another, feeding each other, coiled together like mating snakes. This was Geelie's point then.
"Well?"
"Fine," Novisha conceded it with an irritable shrug. In her mind the words ran: you've seen what the spellcraft did to our mother and still you want to flirt with it. Haven't you learnt a thing from her example? But so be it, she'd decided not to argue. One more spell on top of hundreds. Why should it be a tipping point?
#
Novisha padded down to the cellar to fetch the crystals. She could feel their hunger as she came into range. They smelt her soul, and they relished the prospect of eating it.
"Not today little vampires. I know you and what you are."
Didn't Geelie? It seemed as if she less and less cared. Novisha had watched that addiction eat away her mother, shredding her one layer of skin - one layer of person - at a time. Such a waste of a fine life, of even a fine talent, if only she could have paced herself and exercised control. But Novisha's mother had never been a woman to take things in small steps or dainty bites. She was a woman who'd always had to have all of the world, the full fierce flavour, and let the consequences fall where they pleased. Well, see, that seems to have done so well for you. And Geelie, being all too very much like her; Geelie who'd inherited her looks, and her passion, her unwillingness to compromise, and perhaps her addiction as well.
Novisha dropped the jar into the pocket of her apron and went back upstairs.
As Geelie had pointed out, the riots were building pace and ferocity. It was going to be one of those nights. The juxtaposition of spell-crusted dreams mixed with residual mage-blood was going to take hold of the town. She hated those nights. They always ended in dented streets, blooms of red blood, a hanging or two once the daylight and mundanity had settled back in.
"Come," Geelie was moving into the kitchen and stoking up the fire, "let's activate these crystals before somebody notices her."
Novisha stirred herbs into the water. She eyed Geelie sidelong.
"Say it."
"I'd just as soon not, since you never listen."
"There's no harm in spellcraft. It's a tool no worse than a hammer, it can be used to build a house or bash a man's brains in, and either way the hammer bears no blame."
"You're reciting that rubbish now?"
"It's not rubbish. Now hand me that jar. All we're doing is keeping ourselves and our mother safe. You tell me where the evil is in that?"
You like it too much.
And why have you come to fear it so terribly?
Years of living together, a childhood of sharing the same scratchy box-bed, it was no wonder they could say these things with no more than a peevish little look and down-turn of the mouth.
Geelie stirred the crystals into the water and watched as they changed colour. It seemed as if they tried on half a dozen colours, sliding in and out of dark and light shades, until they settled on a dark magenta, pocked with old-purple, and spitting lavender sparks as they began glowing in earnest.
Geelie noticed the way her sister seemed to shy away from the potion a little, and she thought to herself: whatever happened that made you give up the craft? You could have been as good as Mama or I if you had only kept it up.
#
When the formula was ready Geelie carried it into her mother's narrow bedroom. The old woman – not actually old, maybe fifty, but old in her body, ravaged by the excesses she'd taken magic to – lay in the bed dreaming. Geelie could tell she was dreaming, there was a glow of it about her, the residue of long-dead creatures buzzing in her aura. She was a conduit, and their freedom, and they flowed through her eagerly, restless to taste the solid energy of a solid, living world.
Out in the streets, the sound of the rioters changed, the stomping of boots replaced by a stomping more like hooves. The men were changing. They would smell her mother's dreams before too long, and then the fists would come banging on the door, and the torches would get all lit up. Geelie took a handful of crystals and began to scatter them in a circle around her sleeping mother. She gestured to Novisha to take some and make a perimeter of the cottage, just to sure. She could see Novisha's reluctance, and a silence of anger passed between them as her sister took a couple of handfuls and stamped off into the main room to get the job done.
Geelie kissed her mother's forehead once the crystal ring was sealed, then she headed out to find Novisha.
"It's done," Novisha said dully.
"Good."
And it did seem as if the rioting had settled down out there – that the crystal barrier had muted it, and was guarding them from its notice as it guarded the rioters from theirs. Tossing in her bed, Geelie knew her mother would be having fantastic dreams, dreams infused now with fresh magical energy. And those dreams would have been weaving themselves across town, catching the nose of men who only on this sort of night caught a whiff or their own heritage, were it not for the barrier they'd just laid.
Geelie reached for Novisha's hand, and she reluctantly allowed her to take it.
"Give it time, sister, we'll save up some coin and then we'll head north and find a better place for all three of us."
"In time," Novisha murmured, though she knew there was never any coin to be saved up, and she knew their mother would never agree to leave the city. She could barely even still imagine the form of that dream, so many years it'd plagued and comforted her, all the while knowing it was a fantasy and fool's errand. But she squeezed her sister's hand. The noisiest and bloodiest of the mob seemed to have streamed past their house and gone on elsewhere, searching for a prey they could barely comprehend. Maybe the dawn would bring evidence of death, maybe not. But it had passed her and hers by for now. She turned to give Geelie a tired smile, "you put some honey on a loaf, I'll go check on Mama."
The last of the outside noise trailed away into the dark.
Pictured credit/discredit: author's own work