Mindy Unsworth: Some Words About my Mother.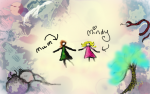 Sun, 03 Jan 2016
My mother.
She's never really known what to do with me has she?
And you can't blame her, you really can't. It's not like she had a normal little girl to work with. She brought back this smiling little cherub, this laughing little golden baby – I've seen the photos so I know – only to find it so full of quirks and ticks: pointing at things that aren't there, crying inexplicably - even for a baby -shying away from some colours of light.
Light. But if she'd seen what was in those sunbeams...
She was on her own a lot – Dad being away on the road in those days – managing her first and only child. Still young. She'd never realised how noisy it would be, how absolutely forever, how a foot-long lifeform was going to take centre-stage, centre-life, ruling from its crib. And me: I was unsettled, I was always crying and fidgetting, interacting with every part of the world she couldn't see.
She has a vivid imagination.
She's a dreamy child.
She's hyperactive – overstimulated – she needs an environment that doesn't stress her mind too much. Just a few colours, not too much light.
And Mum, going all stubborn: "I'm not going to raise a child in a dungeon. I'm not going to do that. There's nothing wrong with my daughter!"
Well, she'll talk when she's ready to talk.
And me: taking my time, but then when I was done with that pouring out full sentences all at once – but those sentences not making sense to anyone. Just as well I wasn't born in the Renaissance – those words would have been marked down as demonic – this terrible three-year-old witch, prattling in some demon tongue, casting her spells... Well, I didn't know then that I was the only one in my family who could speak fairy.
English: more of a second language. But I have it sort-of sussed these days.
Mum: taking me out down by the river, taking me out even on cold days, all wrapped up in coats, and me wearing bright blue gumboots. We'd go to the park and we'd feed the ducks, we'd sail paper boats. She showed me how to make them out of thick, greased paper – we'd colour them in together at home, then we'd box them up, grab the old bread, and we'd walk along the street to the park. There were willows dipping their branches in the water, swimming their leaves – in spring there were daffodils. There were boys playing soccer on a field nearby.
The ducks were a right rabble, quacking and squawking and paddling over each other coming after the breadcrusts. They had no fear of people, and what were we to fear after all? All we did was keep them fat and happy. They'd eat cheerfully out of my hand. I'd squeal if one of them nipped my finger – I'd give myself over to a flash of noisy crying if the nip hurt – but I was always in love with those days. And when the boats sailed down the river we would watch them together, Mum just tutting if one of them sank. Sometimes the waterfolk, or the lesser merfolk, might grab one, pile over it, drag it underwater. Mum didn't notice – she just smiled and tutted and squeezed my hand.
She'd buy me ice-cream some days, at the ice-cream parlour down the road. We had a spot, where the sun came, where a picture hung above my head of a plum grove white and pink with blossoms. My favourite was always a raspberry sundae, generous with berries and decorative with white chocolate sprinkles and pink sherbert.
#
My mother.
She has a thing for flowers. Not just an obsession, but a gift.
Colours and happenstance – that's her.
She has a garden that she never keeps the same, she's always out there, digging it up, moving the flowers around. She likes to create patterns with them, laying out a flowerbed in a peace-sign, or planting up red and green and daisies – a santa hat for Christmas.
When they named me, that flowerbed read: Mindy.
And then she grows them inside as well, in glazed clay pots, in all their colours. She thrives on colour. On randomness. Don't ask her what she'll grow next, because she'll decide on a whim. Or she might just mix the flower seeds up give them to the wind – she might line them up neatly in the potting mix or just carve out lines and let anything fall there.
That's it with her, the chips really do just fall where they may. People think she's a flake. Well she is. She's my mother, I'd know. But she's also a force of nature, by turns bright with joy, or wrapped up in some wild, fire-flown temper, or quiet with a serious contemplation of the human condition. It comes and goes with the tides. She's frequently stubborn, sometimes insensitive, always full of straight backed courage, lots of honesty and energy and zest for life.
#
My mother.
So she doesn't hold back.
You'll never find yourself in the presence of a shrinking violet (not unless she plants some in the garden that is.)
She argues with the neigbhour: shrill, loud, and loving it. Mrs Lane, who has a house next door to us. She's Mum as Mum might be in ten or twenty years – old (or old at least the way I still reckon age) but absolutely dismissive of her years. She'd never give in to anybody's concept of old age: always dressed brightly in red, wearing gleamy, polished high heels, coming and going all hours of the day or night – and not at all inclined to move her jasmine.
Well, she should be, that vine, that trellis, blocking the sun, ruining the little line of sunflowers planted on our side of the fence. Keeping my new rose from blooming.
As if those plants breathed gold.
"You knew I had a garden here when you put up that trellis! What sort of a neighbour does that?"
"A better one than steals the others' milk!"
"That's a lie and you know it!"
"You tell me where it went then?"
"Did you drink it after a bottle of rum and not recall the fact?"
My mother: she has an arch nemesis.
#
She almost mistook a shapechanger for me once.
It wasn't her fault. I mean the shapechanger was a perfect likeness. It had itself garlanded in the same white-gold hair – I was that fair as a child – slid inself into that puffy purple coat, dressed in the same grey-sky blue dress – the same daisies embroidered on it. It was a mirror image – down to the tiny cleft on the right side of my lip, down to the dimpled chin, the so few freckles that I'd once decided to name them all and came up with seventeen names.
It was me.
And my mother was reaching for its hand, welcoming it along at her side, just smiling at it while it pointed at the Honey Puffs. When had I ever pointed at Honey Puffs? Her hand taking its, its head beant down against her side.
I was four.
Lucky I was able to catch that thing, sneak up on it from behind. I grabbed it by its hair and dragged it back down the aisle – we fought like a pair of twins – it hissed, it brandished its forked tongue at me, showing its claws. I hissed back at it. MY mother. You're not allowed her. I threatened it with vinegar – though in fact I could barely reach that shelf – and that was enough to make it run away into the produce aisle – face revealed to me, scaly and grey-green and knobbly – red-eyed and with gloriously amber streaks in its thick, tufty hair.
Back with Mum – I quickly found her hand. She never knew. I reached on tip-toes for the cornflakes.
The Honey Puffs were never eaten.
I have to watch all the time you know, that she doesn't step into a snake-pit, or stumble into a goblin's nest. There's portals that could open up, around, in front, behind. Even these days, this is a thing that never lets up. I steer her away from where I know there'll be goblins, out of range of a glass-walker, or the eyes of half-breed gorgon. And if she's going to buy a pair of cursed earrings, I'll tell her I don't think they suit her.
#
My mother.
She talked to me about sex. Birds, bees, boys, babies: the lot.
She sat me down at the kitchen table one day and just had at it. She'd had one of her rare baking marathons, and the cupboards were briefly full of fudge, biscuits, slices, brownies, muffins. Some of the fudge was still out on a chopping board, not yet stacked in its tupperware home. We popped that into our mouths while we talked, sharing as well a giant, fruit-soaked boysenberry muffin. She was all smiling and sweetness. She said to me: "I'll bet you think I'm going to tell you not to have sex, huh?"
Well, yeah, that was more or less the truth of it: how many mothers of thirteen year old girls would go the other way on that?
Mine, for one.
She said: "I wasn't born yesterday, and I haven't spent the last thirteen years hiding under a rock. I know what goes on in a girl's head, and a boy's come to that. It won't be long and you'll be getting ideas, right?"
I'd had a few ideas, but they'd not gone quite that far.
She told me: "It's okay. It really is. You should be feeling horny – that's natural. I only want you to promise me one thing."
"Okay."
"No, make that two things."
"What?"
"One, that you won't ever, ever do it without using your brain. Get some decent contraceptives, and get a packet of condoms. Do that first, okay?"
"Okay."
"And second: just make sure you choose carefully. You're a beautiful girl, boys are going to look at you. It won't be hard, you won't have to try. Boys your age: they'd have sex with a hole in the wall. They'll come knocking on the door. Just hold off, sweetheart, pick a really good one. Don't bother with the prats."
You know, that's actually some pretty good advice.
#
My mother.
She can dance like it's nobody's business.
You might not get to see it often, but when you do: look out!
It was some cousin's wedding or some such, and the music was eighties. There was plenty of bubbly flowing. She kicked off her glitter-look shoes and dived right into the fray. There amongst all the uncles and aunts and unknowns. She dances like an angel. And by that I mean that she's got grace – she's rocking it like a professional, all beat and rhythm, but at the same time her body moves like a swan's. She threw her head back that night, she kicked up her heels – literally, kicking those glitterbombs into the air – and she danced circles around everybody there.
I was grinning, clapping. I was proud of her.
Dad: he had a different look on his face. He sat glowering in his seat. He should have been up there and dancing with her, he was crazy not to be. But instead, he's leaning on the table, fingers clenched, eyes as dark as clouds carrying thunder. He watched her dancing with an accountant on the groom's side, a thin and dapper and sophisticated type, with a bit of a fire in his eye as well. Another good dancer. They matched each other, step for step; arms, legs, hips all mirroring each other. And Dad sitting there with a jealous cold rage on his face.
They argued about it all the way home.
#
My mother.
She's worked all kind of jobs at different points in her life. I mean, she just can't keep still really, she needs stimulation, she needs for things to be new and different. I can remember times when she's worked as a nurse aide, as a foreign language teacher; a receptionist; an accounts clerk; a cleaner; a caterer's assistant; a gardener. I remember the brief weeks when she found the perfect job – arranging flowers for a high-class restaurant-hotel. I remember the lightness in her stop, how inspired she felt by what she was doing. And I remember the day she came home and said that she was giving the job up. 'Creative differences' was what she told us. And later, alone, she told me: "It's not always a good thing to reach your dreams, is it? Sometimes they're better off just being dreamt about. But don't you ever give up on your dreams will you?"
I was ten then – I'd been ten for a day and a half. My birthday party had streamed with floral decorations. I wasn't even sure I had dreams. The future was more a case of 'coming, ready or not', and I took each day as if it really were a gift, as if I'd unwrapped it from its fancy paper and seen something I wasn't expecting. Because each day really was different, never what you'd think, each day spread out in branches, in blood vessels, like brain cells reaching out at each other: I never knew what would happen or how it was going to end.
Mum would be unemployed for tracts of time. Money would get tight for a while. She'd garden and sometimes go on long, long walks or baking marathons, or want to head out of town for a while. Her and Dad would be on a precipice, always ready to fall out over something.
We need the income. We have a daughter to provide for.
Me: always the perfect excuse.
Well, I loved her that way. I still do. I loved when she started a new job, and she'd take me with her and watch me from afar, or we'd eat lunch together at the closest little cafe to whever she was working this time. I always waited in eagerness to see which place we'd go next, to find out where my new regular was going to be.
And hey, I still know all the good cafes and coffee houses in town.
#
But she scares me.
My mother.
It's not a Joan Crawford, clothes-hanger-beatings kind of thing. It's me really, not her. It's just that I have these dreams at times, and she's in them. It's horrifying stuff, real heart-thudding nightmares. I wake up with my blood pounding in my head, feeling my heart-beat running from limb to limb, head to toe – pulsing heavy and hard, and my face flushed and sweaty. The night's always closing in around me at the time, the darkness is full of tricks, full of those patterns that look like static, that take on the rough shape of the wallpaper pattern. And the wallpaper – in this kind of light: just rows and rows and rows of skulls.
The dreams are hard to remember, hard to dredge out of the adrenaline and the sweeping march of waking reality. Most of the time I'm only remembering images, just outlines. But the outlines of monsters – things that go bump and slither and hiss and snarl in the night. All the ones I've met, and a few that I haven't met. In the dream I think she's sitting, she's blind-folded, or her eyes are gone. All those things are creeping around her and she doesn't look up, she can't hear or smell or sense them. Ever.
I guess it doesn't take Freud to know where my subconscious is going with that.
On those nights I often creep out of bed, I go to their room, I open the door ajar and look in, just to make sure she's there, that she's unhurt and unthreatened. To see that she's sleeping in peace.
Well, I have to. I just can't sleep again that night until I do.