Mindy Unsworth: Weed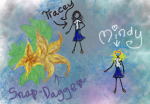 Sun, 09 Oct 2016
I'm walking home from school when I smell it. A whiff of something like ginger. But it's ginger with teeth, with a decomposing, sour-edged bite. I stop in mid-stride.
Tracey, of course, doesn't know. She can't. She's been talking about her Mum. "... so over all these new ideas of hers. This book she's been reading about raising teenagers. It's called... oh, something. And so now she has to do everything she reads in it. Min?"
"I'll be right back."
"What?"
"Just gotta do something."
Rolls her eyes. And I probably have that coming.
"Hey. Can you help me out?"
She tilts her head. Twists her mouth a little. Arms folded. "Is this going to be like the time I had to babysit a stone for you?"
"Something like."
"Fine."
So I tracked the smell. It tingled inside my nose. Had an understated malice about it. These killer scents wafting out on the air like attack drones, looking for a fertile home, a way of spreading and breeding and becoming.... Ah, there. I walk up to the fence and look over. Sure enough: in amongst the roses and freesias and daffodils and marigolds, there they are. I call them snap-daggers, because I don't know if they even have a real name. Who's ever been around to teach me these things, whoever's shown me how to be what I am except me?
Tracey, behind me: "So you want me to be lookout while you sneak into some old lady's garden?"
"Mind?"
"Whatever."
"True friend." I pat her lightly on the sternum. "Love you like nobody else."
Rolling eyes. "Be quick then." She's given up on asking questions.
I roll myself over the fence like an absolute gymnast, and head straight for the snap-daggers. They're pretty – in their deadly little way – all reds and yellows and pointy petals, surrounded by soft green leaves – like broken glass wrapped in tissue paper. I think they've been here maybe a few days – a week perhaps – and already the other plants around them are dying. And the snap-daggers – absorbing that life – are taking on blushes of their colour, patches of their shape and texture.
I kneel down and dig them out. Eyes on the door. This is Mrs August's house, and she's a dragon – not literally – and a witch – maybe literally. I've heard things.... I'm pretty sure she made Rhonda Decker's grandfather sick for a week when he tried to cop a feel, back when they were both young. Or so I've heard.
Lightning struck this garden once. They say.
I've left a bit of a hole in the garden where I dug out the weed. So I cover it by pulling some of the others plants along into the gap. Might do the job at a distance. Not up close. Don't curse me Mrs August, this is for you own good. I look over my shoulder at Tracey's back. She does seem to be actually keeping a lookout.
And when she sees me climb back over, with dirt and flowers bundled up in my shirt, she's just wide-eyed and aghast.
"What?"
"You're stealing flowers from an old lady's garden now?"
"Well..."
"Min!"
"It's a weed. I swear."
"Well, what for?"
"I haven't decided yet."
#
Well, I have, really. I wave goodbye to Tracey when we get to my front gate. She's still giving me that look. The special one. The Mindy one.
"But you love me, really."
She says: "Do I?"
"Besties forever."
"You're insane."
"Of course I am."
"I'm going to come visit you in the psych ward one day."
"Bring chocolate."
She will. She's great. I watch her as she walks along the road, swinging her bag around her knees. I'm lucky to have her, I really am. I'm not an easy girl to be best friends with, I can't be.
And I'm seriously freakin' hungry. But first things first. I go out to the back garden and plant the snap-dagger.
Am I mad?
I'm not Mrs August. I'm not ignorant. So yeah, I take precautions. I gather some rocks and place them in a circle around our new flower. It's pretty, Mum will like it, and it'll change colour over time. It'll fade, absorbing the stone, until it becomes the stone. A garden ornament lightly painted in faint colours - blues, reds, pinks - a softish finish. It'll take a few months. And they'll wonder where they got it, not remembering buying it, but still, quite nice isn't it...?
And problem solved.
And Mrs August's garden won't turn into a putrid, life-drained wasteland.
You're welcome by the way, Mrs August.
I remember something. Wasn't there a leftover burrito in the fridge last time I looked...?