Mum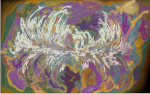 Sat, 03 Sep 2016
I go to pick her up at the airport.
It's crowded – there's three flights coming in within ten minutes of each other – and I can already feel that familiar, hot, itchy sensation on the back of my neck. That flushed, harried feeling, the impatience, the taut nerves. Because this crowd is so thick, and they flow so inevitably slowly, too many tourists taking their time, too many...
No it's me. But I feel that tight stress – skin overstretched across shoulder blades – because I know how she is when I'm late. I can imagine her pacing, mouth set in a firm frown, handbag tucked under her arm. Where is she now? I told her 8.30. And she'll be remembering – as I am – how she always told me, what she always said: allow half an hour extra for everything, then another ten minutes to be sure.
There's no being sure with this crowd- always having to stop, to wait while some child ties a shoelace, while a woman fiddles with a camera, and a man tries to manage two overlarge, wheeled suitcases. Like a pair of Great Danes. And somehow the book shop is profoundly interesting, drawing everyone directly across my path. Waiting – while they pour off the escalator. Tapping fingers. Blaming her.
And then, there she is, balanced on the edge of a chair, take-away coffee rested on the table, handbag clutched in her lap. She doesn't look old. I thought maybe she might – because the years can't show indefinite mercy. Her hair retains a shade of auburn that's richly shadowed in mahogany and black, her lips painted neatly in red; green scarf clipped in gold. And I recognise that expression, it takes me back in time, it shrinks me: the errant teenager, the problem; standing loose and floppy and badly dressed, braided, defiant, slouching.
I can't stop myself, I'm squaring my shoulder, straightening my back.
She looks at her watch – though there's a giant clock on the wall just to her right.
Yes, I know, I know, I know. And I hurry over, my apologies in bud. She rises for our embrace, pressing her chin into my shoulder, her cheek against my cheek. She feels soft, still young – there's all firm strength in her frame. Soldier straight.
She lifts a few locks of my hair: "Haven't changed your stance against hair dye then?"
"I don't dye my hair."
"A subtle colour is all you'd need," an unnoticed gesture at her own shadows and highlights, "it wouldn't have to be anything dramatic."
"Nice flight?" Any subject will do.
"Small and noisy. I'm so glad to be here."
"The car's in the carpark, on the far side."
"You'd be better of parking along Rothfield Drive..."
"Sure. Well. You need to collect any luggage?
#
She can talk. I forget the extent of it. It flows like a river in flood. All the things I remember from my youth are still there in her chatter – she talks about people I remember just as names until a detail brings it all back. Colours and flavours. She's lived almost sixty years in that town – her breath absorbed by the trees, carried into the roots, down into the bedrock. We can trace six generations before her. "Did you ever look into that registry of births? I sent you those documents last month."
"That's more your thing than mine, Mum."
"It's family, dear. It's all of our thing."
"Geneology. I can never get my head around it."
"It takes discipline is all."
"And I'm busy."
"We all are." Short and crisp, carrying just the perfect undercurrent of disapproval. She doesn't look directly at me, she stares out the window, noticing where the roads are broken, where the gardens are not being kept up.
"How's Dad?" I ask.
"Your father. He's your father."
"Oh, come on. That's no answer."
Softly reproving, sad: "He's your father, dear. He's been quieter than ever since the last diagnosis. Well, you know how hard things are on him."
On all of us. All those years.
"But he's... himself? He's stable?"
"Of course."
I try it out. Testing old waters. "He could have come."
"Oh, he panics on long journeys. You know. He's difficult to manage."
There are so many things that could be said, that deserve maybe saying, that should have their time in the sun. A childhood of feeling constantly managed; of being juggled between the demands of a broken, delicate father; an attention-seeking brother; her friends; her causes; her societies. The mornings, when she took such time to get her make-up right, to strike just that balance, just so. When she glances at me now I know she takes account of my face un-made-up, my faded jeans, my cheap sneakers. She can't understand it.
#
We stop for iced buns, and to grab a loaf of bread and some muffins. The bakery smells of fresh pastry, of bacon, of coconut. Mum examines her bun before eating it, a knowing look coming over her face. "You could bake one of these easily enough."
"If I baked."
"If you baked. It's not that hard. I tried to teach you when you were young."
And to knit. And to sew. I remember.
"So boyish." Appraising me, hunting for my feminity now.
"Still am," I say.
"Oh, nowhere nearly as much," and she's hunting for it, willing herself to see the daughter she tried to raise. There's an expression of both suspicion and hope: "How are things with Darren?"
"They're good."
"Is he still... has he matured at all?"
"Matured? Really?"
"Honey, this can't go on forever."
"Don't."
"He's a nice boy, don't get me wrong, but he's not a future husband. You can't tell me you truly see a future with him?"
"Why that's?"
"Oh, honey..."
Out with it. Just out with it: "I love him. We've moved in together."
"You've..."
"Moved in together."
Attention on her bun, eyes swimming in the icing, measuring her words down to the millimetre. "He isn't good for you. He's very nice. But he's insubstantial and undemanding. I know I can't live your life for you..."
But....
"....but I'm still your mother. I have to put your best interests first, and Darren, there just isn't that much to him. No expectations of life..."
Here it comes.
"No expectations of you."
"I like that."
"Because its easy. You don't have to do anything. Neither does he. You don't have to be anything for each other. You don't need to make an effort. You don't hold each other to account. How do you spend all your time with him, you're just watching TV, sitting around..?"
"We love each other."
"You enable each other."
Not this again. "Let's not..." it's a dim, already dashed hope.
"You still wore makeup when you were with Greg."
Greg, Greg, Greg. Three years have passed. I saw him in the supermarket the other day, in the produce aisle, with a small child sitting on his hip. He remembered her. He asked about her: "Is your Mum as nuts as ever?"
#
I drive her to her hotel. There are lots of silences – like holes in an old blanket, our points of contact eaten away over time. The air between us is murky with these tiny bitternesses and failures to meet on common ground. I wonder if she's noticed that I've put on weight – it seems certain that she must, and that the moment will come, a sideways way to draw attention to it, to remind me of that obesity gene on Dad's side of the family.
They're back to anxiety disorder with Dad, having toyed with schizophrenia, decided that it doesn't fit, picked anxiety back up off the floor where they'd discarded it.
But you've always been there for him, through thick and thin, haven't you? Even when Jasper and me were afraid of him. I wonder if I can love Darren quite that much.
She looks out over a skate park, running a clear-painted nail along the bottom edge of her window. There's boys playing out there with skateboards, and a dog on a leash who tows them over the obstacles at esctatic full speed. Big, shaggy, tongue lolling.
"You used to be like that," she reminds me.
"I haven't changed." Is that fact or some subtle punishment? What's wrong with me? Really? I'm thirty-six.
"Oh, then you've still got those moves?"
"I haven't had time..."
"You could jump the neighbour's fence and do a 360 turn on that skateboard of yours."
"You noticed?"
"I watched from the window. I was waiting for you to break a pair of ankles. Who knows what they must have all thought?"
"It was the 1990s Mum, not the 1950s."
She looks back at the boys in the park. There's one girl amongst them, blond, dressed in black. She fits in, but still – there's that difference, and that odd way they look at her. She's one of them, and not quite one of them. "That's the girl you were, back in the day."
#
And we get to her hotel – sheek, classy, dignified: of course. My place? I can't. And there's Darren there. And you wouldn't call it sleek, classy or dignified, no matter how hard you stretched your imagination. And the outside needs painting; and the garden's unkept, let go. Like my hair. Like my life. She tells me she doesn't feel comfortable in somebody else's house, feels out of place, feels the lack of her privacy. She doesn't like the bed – too hard, the springs, the way they shift when you lie down on it.... the risks, she would say, of a second-hand bed.
I could have dumped that bed, got a new one, any time over the last six years.
Instead, she hesitates, her finger around the latch.
"What is it, Mum?"
"You need to look at the future. You need to imagine yourself in ten years, Darren in ten years. A life well-lived needs purpose. Just think about it, that's all."
I won't react. I won't say anything. I notice the delicate way she closes the door, and the way she walks, all self-contained, towards the steps. They're marble – or fake marble – and they catch her refleciton along with the sunset. For just that moment I can see it – where all the years are hiding – a moment, when she stops, as if she needs that moment to gather herself.
I lean out the window. I call out: "Mum! I love you, Mum!"
She looks up, and smiles a bit awkwardly, nods, makes her neat way inside.
#
"How co-dependent are we?" I say to Darren as I walk in the door, as I dump my bag on a bean-bag, and flop down on the couch.
"Went well, huh?"
"Oh, don't get me started."
"How long's she here for?"
As I sink down into his rough, worn jersey, feel the stubble on the side of my neck, feel the tension finally drain away, hot and soothing: "Three weeks."
As he rests his chin in the hollow of my shoulder, slides his arms around my waist, sharing all the warmth, all the years that've gone into the texture of his skin: "Three weeks, huh?"
"Three weeks."