My Dad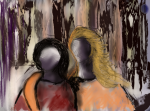 Wed, 17 Jul 2019
My hero is my dad.
He's tough as shit.
He's the kind of guy you can't take on. And you shouldn't take on. Some guy goes up to my dad in a bar and wants to talk smack, well, that guy's got it coming. Dad, he'd look sideways at the guy, he'd take his time putting down his drink. His face would have that glassy, edgy look. And then he'd lay into the guy. Teach him some manners, teach him who you can and can't look at wrong. Teach some respect. Ain't no-one who can take on my dad.
That's apart from the cops. But they've got badges behind them, and a police station, and more police stations they can call in for backup. Hell, they probably got the army they can just dial up and say 'it's all going to shit, get down here, help us out.'
One on one of course, y'know…
But the cops outnumbered Dad.
I watched from my bedroom window, the way they surrounded him, the way they kept saying his name, the dogs bobbing about, barking. The neighbourhood dogs barking back. Dad didn't go quietly, he cussed them out good and proper. Taught me some new words, eh? He had a bottle in his hand, with half the contents already tipped over his shirt. Come at me, will you? In my own home! You think you can come and tell me how to live! Bloody complaint! You see if I don't!
#
I'm not supposed to love him. They don't say it direct. But I walk around school and I can hear the gossip, and I see the compressed little frowns on the teachers' faces, all the more so when I talk about him. Or if I bring one of his letters to school with me.
My dad, he's got beautiful handwriting. They don't want to believe it's his; they suggest that maybe there's somebody in the prison who writes these for him, who takes what he dictates and turns it into readable and elegant. Because Dad: they're convinced he's some gutter-thug who can't read and write, and talks with his mouth full, and picks his nose in public.
Nobody says it. And nobody says I can't admire him, or talk about him, or that I shouldn't love him and wish I could be more like him. Just those little pinched frowns. Those 'thank you, Susie's as they gesture for me to sit back down at my desk.
A phone call home to Mum.
"What?" I hold my hands out. "Other kids can talk about their families."
#
I've been to visit. Oh, and when I stood up in class and talked about that: show-and-tell like it'll never be again. But I wanted to talk about the plastic walls, and the way all these people sat, looking ahead, pretending all these other people weren't in the room. And the room full of tables, with clear Perspex dividers: as if these prisoners couldn't just stand up and walk around the side.
"What are you up to at school, little miss?"
"Nothing much," I tell him, "it's boring."
"Keeping out of trouble, eh?"
"No."
"Well, that's my girl."
And Mum gets that little tight frown as well, though she hides it and replaces it with a wishy-washy smile, belied by tired eyes, by the shadows running down her face.
And I tell the class about the man in the corner who yelled things I didn't understand. Well, my teacher sure did. His face: such a shade of white. And having to relay all this again later to the school counsellor as she leaned in, smiled gently, asked me a lot about how I was feeling.
#
Sometimes angry.
There you go. That's sometimes what I'm feeling. Angry at the world because its hard and unfair and doesn't make sense. Angry because there are kids my class who have cell-phones, and have an X-Box at home. And their roof probably doesn't even leak. And angry because I miss Dad, and because nobody else seems to. And because my aunties never call by; and my cousins don't come to see me anymore.
This girl at school was giving me a hard time one day. She wanted to know if it was true that my dad was in prison. Oh, and what did he do to get in there? And wasn't I afraid I was going to end up like him? And no, that's my muffin, you can't just reach into my bag and take it.
Can't I?
She pulls her bag away. She says, "you're a freak, everyone says so."
Well, you bleed. Even if nobody says so I know so. And I showed them so. I shoved her against a desk when she started to move away, and when she turned around, I punched her in the nose. Good and hard. So much blood that it made us both cry; and got my mother called in to pick me up, and got us sitting in front of the principal's desk, and Mum crying, and the principal saying how she understood, and if there was anything they could do to help…
#
We bake together, sometimes, me and Mum. It's kind of soppy and traditional, but then there's chocolate chip cookies, and lemon muffins, and macaroons. There's usually flour everywhere by the time we get done with it all. And we don't care. We laugh. If we spill a cup of milk we laugh all the harder and tell each other not to cry over it.
Mum gathered me over to the breakfast bar, one stool each, her arm around my shoulder once we were sitting.  She asked me, "Do you remember your grandmother?"
"Not really," I admitted.
"You were very young when she died, and she'd been sick for such a while. But your grandmother had a hard life. She was born with very little, and her parents, they… well, they were young and they didn't really know how to raise a child. Not a smart one like your gran. And not one who was as sick as she was. She had bad lungs, all her life, right from when she was a baby, always coughing and struggling for breath. And her legs were… damaged… she couldn't really walk straight; she always had this limp. She was often so sick she had to spend most of her days in bed.
"But she was a tough lady, you see. She didn't want to give in. And when she couldn't go to school, she would read books, she would sit in her sickbed and plough through these books, write her own notes, test herself. Some years she missed half the school term but she still got out there to sit her exams. And she passed. She excelled. Do you know what excelled means?"
"She was good at stuff."
"Right. She was a genius. And she worked for that. She trained herself to be that way. And she went to university after. She graduated. She did more classes after. Met your grandfather in one of those classes. She would have ended up being some professor, or researcher or something if her health hadn't gone downhill. Do you see what I'm saying, Susie?"
I shook my head. "That she was cool?"
"Yes. And strong. And brave. She had real strength. The kind that you have in your soul. Do you understand?"
"Kind of."
She hugged me against her. "Do something for me, please. Just for a little while, can your gran be your hero?"
"Okay."
And she would be. I'd keep a photo of her inside my maths book.  But I'd scramble upstairs a bit later and I'd write a letter to Dad.  Tell him about what happened at school, about the fight, how I took it to that bitch who all prissy and in-my-face like that. And I know he's going to be proud of me when he reads that.
Picture credit/discredit: author's own work