Pretty Poppy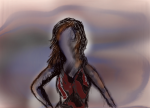 Fri, 13 Sep 2019
The hours mount up. They stack like bricks, like stone slabs on her shoulders, weighing evenly on each side. Every step leaves craters in the pavement.
Fifty hours. Sixty. Seventy if she can get it.
Poppy knows she's young. She knows it at some periphery of her mind that she can barely touch, can barely remember.  What did it feel like to run and whoop and scream? All she sees now are the dollar signs; all there are now are the figures, the calculations. Each time she does them they come out the same.
An eight hour shift down at the market, another four hours at the chip shop. She leaves her little flat with the sun still just slithering over the hodge-podge of roofs and chimneys; she walks now, spotlighted by streetlights, through streets made of mixed darkness and man-made light. There's smells of wood-smoke and diesel and whiskey. There's that stale feeling inside her mind, the one that's like old grease, like deep rot inside a dead tree.
She stops at Radial. It's a café/bar and sometime entertainment centre, it's a hook-up spot later in the night, it's drug free, but there's hookers who come here to trade now and then. And Samuel, who's the owner, knows her brother, and sees some of him in her. And so he pours her a free drink, and gives her the bread rolls that are too old to serve the next day. And on the right kind of night he lets her up on stage.
At last: at last she has wings. She can forget about the figures – the debt, the mounting interest, the way it just seems to keep doubling so that she can't get ahead of the interest, never mind trying to whittle away the capital. She can forget that her arms and legs ache, her hair smells of grease, some woman yelled at her today for no apparent reason – just some shop assistant, so what does it matter? For this half hour or so she fly above that. Above the loneliness and the blank, clogged tunnel that seems to be all of her future.
But never mind all that. Not now.
She finds her voice. And she knows - without being boastful, without conceit - that she has that voice, that it's golden and crystal and like raindrops and glass. She brings the song out from below her chest, and – no matter what she sings – it becomes a part of her, it melds with her soul for a little while, all the feelings in the lyrics becoming her own, felt harder and deeper and with finer passion than anything she can feel for her own daily life.
A face. Out there in the audience. She doesn't know him, but she thinks she's seen him here before. And he's not in the least bit hard to look at. Her type. Her opposite.  All blond and big-boned, square-chinned and tanned, a little freckled, laid back. She likes that his hair is a little long, that its lightly curled. The way he lounges in the chair, hand loosely cupping the beer; as if the world is so easy and accommodating; as if he could navigate it in his sleep.
Would he have room for her?
She doesn't know his name and she doesn't have the courage to approach him. She wonders if he knows that the love songs are for him. She sings them towards him, bleeding her heart out for him to find, to pick up, to carry back to her. To heal her.
But why would he? How could he know?
As the night winds down, she says a few words to Samuel, lies to him, says she's doing fine. All good. All's well. She smiles over her shoulder at him as she walks away. She walks into the night, along lit pavements, through a lightless alley, to the room and a half she calls home.
She swallows down her tears, braces herself to do it all again the next morning.
Picture credit/discredit: author's own work