The Queen of Clubs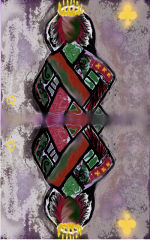 Tue, 12 Jun 2018
The Queen of Clubs was no philanthropist. She would have scoffed at the notion of it – something hypocritical, something pointless. She was no Queen of Diamonds, and she was no Queen of Spades. Her fire could never have been moderated or contained by the forge. Hers was wildfire, and it needed to burn where it willed. She was larger than life, she was thunderous, glowing bright. Hard as nails. She'd been forged on the mean streets and she knew it, and she revelled in it. No-one forged anywhere else would ever be her equal.
Looking back: he should have known.
She was another great beauty. Against what he thought might be his core beliefs, he was always drawn to external beauty. He considered it a flaw: and yet, when he stared into a raging sunset he felt uplifted, freed, awed. Gazing into the eyes a beautiful woman felt the same, but it came with a sense of guilt. And the Queen of Clubs was a sunset like no other: she was dark; her eyes were deep and languid, with a cocoa-darkness; her thick lips painted a colour of heart's blood. She was barbed wire tangled with gold thread.
And Gordon: he was hooked.
She was on parole when he met her, working at a chip shop just down the road from his flat. Her hair was tied back in a net, a tattoo exposed against her collar bone.
"Didn't that hurt?"
"Not very much."
She was scarred too, a scar that represented the moon. Carved by her own hand with her own blade. She was that kind of woman.
#
There were six months allotted to them. They were rocky, mountainous, troubled and thrilling. When things were good they were awesome: they made magic in bed; or they lounged in each other's arms, all limbs, watching TV, gorging themselves on chips and beer; or they were out dancing into the small hours. When things were bad the fights were vitriolic; no-holds-barred, words rushing between them that should have been unforgivable but weren't.
Until they were.
Although he'd never remember the words that lead up to it, he'd remember verbatim that moment when she came at him with a hammer. He'd remember thinking that he hadn't even known he owned a hammer – that he didn't remember ever buying it - even as he fended the blows off with his arms, even as he yelled at her to stop. He could never remember what names he called her, what retribution he must have threatened her with; just the hammerhead raining down, leaving bruises; breaking his wrist in two places.
She was sorry afterwards. But the image was lodged in his mind. It came back at him over and over again, always her, with the hammer raised, with her eyes full of… what? Murder? Hate? Lust? It was a side of her he couldn't unsee. Too many pieces of him, too broken; they couldn't be put back together.
"It's too late," he told her, knowing he'd never call her, he'd never look in on her, they'd never see each other again.
Picture credit/discredit: author's own work