She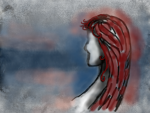 Fri, 06 Apr 2018
She doesn't go out much anymore.  Maybe down the road for milk, or the paper.  Groceries are delivered.
She doesn't want to see him, doesn't want to run into him on some street corner.
She tells the wallpaper: a worthless asshole, a bastard, a vicious wanker.
A tale half told.
Picture credit/discredit: author's own work