Stalactites and Cacti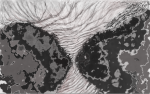 Mon, 04 Jul 2016
I'd be happiest in a place that doesn't change much, where the colours move over the ground the same way. Where there's a pattern. Where there's order. I could drive through the desert for hours on end, without looking sideways. Ancient-old cacti – barely changed from one decade to another. The progression of savoury colours between two horizons.
Or in a cave. Alone in the dark with a lamp and a blanket. Stalactites hanging from the roof, dripping by centuries until they reclaim their shared bloodline with the stalagmite beneath them. The oldest ones: their souls re-twinned.
'Stalactites': because they have to hold on tight. 'Stalagmites': because they might one day grow to touch the ceiling.
I ran away from her.
I find a place to sit where my view out the window is only the sea. Where blue sky meets blue water, along a horizon so indistinct that I sometimes think I lose its exact place. Or I lie on the hotel bed, staring up at the ceiling fan, noting the rhythm of its turning. My phone stays off.
Her: shouting. Her: pleading. "Can't you even tell me why?!"
Her hair: platinum blond today, where it was coloured like honey last night.
Two hundred miles away and counting.
I stand in front of the mirror, and I can't help but notice the lines. Lines have turned into creases. They move too fast for my liking.