"Stephen"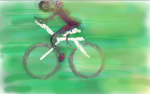 Mon, 26 Dec 2016
Up with the sun. He grabs an oaty breakfast, a draught of water, a handful of quickly scoffed nuts. He dresses in red and blue lycra, straps on his helmet. Something about this makes him feel full. This calm feeling of purpose, of putting a confusing, conflicting life into perspective and order.
He swings his bike onto the road and glides off. Sunshine falls out of the sky. Air rushing past his cheeks. Summer in the air. He listens to his heartbeats as he pedals, head hunched, shoulders high.
And between those heartbeats he remembers one woman, and dreams about another.
Esther: the one he feels bad about. Has he abandoned her? Esther, who's so broken. He thinks about the shape of her face, the hollow cheeks, the oversized eyes. He remembers her arms as thin as sticks, that fierce, feral looks that comes over her face when he tries to help her. When he tried. Now it's up to the professionals. Trying to say sorry, trying to say goodbye. But didn't he abandon her, when he should have been wedded to her side?
And then Miranda. Who smiles at him from the photocopier, asks him about his day. There's something about the way she looks at him. One night, at the office party, a few too many drinks, hands everywhere. "So, sorry..." "Too much to drink..." "What were we thinking...?" "You have Esther..." "Never happen again..." But it does. In his imagination. Night after night. During the day. In his dreams it goes further, gets steamy, ends in long walks, in dinners, wedding bells, children.
And so he couldn't stay with Esther.
He reaches the crest of the hill, turns a sharp corner, following a circuit that's as familiar as the back of his hands. Hands he watches as his legs do the heavy work. He stops for a moment where he always stops, by the park, overlooking the city. Emerald hillsides are speckled with roofs and bright gardens, white and almost-pink rocks that crown the ridgeline. Sky as deep as sea – colour so rich it gives him vertigo. The clean lines of roads flowing downhill.
Life is awash with complications. Can't hide forever. But for now there's still the road, training each morning, again in the evening. A brief purity. Morning sun unstained by the later haze of day.