Troy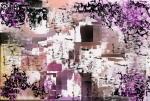 Sun, 14 Jul 2019
You should have seen me! 
I just rock on up there riding on a pony, right up to the gates of Troy. Am I scared? Not a bit. And do those Trojan soldiers take shots at me as I trot on up to the gate? Not a single one of them. This I know by now: no man will ever draw a weapon on me, or speak a harsh word, or look at me askance. I am what I am, and no man has every had the fortitude to say 'no thank you' to this.
So I ride right on up there, rein in at the gate. Soft, butter curls, light as blossoms, bright milky skin, eyes to be mistaken for sapphires. I have them all enspelled.
"Fair lady, why do you ride up here?" the sentry asks me.
"This horse," I tell them boldly, "he is a gift for the king."
I've chosen well, this is a fine boy, his hair is the colour of honey, and his mane and tail might be spun from pale morning sunlight. Shiny and strong, fierce tempered: he is a mount for a king, sure enough.
They escort me in. Could there have been any doubt? Through the busy streets, the dust, the clang of weapons in earnest practice. The smell of hot blacksmith's iron, of baking bread, of stables and barracks and perfume. It is a city under siege but it's a city still, and it bustles with all the activity of such. The palace is still a fine work of marble, still tall and wide and memorable, still hung with colours and proud. They misinform themselves that there is honour in it all, that they fight for love, and so their cause is that of the righteous, that their ruler is the wronged. I would tell them: fight for your home and family, fight for survival.  Love is a game. Ten times as many winners as losers. I would say this. Yes, I. Take from that what you will.
At the palace they escort me to the king. Nobody hesitates, nobody imagines that I am here to maim or murder. Even if I were, could they keep themselves from leading me forward? I think not.
"His Highness, King Priam"
I step forward to offer my hand, "Son of Laomedon, I bid you greeting."
He kisses the hand I offer, "Madam."
"I bring a fine gift for you, sire. He is in the stables, will you come and see?"
"I should be honoured, goddess," – so he isn't entirely a fool – "but will you dine with me first, will you share a table?"
"Of course."
He wills his guards away, his servants.  He would choose to be alone with me. He imagines that I might offer my flesh to him, my facsimile of love.  I quell that little flame of anger: that he'd think I am readily available, that I give myself to any man, any king, to whom I present myself. I have taken human lovers, it is known; but I've chosen them carefully, for the man, or for his seed, and I have always loved him.
In Priam's inner sanctum we feast well for a city cut off. Indeed, this is not a city ready to buckle, battered into a state of surrender. Far from it, I think. So, my way is necessary.  But I'm no murderer, nor am I some divine whore: what I weave is pure power, it is the heavens mingled with Hades, mingled with my blood and my father's blood, and with the celestial ocean that was my womb. I unpick poor Priam, deafening my ears to his screams, and I re-weave him, in another form, the twittering face of a little rat. And I watch as it scurries away from me, perplexed, afraid, not a little bit royal.
And when I walk out, unhindered, into the hallway, there are rats running up and down the corridors, climbing the walls.
A bit too much, I think to myself, a bit more force than I quite intended.
I find her leaving the temple, barefoot, in blue, her golden hair coiled up on top of her head and held with colourful pins.
"You are Helen, yes?"
She knows she can't deny it; she is built almost as I am, a gilded jewel. Such magic as I have once gifted.
"It's time to go," I tell her.
"Oh, but- but-"
"It was fun while it lasted, but come with me now. It's time for you to see him as the ordinary creature he is."
Her hands fly to her mouth, "Oh, no, please…!"
"Very well. Keep the memory if that helps you, but come. You need to follow me now."
"Back to him?"
"Menelaus is still your husband. I have not untied that bond."
"I wish he'd died!"
"But I am not inclined to murder, so come."
Defeated, she takes my hand. She might be a little sister, she has that resemblance, though, of course, I shine the brighter.  They part for us as waves, because I command it, because I smile. I ask for my horse to be saddled – poor Priam, rat-Priam, what use would he have had for it now? – and we ride for the gates, which are opened to let us pass.
Menelaus is waiting, and his wife is delivered to his hand. She casts me looks of fire, but this had been our deal: true love – such as she and those like her would see it – as bright and deep and all-possessing as such thing must seem – but for a short time only.  And then she must return to what the world of men has wrought for her.
And they will tell stories of this. But they won't tell it as it is. They will say that my horse was hollow and wooden, that the city fell from trickery, from a few men who opened a gate, from an army that fell upon the city. Not from a woman's smile, a fall of yellow hair – that is the way of things.  The world of man must have its self aggrandizement, and men must have their excuses.
But before I left, I whispered to my son: "there is a way out of this city. There is a secret path.  Go.  Take those who you can. I will ensure that men of both sides look the other way."
Picture credit/discredit: author's own work