Under Sunset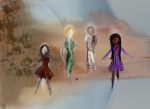 Wed, 11 Sep 2019
Pretty Poppy,
Dancing on the head of a pin.
Always ready with a show,
With a smile, a wink, a backwards glance,
She flares as the lights get low.
No need to take a breath,
Though the stage light might be as hot as Hell,
And the night is long and lost.
Yes, she'll bear the cost.
Darling Debbie,
Balanced on the heels of her shoes,
In an alley,
Between the butcher's and the bar,
Beneath the lights and the sounds of running,
Her smile would leave a scar.
Cigarette hanging from her fingers,
Glitter and leaves in her hair,
You bet, she'll take your dare.
Midlife Molly,
Sitting in that room all alone,
As the lights fall down, and the sunset rises, and night ignites,
She doesn't bother to turn on the lights.
A cardboard room,
Copied across a neighbourhood,
With echoes that paper the walls.
She thinks she hears the doorbell,
But who's she going to tell?
Raging Rhonda,
Walks on broken glass.
She doesn't need to ask.
All the gold in the mountain,
Flows down the river into her lap.
Lightning strikes her,
It doesn't leave a mark.
Her scream endures in silence,
It reaches into the night,
Oh yeah, she's up for a fight.
Picture credit/discredit: author's own work