The Way I Am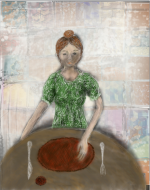 Fri, 08 Feb 2019
I set the table.
It has to be just right.
I'm nervous as all hell, and it doesn't help. I line the forks up, checking the angle, once, twice, again. I start to walk away, I double back. It's just… I think I can remember that I've checked it, I just can't fix that memory firmly in my head – like the curtains, or the soap, the pictures that I think are hanging straight now.
"You'll be all right," said Patsy, hours ago. "Just try not to be too nervous."
What's more nerve-wracking than thinking about how you mustn't let yourself become too nervous? Fretting about it, building the anxiety up in little blocks, until you almost feel as if you could choke on them.
One of the knives is a little crooked, and there's a spot that's not polished on the fork.  But if I pick it up to polish it, how will I put it back in just the right place? I examine the flowers, needing – literally needing – for them to make a geometric pattern.
"Try to keep it under control, tonight" said Patsy, hours ago. My sister.
I'm not sure how to respond to that.
"The OCD," as if she needed to elaborate.
"You're not just going to tell me to be myself then?"
"He'll love you for yourself," she said, well-meaning down to the core, "but he has to get to know you first, and you don't want to scare him off."
#
Well, right now I do want to scare him off. I can hear someone moving in the hallway and I know it must be him. And if could think of something to do to send him screaming all the way back down to the ground floor, I would. Because my heart is racing, and the feeling isn't good, it's hot, purple, sweaty, weighted, miserable – what in all hell made me think this could be a good idea?
The doorbells rings.
I psych myself up before I can answer it.
Here's Chris. He looks good. He's wearing his glasses, and his hair is as loose and lightly curly as ever. His jacket – in tan – is a comfortable corduroy, and his trousers are neat, black. He stands right there in the doorway and there's a rose in his hand.
I gape at the rose.
I don't date a lot.
He says, "Hey, Vicky."
"Hey," I'm struggling to look at him.
A few too many seconds of awkward silence. "I think this is the bit where you might invite me in."
If I was a quicker-witted, smarter girl I'd have told him there was a quiz first, or I'd have told him he needed to sign a declaration to prove he wasn't a vampire. I'd have been lively and charming and fun to be around. He'd have been thinking how glad he was he'd agreed to this date. Instead: "Um," I say, "Yes, um, of course."
#
I have to check the door once he's inside. I stare hard: and this thing is locked. Locked. Locked. Locked. But halfway across the floor and I have my doubts. I glance behind me, trying to make sure the lock is turned – since I can't go back for it, since I promised Patsy I was going to be on my best behaviour.
"I love you, Vix," she'd said to me, "you know I do. But it takes time for people to get used to your… condition."
Already Chris is having to. He must notice me stopping to straighten that coaster that's not at right angles with its twin. He sees me straighten a chair. He must notice that I do so only touching it with the heel of my hand.
"Nice place," he says.
"It's all right. I make the best of what I can." Small, not flashy, but immaculately presented – because I just can't help it – with everything set in square grids. I hope they're subtle, but I fear they're not.
"You keep a way tidier place than I do."
I try not to picture that: the pigsty that my destructive brain has to conjure up. I can't stop myself from imagining the floor all covered with dirty clothes, with grease and mould, with mould growing in the corners, and in dirty dishes in a dirty sink; some of it really scary, fluffy mould, great furry puffballs, and the maggots that crawl out of… I gasp and flinch. I have to. I just have to.
"You all right?"
"Uh.  Fine.  Sorry, old… war… gaming injury."
"Patsy tells me you work in a library."
"Yes."
"Quiet?"
"Most of the time."
"Opposites attract then, since I work at a railway station."
"Oh."  You see I'm really not cut out for this. There's no witty repartee and there's never going to be. I try not to picture how dirty and greasy the trains are. I count the little spiral patterns on the wall – six up, eight across, on to the next wall.
"I don't know if the trains or the passengers make the most noise."
"I'll go get the dinner," I say hurriedly, making a run for it.
#
And dinner is hard. He must wonder at how neatly his food is set out – everything that can be is at right angles, carrots stacked like building blocks. I'd tried not to, but I just couldn't let it go out looking like that…
"This is good," he says.
"Thanks."
And then I let him do most of the talking. He obvious reads the paper, because he can talk about the news, and he's telling me how he's heard this latest movie out is really good. He asks me: "What's your favourite movie of all time."
"I… gosh…" I'm not good at being put on the spot.  Bambi? Debbie Does Dallas? They don't seem like choices that would make a good impression.  I can't even remember the last movie I've seen, or even any movie I've ever seen in my life right now. I just say words: "Jurassic Park. The first one."
"I've seen that.  Good choice."
I won't giggle, I tell myself, but just thinking about it makes a high laugh stutter out of my mouth.
My favourite restaurant?
My favourite nightclub?
Have I ever been out to Sangrito's. "It looks like such a little place, nothing much more than a door. But then you get in there and it just comes to life. The cocktails are great, and the dance floor's huge.  It's all covered in these little silver squares to catch the light.  It's a little bit blinding, actually, but hey," and he gives a shrug. "Maybe that's where we should go on a second date."
And I do giggle.
"You know, if it looks like we're heading that way."
My cue. I know. My cue to say something encouraging, to let him know I'm reciprocating his interest, and I reach for my wine to fortify my nerves before speaking. Disaster strikes. My nervous fingers miss their grip and swipe the glass instead of picking it up. I snatch at it, horrified, but it's already falling, already landing on the carpet and spilling. That choked, horrified whimper busts through my lips.
I jump up and rush to pick it up… but… the way it's landed, at odds with the layout of the shelves… and… the wine… it's sticky and staining, uneven. I have to reach for it. I fall on my knees.  Just pick it up. But I can't. Literally can't. So instead of picking up the glass and going into the kitchen for a cloth, I just drop my head into my hands, into my lap, and sob helplessly. If this guy had nothing to measure a bad date against before – well, he sure as shit does now.
Chris comes down to my side, puzzled. "What is it?"
"I… can't pick it up… I just can't… I can't touch it."
"Can I?"
I answer, I think, but it can't be intelligible.
And so, Chris picks the glass up and cleans up the wine, and I rush out onto the balcony.  I don't want to be out here, but I want to be in there even less. And I don't want him to come out, I really, really don't want that, and if the door locked from the outside…  But he comes.
"I'm just like this," I tell him, and I'm fidgeting with my hair because I few strands have come out on one side and now I need to even it up, "I can't help it, it's just the way I am."
"OCD?" He asks.
"Yes. Not just the way people say it casually; for real, clinically diagnosed. I take drugs." And I gesture helplessly around myself, "For all the good it does."
"Checking or cleaning?"
"Bits of both. And… other stuff. I'm sorry about the wine."
"It's okay."
"I couldn't have touched it without gloves, without washing the gloves first, and then… it's hard to explain."
There's a beautiful view on our balcony – mine and Patsy's – of the surrounding suburbs, and the fairground, the Ferris wheel centre stage.  The houses are all tiled and chimneyed, covered in moss, and the trees are a rich green that fades into the dusk. A magenta sky promises fair weather tomorrow.  And Chris comes to stand beside me. He says, "You don't have to explain. Everyone's got something. Literally everybody." He considers for a moment, "I grew up with my uncle – for reasons that take the sort of explaining best suited to a fourth or fifth date – and I didn't know for all my life that he was an alcoholic. Recovering. Permanently recovering. I never saw him touch a drop. When I first realised that his Wednesdays were AA meetings, I was twenty-two, and I felt like such a pillock. You can't imagine! Maybe you can."
"At least your uncle's recovering."
"It's a day by day thing."
I swallow. "But you see, I'm not.  I'm always going to be like this – more or less."
"I take people the way they come. And if I have to pick up a wine glass or two," he shrugs, "Well…"
I hesitantly move closer, fingers all clenched together.
He takes my cue, I think, drawing in, sliding his arm over my shoulder.
"About that club…" I say, "I do get a bit nervous around loud noises."
He slides his arm down into the small of my back, "Huh, well I know a place by a river that's really very quiet. If water's all right, that is?"
I smile. My first real smile of the evening. The moon is big. His body feels warm against mine. I let my head rest on his shoulder.  "Water.  Water's just fine. Ice, on the other hand…"
Picture credit/discredit: author's own work