WebWorld (3.5)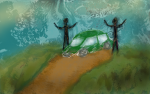 Sat, 07 Aug 2021
They were Tristan and Greg. But we didn't know that then. All we knew to begin with was that they were coming right at us, and they could be friend or foe.
Tristan was a nice guy. I mean, he had a temper, of a sort. And I guess he was a little bit surly, almost to the point of rude, and maybe he was a bit withdrawn. But no, Tristan was a nice guy. He was hard, he gave that impression like he'd grown up on the wrong side of town, under the steely eyes of the wrong kinds of people. Not that he ever really talked about it. If he was going to talk, it would be about the practicalities of managing in the apocalypse, about all the things that were known or not known about gum. Though it didn't come across at first glance, he was something of an intellectual. He let something slip once that suggested a degree in physics, and yet at the same time I pieced together that shortly before it all went to shit, he'd been a farm hand. He was a hard one to puzzle out.
And what he was doing with Greg? Who was also a nice guy. In another kind of way. He was softer and nerdier, right down to the floppy hair and the wiry little glasses. They were an odd match. Friends from some agricultural course. Greg kept bees. Or was learning to keep bees. And when he wasn't making honey, he played Dungeons and Dragons and made model landscapes for either gaming or for model trains to cruise through.
When he was eight Greg had nearly drowned. He'd been at a swimming pool and of course there should have been pool attendants watching, he should have been safe. But, somehow, he'd gotten dis-orientated under the water, and then panicky, and then confused. And then all of a sudden being hauled out, dripping, gasping. His mother running over and telling everyone who could hear that she had only turned away for a second. His mother dragging him hard by his arm, slapping him in the car for scaring her, and almost dying.
Tristan recalled an occasion when he'd actually gotten so drunk he'd really played chicken with a train. His friends had dragged him off. He didn't think the train could have stopped in time. A dog had chased him that night, he thought he remembered, though he couldn't remember why. It'd chased him for a couple of blocks, running in front of him, barking ferociously, never going in for the attack. Maybe herding him. He thought a stray cat had distracted it. And then a pretty blond distracted him. He'd been twenty-one then. He was twenty-eight now; and Greg was twenty-four.
But we didn't know any of that yet. All we knew were two strangers, pulling up in a slightly battered green car.
Tamsin was wild-eyed: "Is it them? Did they find us?"
"No. There's just one car. It's the wrong kind of car." I hoped. Dear God, I hoped.
Zara drew the gun and trained it at the vehicle as it stopped.
Two doors opened in tidy unison.
I strode on up there.
The two of them got out. Somehow, they managed to make an almost-kinda dance about it. They stepped out with their hands up.
That's right. Zara's holding a gun.
Tristan – we would learn he was Tristan – said, "You don't need to point that at us. We're not here to make trouble."
I tried not to bristle at the fact that he was speaking past me directly to Zara.
Yeah, well she's holding the gun…
"Hey," I said – okay, I bristled a little – "you're talking to me, buddy. Eyes over here. What brings you up this way?"
"A map."
"What map?"
"Will she blow my head off if show you?"
"Probably not."
"It's in the glove box. Can I reach for it?"
"Okay."
Greg, speaking up: "We don't mean any harm. We're just trying to find a place."
Tristan glanced at him, just a touch of warning there. He reached into the front seat, pulled out what did appear to be a map, and showed us where Camp Foggerty was circled.
"Okay," I said, 'Why here?"
"The circle."
And Greg elaborated: "So we found an old flatbed, it was crashed, totalled, set fire to actually, but this map was amongst some things still intact in the boot. It had this place circled and so we thought we'd try for it."
"Why?"
"To find somewhere safe. Maybe safety in numbers."
Sorry to disappoint you, but the numbers are three. I wasn't willing to say it out loud since three was only marginally more than two, and I really couldn't say if we out-matched them or not. My instinct was not.
Tristan said, "We just need a place to stay. Food and shelter. Is it going to be an issue if we stay here? It looks like a big enough place."
"You got food?"
"Some."
"We only have 'some' ourselves."
"Just the three of you."
I felt my heartbeat accelerate. I wasted too long in changing the subject. "What are you two? Brothers?"
"Just friends."
"Are there more of you?"
"No. Look. It's a big place. We don't have to get in your way. We don't have to hang out, we don't have to share your food. Just let us go find a bed or something. We can avoid the living crap out of each other if you really want."
I've got two girls here. They were right behind me and I didn't think I could subtly gesture with my head at them.
We won't hurt them. What sort of fuckwits do you think we are? Maybe he said that with his eyes, with the turn of his facial expression. Who am I kidding? I don't know what was going on behind his eyes.
Zara moved up beside me, she lowered the gun a little.
I glanced at her: Well?
Probably. Probably. She glanced back at me. She read what I think was my acquiescence – I wasn't sure, myself, what I was really thinking – that these guys might murder us in our sleep and take our supplies? – and slid the gun back into her waistband.
"… careful…" Greg murmured before he could stop himself.
"I think she can handle it," Tristan said.
He could have been playing us. I had that lightning bolt of a thought. Maybe because his words did spark a fleeting smile in my girlfriend. She said, "Okay, how's about we show you around then?"
#
They were impressed. They asked questions. They complimented Zara on her painting. When I showed them the library and said I'd have library cards made for them, they chuckled politely and rifled through a couple of the books.
"This used to be kids' camp, back in the day. I don't suppose you went?"
Tristan snorted, "Not really my scene."
"All those walls there have asbestos behind them. Probably don't make holes in them."
"I love it. You think we're going to live long enough for that to be an issue."
Zara said smoothly, "We plan on living into old age. We don't need any lung cancer."
"That's optimism."
"I've been told I'm a sunny optimist."
Greg said, "Me too."
"He talks too much."
"I do."
At least there seemed to be a sort of grudging camaraderie between the two of them.
Tristan came out and said it: "So, is it going to be a problem us being here? Are we going to be neighbours or not?"
"We can be neighbours," I agreed, eyeing the compound. We guided them over to one of the dorm outbuildings. Neighbours, not flatmates. We didn't all need to sleep under the same roof.
As we all walked, Tamsin slid close to me: "We're cool with this?"
"You don't want them here?"
"I don't know. They seem okay. Just…"
"Well, I don't know if we can make them leave. If they want to settle down here, I think we might just have to wear it."
"And I'm not saying… I'm not saying I want them to leave. We just don't know what they're really like."
"They're right though," I didn't know if this would make her feel better or not, "there is safety in numbers. There'll be five of us if we get attacked, if anything bad happens."
A few paces ahead I could overhear Tristan say to Zara: "So, you the one that's with him?"
Her, answering breezily: "That's right."
"Just checking."
"Aha."
"Just getting the lay of the land."
And why exactly would you need that then? I could feel that slight burn of jealousy, that irritating urge to want to go up there and slide my arm around her waist just to prove that there was no ambiguity – that this was my girl – not property, let me hasten to add, but my other half and soulmate, and just generally not up for grabs. Infuriating too was the tiny little smirk that ran across Tamsin's lips, and the brief upwards arch of her eyebrow.
#
I recorded this in our log:
Numbers grown by two. We have five now.
Two men: both early to mid twenties. Greg and Tristan. We've agreed to their joining us, provisionally at least. Our group is stronger by growing bigger. They've brought supplies and have another working vehicle.
I kept it simple. Just the bones. Posterity could find poetry elsewhere.
#
We agreed - or at least didn't object - to their moving in; but we weren't about to trust them just yet.
We all three slept together in our dorm room – as was generally our custom anyway – keeping our guns and knives under our pillows, blocking the door with a couple of chairs from the kitchen, and putting a bunch of plates and saucers under the window on a precariously balanced chair to be sure they'd make plenty of noise if anybody tried to climb in.
"Camp Fort Knox," Zara declared it. We'd taken most of the food in here. We hoped holding onto the car keys might be enough to keep them from taking the car, though I had a feeling about Tristan that that wasn't going to be the case.
"Look," I said, "they're probably all right. This is all just a precaution."
"Of course," Zara agreed, though there was a nervous twist in her voice. "Just that we've encountered enough not-so-good people that they can't blame us for being cautious."
"And they're probably cautious of us." I'm not sure if I meant that.
She sat on the bunk beside me, "I think they're okay though, don't you?"
I considered. "Probably. This is probably all good."
Tamsin hugged her knees against her chest.
"You okay?" Zara said.
She nodded.
"No way we're letting them hurt you, okay?"
"Ditto," she murmured, but reminding us in just those two syllables that it was questionable as to whether or not we could stop them.
"Get some sleep," I suggested, although I think it was a bit of a given that none of us were going to do any sleeping tonight.
Picture credit/discredit: author's own work