WebWorld (3.6)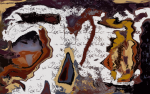 Mon, 09 Aug 2021
Tristan and Greg arrived for breakfast the next morning armed with crates and boxes of food.
I had to give them credit for ingenuity. I had to admit that they were handling this like pros. I imagined them sitting up most of the night last night like we'd been, back and forthing it about how tomorrow morning could best be handled.
"You guys care for some porridge?" Zara said.
"Sure." Greg stacked a couple of crates beside a wall. "Would you like some apricots to go with it?"
"Okay."
"Maple syrup?"
"Yeah, okay."
And then there was an awkward lull as the newbies stood around, hands in pockets, trying to decide how much further to test the water.
Zara discharged a harsh laugh. The sound was so weird it actually made me jump. She said, "there's chairs. Right there. Just sit on one. There's no whoopee cushion."
Greg chuckled.
Tristan cast him a dull, half-hearted glare.
Greg flung himself into a seat and pulled himself up to the table. "See. We can be friends. Right?"
She stirred the porridge.
I said, "Let's start as neighbours."
"This sticky new world's made you jumpy, hasn't it?"
"Yeah, maybe."
"Before it all went silent, people online were starting to call it 'WebWorld', starting to coin that phrase. We'll never know if it would have caught on."
"I never heard it. I monitored the chatrooms for as long as I could."
"We travelled in different circles."
"Seems like."
I look back over the moment. I seem surly and unfriendly. I replay those conversations in my mind. Greg like the new kitten, introduced into the house, approaching cautiously, sniffing out the incumbent, offering a careful paw, attempting to make friends. I was the mean, old, snarly cat who bopped him on the nose and hissed my best impersonation of a snake.
But we had cause to be untrusting. I was wishing at the time that Zara could seem more suspicious, that she wasn't starting to act all hostess, serving up porridge, asking them how they'd slept, telling them where we'd found that stash of blankets.
Still on probation. Let's just remember that. Though again, my imagination stumbled over what we were going to do if we decided we didn't want them here.
Tristan, slower to sit that Greg, had leaned a bit towards Tamsin. She watched him as if he were a poisonous snake, and I watched as it made him uncomfortable.
He asked her at last, "How do you fit in? Is one of them like a cousin, or a brother or sister?"
"No." And she put some real sting into it: "they found me lying raped and bleeding in the middle of a road, and took me with them."
I saw Greg wince. I watched Tristan refuse to, though something slid across his eyes.
"They didn't take my boyfriend, since he was already dead." She got up out of her chair and walked into another room.
"Fuck," Tristan murmured.
"Yeah, that was just a few weeks ago."
Greg said, "he didn't know." And that got him another dull glare out of Tristan.
"We couldn't leave her behind," Zara said.
"No, of course not."
"I should…" I started.
"Leave her."
I questioned with one eyebrow.
"Give her space, right now."
A girl thing? She seemed to think she understood something I didn't. My full-body, whole-of-brain instinct was to go after Tamsin and comfort her, and at the same time the same brain recoiled in fear of making everything worse.
There was silence between us all for a while.
Greg said, "the porridge is nice," at the same time as Tristan said, "the beds were comfortable."
There was another silence. We all laughed at once. It was the same awkward gust of laughter that I'd heard from Zara earlier. I realised that none of us really knew what we were doing here. None of us could work out how to react to each other. I wondered what Tamsin was thinking, listening to our semi-false, semi-faked laughter wafting out of the kitchen and into the hall. I felt again like I should go to her, but I could feel Zara's instruction etched into the back of my head. And since I didn't trust myself to know what to say to Tamsin, I stayed where I was, dicing with these new guys, sizing them up while they sized us up.
None of us blinked. Or perhaps we all blinked.
#
"And the river is here," Zara lead them to it and presented it like it was the prize behind door number three.
"No gum," Tristan observed.
"No. It doesn't seem to have taken hold too bad up here."
Greg said, "yeah but does it ever come floating down?"
She shook her head, "I don't think so."
"Like an iceberg. We've seen that happen a couple of times."
"It breaks off up in the mountains maybe," I suggested, "flows downstream."
Tristan said, "I think it grows, in the water, it likes water, it often reacts to lakes and rivers. Even more to the sea, or so I've heard. I think a few threads or spores fall into a river and it feeds off the water and grows as it floats downstream."
"To the sea," Greg said, "to join its cousins. There was an area along the east coast, and it was all you could see, stretching out and out onto the horizon. We saw it when we were driving around, trying to figure this thing out. It just went on and on until the edge was butting up against the sunset. You could probably have walked on it."
Tristan was shaking his head.
I was inclined to agree.
"Well, not safely, but you know…"
"You first," Zara was getting chummy and familiar with them at at least twice the speed I was. It made me cringe inside, and then feel bad, almost dirty, for my own rudeness.
"Survival," I told Tristan later, "when you get into the habit of it…"
He took that for what it was – a poor excuse for an apology, but with 'sorry' still a part of its subtext. "You don't have to tell me. It seems like we've all been burned."
That was later.
Day two, by the riverside, Greg said, "I was actually tempted. I thought about it. I mean it looks kinda solid."
"You know it can attack you?"
"I know."
"Do you know about the salt?"
"Yeah. And iron filings?"
I shook my head.
"Strong alcohol?"
"No."
"That one's just a theory."
"There's theory now?"
Greg only shrugged. "Well, I like to theorise."
#
"And here. We can find mushrooms, some of time. I think there's a few."
"Are they safe?"
"Yeah. They're the common or supermarket type."
Greg, tilting his head to one side. "Did I hear birds? Chirping?"
"Yeah, there's a few birds."
"Wow. Down on the flat now, nothing makes a sound."
"We came from Burndale. Just loud music and gunshots."
"We hail from Invercargill. But it's not a competition."
#
I tried to convince myself that things were going to be okay, as Zara detailed the garden, her plans for it, her concerns about how sustainable it was, if the seeds were fertile, if they could be sown and replenished in the coming spring. She talked about cuttings and carrot tops – a garden that could feed us.
I didn't join her in that. I'd done some figures – I do, I admit, I take comfort in figures – and I wasn't sure the garden and the surrounding bush could offer enough food for three – never mind five. Maybe for people better versed in how to live off the land…
Tamsin looked up at the sky, at the clouds gathering, pink and grey.
"Yeah," I said, "the weather hates us."
"Looks like thunder and lightning."
"Very, very frightening?"
"You think you're funny."
"I try to be. I've heard girls like that."
"We do. Derek was serious. He was so serious."
I was supposed to take something from that, but I didn't know what, I said: "I'm sorry he's dead."
A few metres away from us Greg's eye was caught by something. "Is that… is that a hedgehog down there?"
Zara was crouching to see, to follow where his finger pointed. "Yup."
"It's like the world isn't dead after all."
"I know. We used to wonder if anything in nature was still alive, or if the whole ecosystem was in collapse and us humans just hadn't felt it falling yet."
I thought: we felt it. Oh yeah, we did.
I thought: I will not be jealous.
I thought: there might be some good eating in that once you get past the prickles.
You have to be practical. I looked at a snail crawling over a flax leaf. I made a little note in my head about trying a little escargot. I held one up to Tamsin, a sort of offering.
"Yeah, nah."
I few metres away, and Zara was crouched with a couple of fingers held out. "Come here, little hedgehog. We just want to say hello." And there was Greg, leaned over her shoulder, hands rested on his knees. But I refused to be jealous. There was nothing to be jealous of, and nothing good that could come of it if I were.
Picture credit/discredit: author's own work