WebWorld (3.7)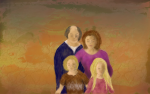 Wed, 11 Aug 2021
Our family grew again three weeks later.
We were just starting to settle into a pattern of sorts. Getting up in the morning and checking the traps, rarely finding anything; though an occasional rabbit might supplement our dinner. We'd considered it: but we weren't quite ready for rats. And we checked the garden, pulled out some weeds. Went into the forest to hunt for mushrooms and bird's eggs. There was little to find. Some trees in bud might offer fruit, but not for a few months.
We ate breakfast.
We cleaned and tidied.
There wasn't that much work to do. With the good fortune to have power and running water we really didn't have to live like pioneers. We could spend time lounging in the common room, reading, playing a handful of board games, sometimes just talking and planning, working out what we were going to do next.
We might go fishing in the evenings; but came back with just one eel, snared with a scrap of bloodied rabbit skin.
Some walks around the perimeter, checking – though we didn't always know exactly what for – tidying up a few fences, picking up anything we thought we might randomly need some day for some reason. Whatever else it was, the apocalypse wasn't really all that much work.
So, we had that pattern; five weeks into this and already settling down.
It was on one of our perimeter walks that we saw the rugged little van approaching. It made its presence felt to us mostly with its dust.
Zara kept the gun. I guess just because she was the one who already had it. But we all carried knives and hammers and chunks of solid wood, just in case we ran into something unfriendly.
"Meet them at the gate," I decided.
Was I in charge? I don't think so. There was a way in which sometimes I felt like I was. Since the three of us were the first here. Since Tamsin was so young and quite damaged. Since Zara… I guess because she didn't call that many shots. If I'd ever put it into words, she'd have dismissed it with a snort, and Tristan, if he'd overheard would have brushed the prospect aside with a quiet sneer, and a mumbled 'no offense'. Maybe there were still few enough of us that nobody needed to be in charge.
Until the shit hit the fan.
And would it?
Well, the gate seemed like a sensible place to gather, make it plain that the camp was inhabited, but we'd try not to look threatening. We'd give them a chance.
The van hobbled up the hill to where we'd gathered, sitting or leaning on a rusty iron gate. It slowed. It stopped about twenty metres away from us, and a middle-aged man stepped out. He looked so ordinary, so much like just some random guy, somebody's dad, somebody's English teacher, somebody's bus driver or postman. In spite of the lean days, he still had a slight paunch, he was a little bit balding, with glasses and ruffled polo shirt. He exited the vehicle with exaggerated caution, holding his hands up though none of us were presenting our weapons.
"Hello there!" I called out.
"Hey. Hey. I don't want any trouble."
"Good. Nor do we."
"Can I… approach?"
"Yeah. Sure."
"Okay. Don't jump on me. I'm not a threat. I've got children."
"We won't hurt them," I said, "come over."
He walked that short-but-long stretch to stand in front of us. After hesitating a few moments, he held his hand out for me to shake.
I shook.
"George Castle."
"Nate Anderson" And I gestured at the others, introducing them. I heard myself make a point of referring to Zara as my girlfriend and cringed inwardly. Was I really eyeing George up as some sort of a romantic rival?
"Look, we just need a place to stay. It's such a mess out there. My youngest is just six…"
Zara cut in, "It's okay, we're not bad guys."
"We have food," he said, "and medicine. Clothing. In the van back there."
"We have food too," I said, still cautious.
"We could pool our resources. We can make ourselves useful. But the van's getting low on fuel, see? Unless we find a petrol station we can use, I don't know if we can go much further. And out on the roads… Do you know what it's like out on the roads?"
I tried not to let my expression reveal that I knew well enough. And in the cities. And in the small towns for all I know.
"Can my family get out?" he asked.
"Okay."
He gestured.
A woman in probably her early forties got out of the passenger seat. She opened a door in the side of the van and a couple of kids clambered out; a boy of about ten or so reached for the hand of a girl who must be the six-year-old. I knew there was no possibility we'd send them away now.
"Welcome to Camp Foggerty," said Zara, giving them her tour-guide grin, settling it, if it hadn't already been settled. "Come on, let's take a look around."
#
The Castles brought decent snacks. I have to hand it to them in that regard. A variety of tinned foods, some lollies, pasta, dried fruits and nuts, some dried meat. A couple of boxes of chocolates which we passed around as we talked. The wife was named Penny, and she had a deep bruise down one side of her face, which we didn't talk about, but agreed by some mutual and silent assent wasn't George's doing. The boy was Todd, and the girl was Dinah. She was shy, and she clung to her brother's side as we settled in around the common room and all just sussed each other out. I found myself wondering what might have happened out there to make her so wary. It didn't seem like the time to ask.
But they talked. George did most of the talking. Penny seemed quiet and distant. She kept a close eye on the kids, she smiled at George every now and again; a quick burst of a smile that flickered over her mouth and was gone as soon as we caught it.
George said, "We thought we were lucky. Living just south and down of an army base. We figured it'd keep away the riff-raff. Well… you know… the gangs of armed thugs. And the army are good with a crisis, organised and all that."
"Yeah, we got air lifts of food. Until it all stopped."
"About two months ago?"
I pressed my lips together, thinking. "Yeah maybe."
"That's when it happened."
He had us on the edge of our seats. "What?" I said, since the lull seemed to be waiting for it.
"There was some of the stretchy stuff, the web, or gum, or whatever? Is it gum?"
"It seems to be the one that's stuck. So to speak."
"Right. There was something like an incursion. A bunch of the stuff had bloomed out in the forest, it'd gone from being not too bad, to a wave of it flowing out through the trees. We thought we were all in danger. But there was a guy in charge, he was a colonel I think, Hanson. He got us civilians together and said they were going to take care of the situation, but it's hard to say how this enemy might react – he called it the enemy, he treated it like a war. Army, I guess. He told us to stay indoors.
"We weren't about not to. But we gathered at windows and tried to see what was going on. They were loading stuff into choppers and flying out. I think they were going to poison it or something. You could hear the choppers, and you could hear something else, it was a weird sound, it was kind of a popping sound, a bit like explosions maybe, or… I don't know, actually pop-corn or something.
"And it seemed like it worked. Look, whatever this was it did something. That gum stuff withered up and retreated."
This was huge. Right? Was my jaw sitting on the carpet, lead-weighted. It must have been. "They killed the stuff?"
"We think so."
"Did it bounce back?"
"I don't know. It didn't seem to…"
I saw the brief look that passed between the couple.
"Shit. What happened?"
"People got sick. They got these scaley rashes all over their skin. And we had these nightmares, really vivid stuff that didn't make sense. And everyone down in the village was getting it."
My wrist itched. It sensed that it was being talking about. There was still a line of itchy dry skin all the way from my left wrist to left elbow. I'd mostly been shrugging it off as being an allergy to something around here somewhere. I pulled my sleeve a little bit down, suddenly infected with a new caution.
"And nobody was coming from the base. No movement. It wasn't normal. And so a few of us decided we should check it out. We went up there, and they were all dead." He glanced at his two kids. He didn't want to be graphic in front of them. He said, "It was all of them, mostly in their beds, they were bleeding from their ears…" he might have said more, but his eyes darted back to the two children, to their eyes that were on him. "These two didn't see it, thank God. It was terrible though. We didn't know what'd happened."
"Like it fought back somehow?" I suggested, pulling my sleeve down over the heel of my hand.
"That's what we figured. There was all kinds of speculation. Maybe whatever they unleashed on the gum had an effect on them. And was the gum bloom really dead? It would mean going into the forest to check. A couple of guys did."
Tristan said, "they didn't come back?"
"No. We lost contact. And they didn't return.
"After that, some kind of road gang moved in on the base. They must have been watching it, and they weren't friendly. I mean there must be a lot worse out there, because they gave us a choice, they told us they were the new kings out here, and we could get out if we wanted, we could even take our stuff, but if we stayed, we were theirs, and we did whatever we were told. The scarred themselves. It was part of their thing. I didn't think I could keep two children under their leadership. I couldn't trust what they'd do.
"And so we packed up the van and left. That was nearly a week ago. Driving around. Until we got too low on gas and couldn't find a place we could refuel. We heard about this camp, and so it was – it is – kind of our last chance. We thought an old summer camp, it wouldn't be such a bad place for kids, just as long as it hadn't been taken over, you know, by… dangerous people. But you aren't, are you?"
"Of course not," Zara said a bit more quickly than I would have liked.
But fuck it, this was a family. This was Mum and Dad and two kids. If we couldn't feel safe taking these guys in…
"Don't worry," Greg told them, "We're just a bunch of randoms who all ended up together. We won't hurt anyone. Promise."
"We can stay here?"
Were they holding off, waiting to hear me say something? Like I was sort of de facto, not-quite-but-almost, in charge? And what else was there to say, how else was it to play out? "Sure," I said, "Welcome to the greater Foggerty family."
#
I lay my arm out on the floor as I lay with Zara against the couch later that night.
"You think it's the same?" she asked.
"Maybe. I don't know."
"We don't have a big old gum-bloom around here though."
"That we know of."
"And we haven't poisoned it."
"That's true. Maybe nothing then. But wow, they killed it."
Zara rolled onto her side, resting her head on the circle of an arm she flung over the cushions of the green couch. "I know. It's big. It's good. Unless it killed all of them. I don't know what to think."
"Much less how to replicate it."
"Or if we should."
"Thank God we don't have to actually make that choice," I said, really feeling that. Imagining what the scene at that army base must have been like.
But Zara's mind went another way, "it's going to be good. Having kids around. It's going to actually feel all family-like."
"What? Are you clucky?"
"No! And 'clucky'? No. It's just… it feels more human. It feels… real. And this is how it's meant to work. The more people the better. The better we're able to defend ourselves. And the more people we have the less bad it'd be if somebody dodgy got in. We could send them away, and actually enforce it, if it ever came to that. You see. This is how it starts."
"What starts?"
"Civilisation."
"We're a civilisation now?"
"Why not? Nate, this is good. This is… positive."
"It won't last forever though. Supplies. Food."
She wouldn't be weighed down right now. "And we'll work it out. Nine heads are better than five, right?"
There was something about that smile. The way it hits you when you're not ready for it. Seeing her happy, seeing her hopeful and enthusiastic. For tonight at least, I decided to believe her, believe that whatever shit came down on us we actually would be able to work it out.
Picture credit/discredit: author's own work