WebWorld (3.8)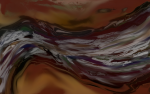 Thu, 12 Aug 2021
I don't know whose idea it was for an obstacle course Olympics. It was just one of those things that kind of grew out of a throw-away comment, and then somebody took it up, and the next thing we knew we were planning events and working out what we should award as prizes. All of a sudden, the two kids were helping Zara make the certificates. It actually felt like summer camp.
"We sort of did this, back when I was a kid here," I confided.
"Did you win anything"
"I wasn't really that sort of kid."
"I wish I'd known you."
"Do you really though?"
"Yes. I wish we'd been childhood sweethearts. You can't tell me that wouldn't be romantic."
"Sure. But chances are I would have pissed you off sometime before adulthood, and then when you saw me at the café you'd have told me to bugger off."
"You. Never."
I wondered. There's no point in imagining what your life might be like now if you'd lived it completely differently from way back. But I was. I wondered what I'd be doing right now if the world hadn't gone and gotten itself smothered in gum.
"Okay," Zara said, "let's put some of these events in order."
Spring had come sliding through the camp by now. And summer was just starting to peek over the horizon at us. The blossoms had become green-green leaves, and fruits were in bud, flowers were open, there were hosts of golden daffodils to be found in slopes all about. Life was opening up. I wondered what the gum would do. What the warm weather might mean for it. What kinds of flowers might grow; what fruits it might offer.
We were keeping watch. We were only finding small amounts of the stuff, a few tracts here and there, a light mist of it across a field. And we salted it when we found it to keep it from spreading. For right now, it seemed controlled, but I was always aware in the back of my mind of the story the Castles had told. And of the itching along my arm, the rough, almost numb quality it was starting to have. And of my dreams: which since their revelation had come much more forefront into my mind. I had been having some weird ones, and some of them had left me sitting wide awake with my heart racing trying to sort through the fog and be sure inside myself that none of it had been real.
Mummy, I had a terrible dream where the world got smothered in sticky white stuff, law and order went to hell, and armed gangs of murderers drove around the country running people off the round and shooting or knifing them for fun.
This was a world made for nightmares. Except today, when the sun was shining out of a clean sky, the grass was richly green, and we were all assembled out near the obstacle course to have fun.
We all had a run at doing the course in the traditional fashion. Staggered start times to give us all a fair chance. Kind of how it had apparently worked on some game show in the 80s called the Krypton Factor that only George and Penny seemed to know about.
Tristan won that one.
But we liked to think ourselves creative. We had top-of-the-climbing net tug-of-war; escape from being tied up inside the concrete crawl-tubes; there was hop-racing; hop-and-skip racing; three-legged racing. The children wanted to throw in the likes of a handstand competition. There were rope-swing shoving wars. A dramatic finale hide-and-seek. Mostly for the kids' benefit I told myself. All of it. But there was no not-noticing how the laughter swelled everywhere, how we all managed to get into it, cheering and clapping and throwing ourselves into the competition.  So much did we need this. All of us.
"We should do a battle. Like a LARP battle, with costumes and everything." Greg was one of the happiest to throw himself into the fun.
And me: I was just geeky enough to know what he might be talking about.
"The kids would love it," he insisted.
"The kids, huh?"
"It's make-believe with a few extra rules."
Todd declared a game of bull-rush, followed by tag, and a bull-rush like "what's the time Mr Wolfie" that I only remembered having played as a child when Todd explained, and we started playing. I watched Tamsin regress into being just one of them, racing around with Dinah and Todd like she was only a couple of years older. And I watched her actually laughing, wrestling on the ground with these kids like she didn't have a care in the world. Like she was some almost other person from the twisted, surly girl she so often still was.
The healing power of play, I guess.
I sat down next to her at the barbecue that followed. Since we had very little in the way of meat, the term barbecue was a bit of a stretch, since we were barbecuing instant mashed potato rolls, and eating them with tinned salads, and some spicy jerky. There was one rabbit we'd been able to trap, and that, herbed, tossed onto a hot grill was the centrepiece of dinner.
Tamsin gnawed on a leg while she watched Dinah teaching Zara a clapping game.
"I guess you kids still play that stuff," I said, regretting my tone a second too late to recall it.
"Us kids?"
"You know, people younger than me."
"There's six years between us."
"I know. I get it. But look, George remembers playing some of these games. These things just don't die."
"Fair enough. Yes, kids still play clapping games, and elastics…"
"That's kind of a girl thing."
"Whereas you boys…"
"Rugby. Play-fighting. Marbles."
"Cowboys and Indians?"
"No. No I don't think I ever actually played that. Go carts. I can show you a scar."
Tamsin actually looked sort of interested.
I lifted my jeans to show the patch of smooth, reddish skin that still served me as a reminder of the time my home-made go-cart had come apart on me while hurtling down a hill. At the time it had been bloodier, studded with gravel, and I'd given up my efforts not to burst into tears after only a few seconds.
Tamsin reached for my arm, for the current damage.
"Oh, that. Dermatitis."
"It's… weird. Isn't it?"
"I've never had it before. Maybe something around here. I don't know." If I'd been allergic to the gum I'm pretty sure I'd have been having a much worse time back home than what I had been.
She rested her chin on both fists. "You and Zara. Do you still…?"
"What?"
"You know. Still…"
"Where the hell did that come from?"
"Just... wondering. I mean I've never heard you. And everything's upside down and backwards. But you're still a couple, you still love her, right?"
"Right."
"So…"
"I'm not sure I want to discuss this."
"So, yes?"
"So. Maybe. But I think that's enough said on that matter."
She smiled. "You're a prude." As if she'd just discovered some secret and special knowledge about me. She looked like she thought it was quaint and endearing.
"I prefer the term gentleman."
She was smiling, we were talking. Everyone around us was doing the same. The rabbit tasted good. It was like fate was just waiting for its moment.
"Sush! Quiet!" There was a sudden urgency in Tristan's voice. He held his hand up for silence. And I guess there was still sufficient wariness in us, because we gave it to him in what felt like an instant. "Sssh," he said, "did anybody hear that?"
There was silence. We all strained our ears inside it, trying to catch what Tristan was catching. The hum of a slight breeze, the murmur of insects. But no, more. As our voice and our breath dissolved away, I realised that I could hear something. It was coming from the treeline. It wasn't much more than a rustling sound; but there was something about it that distinguished it from the ordinary rustling of animals in undergrowth. There was something rhythmic, something purposeful. And there was a tingle in the air, a metallic hint in the way it tasted. Sensations that rushed back at me in memory from our gum-trapped weeks in the city.
I thought about George Castle's story. We must all have.
"Get inside," George was already suggesting.
"Not yet," Tristan decided this was his moment to take charge. "We need to see what that is."
George nodded. "Penny."
She was already gathering the kids, picking their jerseys up from the grass.
"But Mum…"
"Come on now."
I nodded at Tamsin, "you should go with them. They'll feel safer with you."
Her eyes rolled.
"They like you."
Greg quipped uneasily, "They like me too."
And actually, they did. Dinah especially. Greg could tell her such outlandish stories. He probably should have been a children's writer.
But right now. Right now, we were maybe or maybe not being hunted. "We were attacked," I said, "on our way out of town. In the dark by things we couldn't see, but they weren't human. And they weren't normal animals."
Tristan said, "Okay, George and Tamsin, and you Greg, since they 'like you', go into the common room and lock all the doors, and the rest of us" – and by that he meant three of us; had he thought the numbers through? - "have to check this out. Get the gun, Zara."
She nodded.
I said, "and for fuck sake, please don't let's split up out there."
#
A red velvet darkness was descending rapidly, and we were pushing our way deeper into it. It had never occurred to me to think the bush around here was especially thick and dark; but now, trying to navigate through it on a nearly moonless night, with my blood pulsing through my veins and stabbing at my head: suddenly it seemed deadly-dark, brimming with terrors and unknowns. The torches we carried did a weaker job of gobbling up the darkness than they should have done.
And then one by one, the batteries start dying.
No. This is not a horror movie.
I kept right beside Zara. I felt like at any moment something was going to leap down from the trees and snatch her up. A quick scream, a silence. We'd never see her again.
I reached out for her hand.
She gave me a questioning look.
I slid my fingers into hers. I didn't know what to say. I could just feel the weight of the forest all around me, and my arm was itching up a storm.
We kept close, but Tristan had moved a little bit further ahead. He gave a low whistle to call our attention. "Something over here."
He sprayed our torchlight into the undergrowth, and I almost staggered backwards with the glaring white shimmer that awaited us. This little copse was strangled with gum, the rough, knotty kind; while its smoother kin flowed over the ground like snow. I could see over to my left where a puffball had formed. And I could see just below it, two stripy flower-forms scars of what a puffball had left behind. Both looked wet, viscous, sticky.
"Oh, God," Zara whispered.
This. This: just too much like what had happened in Peanut. Too much the way my childhood home had been swallowed, and God only knew what was circling around in the darkness now.
Tristan said, "What do we do with this stuff?"
"Not burn it," I answered, "and if we attack it, it attacks back."
"We ain't leaving it."
I drew my knife. "And that big round bit…" It was time to slit the damn thing open and see what was inside.
And I would have. I was about to. But we all heard those noises, further out in the dark, out into where a stream of this gum had suddenly come flowing. And we could see glimpses of them now, could see the wisps of movement. Shapes that were and were not humanoid. That seemed bigger and wider, hulking, maybe hairy.
I was counting. It was hard to be certain, but I thought I was up to four.
Bodies. Bodies found with their insides ripped out. With their bellies eaten.
Attacked and killed in the night.
Was that five and six?
Zara murmured, "we gotta get out of here."
I half thought Tristan might object, might want to take the fight to the monsters. A part of me did too. But I was also pretty sure that impulse would get us killed. Get Zara killed. And Tristan seemed to have a sense of self-preservation, because he was backing away too, torch shining up ahead of him.
What if there's more and they've circled back to the house?
They might have been scraping at the doors and walls and windows even now. I liked to think us three were the toughest of the group, and out here we weren't able to come to their aid if a full-scale attack went down.
"Let's move it," my voice was a murmur too.
"Don't run yet," Tristan said, "get more distance first."
Were they going to chase us? I couldn't decide. I felt like the moment we turned and ran, our movement would trigger these creatures and they'd take off after us, run us down. How long did we keep backing off slowly? When was far enough away?
It was pretty much at the treeline, with the camp complex at our back. Tristan finally nodded at us. "Okay, now, run now."
Picture credit/discredit: author's own work