WebWorld (4.10)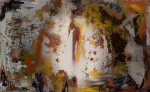 Fri, 03 Sep 2021
I stood in front of the mirror and ran my hands over my skin. The scaly infection had all but doubled in size over the few days since I'd had that encounter with the gum-structure. It had engulfed my arm and shoulder now, and flowed all down my left side, reaching over most of my stomach, trying to gain a foothold on my right. The scales seemed thicker, harder, and there was as kind of greyish-green goo that seeped out a few of the cracks, mixing with blood as the skin split. For the first couple of days the pain had drowned out the itching, but now I was beginning to feel it come back, at the same time as small patches stopped itching altogether and just felt dead and numb.
You promised to beat me to death if I turned into a spider. I should remind Tristan. But not yet. He was buggered. He needed to rest, probably to cry or scream or something as well. He could take a shovel to the back of my skull sometime later.
I saw my face now as well, cut and bruised, and with a mouth circled by vicious-looking blisters. Rather tame beside what Greg had, but I could see why the sight must have shocked Zara.
She stood beside me, "We'll find a way to get rid of that. There's nothing you can do except rest for now."
It was a conspiracy to keep me in bed. And I felt more-than-willing to indulge it. But I felt like I had to prepare her, somehow. "I really don't know what's happening to me. I feel like they're in my head, as well as all over my body. I don't know what any of this is."
"We'll figure it out once you're stronger."
"We saw a girl…"
"I know. I know. I made Tristan give me a pretty thorough account."
"He saved my life back there."
"I know. I was really tempted to kiss him with tongue and flash my tits."
I fought back the laughter. "No jokes, it just about knocks me out if I have to laugh."
"Lie back down then," she helped me back out of the toilet, and over to the mattress where a line of sun was painted over eclectic camp blankets. I looked over at Greg as she lowered me into the bed. He was looking little better. Maybe worse. Not much more than a whisper of life in him. But he was hanging on, and we were fighting for his life.
Not that I was allowed to do much more than observe, and throw in the occasional uninformed suggestion. Zara sat stubbornly at my side, massaging the back of my shoulders and sometimes quietly humming or singing over me. The others all hovered around Greg. His skin was cold and dry, so they rubbed warmed oil into it, and Tristan and Tamsin lay beside him to lend him their body heat. Penny and George boiled water and filled hot water bottles. But it was guesswork. His injuries were internal and unprecedented. None of us knew what we should do.
The others took turns at keeping a vigil by his side. At times I lay awake, finding the darkness filled with cobwebs and spidery scurrying sounds. I would hear Tamsin's voice quietly speaking to Greg about Sir Wildenvog, carrying on his story where Greg had left it off. As the night wore on, I'd hear her start crying, trying to muffle the sounds in a pillow. I could have reached out and touched her, but it felt as if I'd have intruded on something.
#
So, to cut a long story a bit shorter: I healed. It didn't happen all at once but it was speedy for what it was. A recovery fast enough to leave a chilling after-taste: what was it about me that was letting me bounce back from injuries I'd once known would be fatal? I had nightmares and sleepless nights both surrounding the idea of turning into a spider. I could still see phantasmal webs clinging to walls, flurries of activity that slid in and out of my vision.
By now, of course, I'd shared with the rest of the class.
Tristan said, "Well, we have no proof you're turning into the new Spiderman."
"It's a possibility though," I said, "we have to admit it."
Zara gave me a look that said: Not really, we don't.
Penny looked over at Greg, "does that mean he…?"
I shook my head. "No way to know. But he was different… he didn't have this to start with." I'm getting better and he's staying sick.
Five days had passed. I was feeling more or less sort-of okay. Greg didn't seem to be getting any better at all. He showed no signs of recovering consciousness, no reactions to light or pain or the sound of our voices. His zombie-pale skin made me wonder if we'd be able to tell if or when he died.
Tamsin knelt over him and dabbed small amounts of water into his mouth – lightly boiled, luke-warm.
"You're good at that," I told her at one stage.
She looked up at me, her eyes so big and forlorn. I realised the strength of her attachment in those eyes. "I'm not sure I'm doing any good," she said softly.
"He needs fluids. You must be."
"How would we know?"
"He's still human, he's not an alien," or a spider "he still needs the same basics we all do. He's going to be all right.
It was such a silly statement, I could hardly blame her for smirking. I was glad I'd made her smile. She said, "I'm glad you're getting better."
"Thanks."
"We need you."
"Me?"
She gave me an odd look, "Who else?"
#
"Are you going to end up like that?" Zara asked me in an uncontrolled moment.
"I don't think so," I said.
"I've seen your injuries. I know what happened. It was the same."
"No. I think I fought it off already. I think it tried, but it didn't get enough of that stuff into me, or I'm less susceptible or something."
Zara fought a losing battle against tears. "I keep thinking he's going to swell up into some monstrous cocoon, and the all these bugs are going to come crawling out of him; and then when I walk past him… there's this part of me that wants to pick up a knife and stab him through the throat with it." She stuffed her hands into her mouth as she realised she'd said that out loud. "Don't tell anyone what I just said. Please."
"It's all right. We've all thought of it."
"Well, I've thought it through a bit further, and imagined it with Greg being you."
"And…?"
"Not that. I can never think that. But I should think that, shouldn't I? It's only fair. Or it's horrible, and I'm unworthy of your love. I don't know which."
I folded her up in my arms because I didn't know what else to do. "I'm not becoming a spider's nest and neither's Greg. He's just been poisoned really bad. That's all. And if I can live through it, I don't see why he can't. He's just taking longer, that's all."
#
That same night, things started to change for Greg; but I don't know if it was for the better or worse. I was wakened by the sound of murmuring, mumbling; and only realised slowly that it wasn't the residue of some dream I'd forgotten, and that it was coming from Greg. George had been sitting nearby, and he came over, hearing. I crawled over to where Greg lay. He was tossing his head around, making sounds that fell somewhere short of words. His forehead was slick with a cold sweat.
I got my hand under his head to hold him steady. "Greg, can you hear me? Can you hear me talking to you?"
Sounds. Not words. A garble of syllables.
"It's me. It's Nate. You've been sick, for like a week. Can you try something, can you blink?"
Greg's mouth opened again, but no words came out, a bubble of liquid escaped between his lips and fizzed around the side of his mouth. I startled me enough that I flinched and shuffled back.
"What the hell?" George whispered.
Clear liquid, as thin as water, bubbled over his lower lip and trickled down onto his neck. I could see that there was something moving just beneath his skin, and that it moved everywhere, cascading over his whole body, sometimes breaking the surface through pores and beneath fingernails as cool, clear water. It was as if a layer of water boiled cold beneath his skin. But that wouldn't make any kind of sense…
"Get the others."
#
By sunrise he was convulsing, and his skin was soaked in a cool sweat that wasn't sweat. Sometimes he'd spew a bunch of water, or it would trickle from one of his ears, bubbling up like a tiny spring from somewhere inside him.
"He's drowning," Tamsin whispered. "Isn't he?"
"He's fucking dying, that's what." Tristan didn't seem to be able to keep himself still. "We all know it."
"Right," Zara snapped, "let's just go outside then and dig another hole!"
"What?" he said, "Do you think I'm bloody happy about it?"
"No. But I don't think we're giving up!"
"No. You never do, do you? The sun will come up tomorrow. I don't know if you're orphan Annie or bloody Pollyanna!"
"I didn't know you knew those references."
"Well, now you do."
I should have stepped in, probably defended my girl. But I got why their tempers were threadbare and needed release. Greg was liked. Greg was nice. Just like Dinah had been. And these were going to be our losses.
Tamsin ventured: "We could try that commune."
Tristan thundered: "No!"
"Not take him there. Just ask for their help."
"They can't be trusted. I'm not putting him in their clutches."
"He's already dying, you said as much."
"I heard myself!" His fists clenched. And even though I knew he would never lay a hand on Tamsin, I probably should have tried to calm the exchange. But instead, I found myself staring at Greg. There was something almost hypnotising about the patterns that simmered just beneath his skin. And I began to realise that I could see colours, that there were savoury colours and geometric patterns, and that they moved in a kaleidoscope fashion, sliding in and out of mandala patterns. I was transfixed: the way a triangle distorted around the edges and became a square, the way the edges bulged and there was suddenly a circle, and then the circle spawned more circles, bubbles; and these circles split from within to become soft violet snowflakes. Those snowflakes cast ashy blue shadows that shrunk into distant night stars.
In Greg's voice I heard something… "… away…"
Had it been?
I leaned closer. "Greg?"
There was light, just below the flesh, like a bulb buried underneath a thick lampshade.
Was it even real?
The walls were clogged with spider webs right now, and they were bulging as if the wallpaper were about to give birth.
Yeah, let's just hope it's a big fat hallucination. I'm just going to die still believing that right up to the point where one of them rips my head off.
"Greg…?"
"…. Away… the water…?"
"Who? What water?"
"… Away… hurts…. too far away…"
"You don't know what you're saying?"
"We can't sleep anymore. It's been too long. We're too damn hungry."
"What?" This had better be you saying this crap. It'd better be just delirium.
"Help… me…"
"How?"
"In… the water…"
I didn't know. And yet I did. The answers existed just a little out of phase with me, close, but miles away, sliding out of my reach when I reached for them. Sly, vindictive reverse magnetic. Vibrations. Intervals. There was something there. I reached beneath Greg's shoulder blades and I began rubbing in circular motions with my fingers.
Looking back, I don't think I was all there. It was some variety of trance or something, brought about by whatever was in me that reached out to whatever was in Greg. Wanting to help him, not understanding what it was helping. Dreaming, while a different kind of world turned above and beneath it.
I think.
All I know is that I knelt there, focused on what I was doing, hearing but not registering a gut-wrenching scream, only coming to myself when I felt hands grab me and shove me, felt weight on me, and a backhand across the face jolt me into renewed awareness.
Tristan was holding me down. There was screaming. There was blood on the floor.
"What the fuck are you doing?" Tristan demanded.
"I don't… I don't know."
"I'll hit you until you give me a real answer."
"I really don't. Let me up…"
"Not a chance. What've you done to Greg…?"
"Greg…" I tilted my head to the side to see him thrashing and screaming, to see him coughing up clots of blood.
"That." Tristan said. "That."
"I don't know! I felt… I thought… It might not have been me, exactly."
He punched me in the face. I don't know if he thought he was punching me, or some parasite inside me, or some hybrid of us both, but he didn't seem to be holding back; my head spun, all the colours went sideways.
At the same time, Greg lurched to one side, his head snapped back, and his eyes came open. His body went watery-limp. He said, strangely clearly, his voice almost even-toned, "What's happening to me?"
I think I was trying to tell Tristan to let me up, and I think if I'd been able to make proper sense, he would probably have told me not bloody likely; but as it was, he was distracted with Greg's voice, and with the gasps of pain that shuddered after it, his voice again, choking out the words: "God it hurts."
Tristan's hold on me was little more than touching now. I rolled groggily out from under it, and joined the rest of them in crawling to Greg's side. He lay on his back, eyes twitching, but seemingly conscious. He'd stopped leaking fluids; his skin had stopped simmering. He was trying to focus both his eyes and his thoughts.
"Greg," Tristan was calm, clear with the name.
"Yeah?"
"You know that's your name."
"Yeah… what happened to me? Why does it hurt like this?"
Sounds of relief, almost laughter, flooded the room. Tristan laid a firm hand Greg's arm. "You've been poisoned. You were nearly spider-food, but now you're not. That's the gist of it."
I reached for his shoulder, a little nervous of beings swatted away by Tristan. "It's Nate."
"You… we went… you're not dead…"
"You either, buddy."
"I think it's killing me."
"I thought so too when it got me. We're okay though. We're okay."
"It's like someone set fire to my insides."
"Yeah. Yeah, I know that feeling."
#
I caught Tristan looking at me a few minutes later.
My instinct was to reach the back of my hand up against my face. I stopped myself halfway up, but then didn't know what to do with my hand.
"Yeah, sorry about that. I thought you were possessed and killing him."
"God knows what I was."
"I think you were saving him."
"It felt… it was weird…"
"Sorry, though. I wasn't exactly pulling those punches."
I was on the cusp of a good-natured, no-harm-done agreement with him, when we heard something outside. It was engines. Plural. More plural than two. And they were approaching the compound.
Tristan wore his mantle of camp leader now as if I'd never been tacitly considered for the job. And right now, I wasn't fit for decision-making. He was motioning everybody into action. "Tamsin, stay with Todd and Greg. The rest of you…"
Outside, a posse of five vehicles had come to a semi-circle in front of the camp. I thought of gangs. I had sinking, sickening memories.
The first to emerge from one of these cars was a middle-aged man, he was stout and grizzled, wearing years and rough edges like a badge. I didn't know it then, but this was Seth Underwood, and he and I were going to have some issues.
Picture credit/discredit: author's own work