WebWorld (4.2)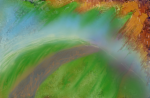 Sun, 22 Aug 2021
We departed at dawn.
Zara stood on the main porch, her hair tied raggedly back in what I think was the sleeve of an old jersey. There was something so alluring about it. It occurred to me that I sometimes took her for granted, that I forgot what fortune has dropped in my lap, what a natural and effortless beauty she was. Maybe that was the point of the sleeve, and of the softly figure-hugging jeans coupled with a white-and-lace oversized linen shirt.
"Just don't be dumb out there," she told me.
"I won't."
"No, I mean it. That's the problem with your single-sex expedition. You get a bunch of guys in a room together and they have to outperform each other in idiocy. I should still be going with you."
"We talked. We decided."
"The penis-brigade decided, and I didn't make a thing of it. But you have to be careful, can you promise me you'll be careful?"
"Of course, I will."
"No stupid presents. No dumb gestures."
"I wasn't going to…" and actually that sort of thing hadn't crossed my mind, so I hoped she meant what she was saying right now. "I swear: we get supplies, we get out."
Greg had his hand on my shoulder – still a little tender to the touch, still traced with purple veins and light bruising: "I'll bring him back for you ma'am."
"Fine. You'd better. Cos he'll have the food with him."
I had a satchel over one shoulder, a sturdy jacket, heavy boots, I had a big knife in the satchel, and a couple of little ones at my belt. I felt sort of prepared. I took her face in my hands and kissed her, disappointed not to illicit a blush; but she licked her lips and kept her eyes on me as we drove away, Tristan and Greg in the lead, me following. As we drove around the curve in the driveway, she jumped up on a bench. "Hey, Nate!"
The window was still open; "What now?"
"Come back with your shield or on it, okay?"
"You're a crazy woman!"
"And you love me for it!"
#
I wished for her company. I think I wished for anybody's company. Tristan and Greg could at least chat as they drove. I was alone with my thoughts. And my thoughts were getting rather sharp-edged of late. I think the dreams, and the way they slid past sleeping into waking – more and more so – and the way my imagination kept turning to waves of gum, coming through the camp like a flood. The way these spiders seem to lurk just over every hill and in every dark spot.
It made me think about PTSD.
But there was one thing I hadn't been able to convince myself to share. And that was the visions. The gulf between sleeping and waking was bridging itself slowly. The things that I had only dreamt about – spiders, gum, spiderish qualities blossoming in me or one of my friends – now seemed to seep into reality. There were times when I would be hit by a flash of a vision of one of them – a tsunami torrent of gum, a nest of spiders – or see traces of a gum-scape overlaid on the fields outside the camp.
What? Was I insane? Not telling anybody.
Driving along, just me, myself and I, I couldn't wriggle out of that one. I shouldn't have kept these things to myself. Whatever was going on inside my head, and written over these swathes of my skin, could be dangerous or important. And yet it had crept up so incrementally, and there'd been so much else to deal with. And the words just never quite resolved themselves enough to be spoken out loud.
Maybe I'm losing it. But I don't think I'm dangerous.
Pretty sad mantra, that. But it's the one I was working on.
And in the meantime, in the absolute here-and-now, the open road beckoned. I'm not really a car guy, I'm not even a little bit mechanically minded, and I really didn't even drive a lot in the pre-gum world. Zara had been the one to own a car, it was something I'd cruised past my teens and into my early twenties without actually giving that much thought to. And still: as the tyres found the highway, I was starting to get my rhythm. It was possible to imagine that this was the old world again, it wasn't being choked by alien cobwebs, murderous psychos weren't running rampant, civilisation had not just sort of melted away between the cracks without anybody quite knowing how to catch it.
No. In this moment, the sun was shining, there was dew on the grass, blue in the sky. And I remembered promising Zara I'd be good, I'd take care. But I caught myself revving the engine, I caught myself sidling up to Tristan and Greg, getting ready to race them. And it seemed as if Tristan was ready to play along.
We'd mapped out the approximate route, and there was a good 10kms of decent road before we curled off onto the gravel and into the backwoods, looking for corpses we could peck off. This was vulture-work, may as well admit it. But in the meantime, we were red-neck teens, with our feet on the floor, pushing ourselves down the road in a way we knew damn well we shouldn't, but I felt like whooping and punching the air.
Young. Free. Normal. Just for now.
The road wasn't clean, there was the litter of crashes and confrontations, there were oil-stains and burnt rubber, there were glass shards and shredded tyres. In the middle of the road about midway was a red circle painted, with a figure that looked like it was maybe meant to represent a fish – perhaps a shark. The painting was crude but formulaic, and I knew that some bandit gang, hiding out somewhere, had laid a claim on this stretch. It was enough to stir a brief wariness in me; but the road seemed clear, and the daylight was feeding into my confidence.
Shortly before we reached our turn-off we passed a rock-face that had been painted with the same sign. Next to it was a stencil-paint of a man, enough detail in the image that if a person knew him, they might recognise his likeness. The word 'Gonlogos' was scrawled next to the image. I didn't know, but I imagined a modern warlord. A red reminder that the world wasn't as I'd grown up in it, it was rougher and harder and the danger was real.
Tristan won the race, and parked at the turn-off for a couple of minutes to let me catch up.
"And we're all agreed," he said, "that we don't tell your girlfriend about that?"
"I think that's safe to say."
"I guess you noticed the symbols back there."
"Hard to miss. Do they mean anything to you?"
Tristan said, "Nothing specific, except it's a warning, and the lamp-post's been pissed on, so we probably shouldn't stick around here too long."
"Fair enough. Okay, so we stop at the first farmhouse we see and check it out?"
"That's the plan. I just hope we don't find anything too nasty."
Tristan's face hardened a little, "I don't think we should trust our luck that far. We probably want to brace ourselves, actually."
I remembered the farmhouse I'd encountered with Zara on the road towards camp: the executed boy still huddled beneath his blankets. I told myself I was ready to face something like that if I had to. I didn't know if I was lying or not.
#
The first farmhouse was a bit rundown looking. It had some broken fences, and some tyre marks in the grass. But it seemed to be intact, paint flaking, tiles lichened, but the windows unbroken, the door closed. We approached the place cautiously, and Greg and I stood to one side, as Tristan pushed the door, found it locked, and after a couple of attempts at kicking it broke the lock with a large stone. There were worn couches along the front porch, like a student flat whipped up by a tornado, and dumped out in incongruity here in the countryside.
A simple, faded lounge presented itself beyond the door. A purplish floral patten on the walls, and yellow-green paisley climbing up the walls. The furniture had the curled, spindly look of having belonged to old people. I held my breath as I walked through their home, not sure if I'd find them dead or waiting behind a door with a shotgun.
But we found nothing. No signs of habitation.
"No car outside either," Greg pointed out, "they must have left voluntarily."
"But gone where? Why? They might have been better off here than anywhere else they could go."
Tristan said, "Well, it hasn't been trashed. So, let's do this."
The kitchen had been largely emptied out, the cupboards were sparse, but not bare. There was some dried pasta, some bottled apricots, some liquor, some biscuits that might not be stale. It wasn't a lot of food, but it was something. There were dog biscuits, and a couple of bags of lentils.
Greg said, "she's smart, your girlfriend."
"I'm aware."
"Reminding you that you'll have the food with you."
"Oh?"
"Well, you can't put yourself at risk, otherwise you won't make it home, and they'll all go hungry."
"Yeah, thanks for that thought."
"She's pretty cool. You got to admit."
"Oh, I know that. Look, are you trying to move in or something?"
He laughed, "no, no. I wouldn't stand a chance anyway. I'm just saying that you're lucky."
"I know it."
"If anything happens out there, it probably should be you who makes it back, right? You have the most to live for and the girl who needs you and all…"
"Shut up. We're all going home."
Greg shook his head, suddenly stubborn. "It mightn't work like that. And we do need to get the food back to the others, so we can't make the pact that it's all or none of us. That's irresponsible. Tristan's the most useful out of us. You have Zara to consider. I'm just doing the maths around this."
"Do you even have the balls?" It slipped out before I could stop it.
"We'll find out, I guess. Or hopefully we won't. But I think so."
"You really know how to kill a mood."
He flashed a grin at me as if we hadn't just been talking about his maybe sacrificing his life for the rest of us, "We all have talents."
He'd do it, I realised, and my stomach clenched at the thought.
#
We did okay out of farmhouses. There were no dead bodies, and although the food was scarce, we managed to find some most of the places we went. There was a certain orderliness about the way the houses had been cleared out, as if there'd been an overarching plan, that the exodus was organised, that there was somewhere for these people to go.
I hoped they'd made it.
I loaded up bags of rice, root-covered potatoes, cans of custard and chocolate pudding, bags of chips, bags of soup mix. A tub of flour. Greg found some kids' clothes in a wardrobe and took some to give to Todd, just a size above him for the coming season. I just wondered about the kids, if they were alive to miss the toys left lying in this bedroom. Greg had picked up a velvet ribbon, and now a gold-chain necklace beaded with rose-shapes.
"I can't. I think Zara meant it."
"For George. To give to Penny."
"Wow, does that even count?"
"Hm. Maybe. Are any of these things suitable for Todd, do you think? I was a weird kid, I'm not sure if anything I liked at his age would work for most kids. I think he's too old for those trucks."
I said, "Look, I don't know if we can even really call him a kid anymore."
"Yeah. That sucks. What about these model kits?"
"Maybe."
"Penny will like the necklace, right? Believe it or not, I haven't had that much success in my life with people of the female persuasion. And yeah, lines like that probably haven't helped."
Tristan said, from behind us in the doorway: "Take all the gold. It might become currency if things come back about half right."
#
The cars were beginning to look about half full.
"We still have to get into town," Greg reminded.
"Not if we don't have to. Stay together, but we should search the outbuildings for seeds, if you can't find seeds on a farm where the hell else will you find them?"
#
I sang to myself as I drove, the roads becoming smaller and narrower. I think we were on the cusp of the narrowest part, before we started our way back to Brinton, having skirted the highways and stayed out of trouble.
I was feeling lucky.
But the next turn revealed something. And at first, I didn't know what to make of it. Faces. With smiles on them. Colours. Lines of fruits and vegetables. Flowing fabrics. Wind chimes. Glinting glass. My eyes widened as I pulled into full view.
What the hell? Is that a roadside marketplace?
Picture credit/discredit: author's own work