WebWorld (4.5)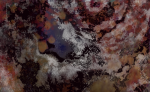 Fri, 27 Aug 2021
We didn't talk about it at first. We had things to do.
It appeared that the first thing we might have to do was to stay alive. We drove in over the main road, and the symbols were painted large, red, fierce; all the way across the road. Gonlogos: the name wasn't there, but I recognised the symbol. And there were coils of barbed wire on either side of the road to underscore the point. I pulled up alongside Tristan and wound down the window – Good God, I thought, doing so, I miss cell phone coverage.
Tristan leaned a little way out the window: "We're still going in, right?"
"I think so. Are they stamping the whole town, or what?"
"Not sure yet, but stay close."
"And if…"
Tristan shrugged his shoulders, "Better part of valour?"
I thought about our lack of fire-arms, and the probable gulf in numbers. "Yeah, I think that's safe to say."
"In and out." Tristan said. "Get what we need and be gone."
My wrist was itching wildly, my whole arm was twitchy and prickly. I couldn't keep down a hyper-awareness of my condition. I remembered Karen's eyes.
We headed for the garden centre first – we had food, we had bees – and maybe we could use the hive as a weapon if it came to it – but what we needed were the seeds to make a future for ourselves. The road to the garden centre passed the supermarket, and Gonlogos was writ large there. His symbols were all over the carpark, there were a couple of chunky firearms set up on tripods, there were barbed-wire coils surrounding the whole section – supermarket, parking area, a little line of small shops attached to the supermarket – and what I thought might be improvised explosives.
Their point was well made.
A large part of the centre of town seemed to belong to the bandit Gonlogos. His ragged symbols blared out of carparks and popped out of walls. But there were also a handful of cars parked on the road, and we saw a couple driving along – some supposedly civilian vehicles. And then a couple of men getting out of one of the cars along the verge. They were dressed in dull greens, greys, ripped jeans; but of more significance, they didn't seem to be armed or armoured.
There was a frosting of gum along the footpath, thickening around some trees, but it seemed smooth and silky, not the ugly, knotty stuff that seemed to presage the worst of the danger.
I pulled up alongside these guys. They looked cautious, rather than afraid.
I said, "Hey, we're from out of town. Where's it okay to go?"
The older of the two approached my window, "the supermarket's theirs. That's their HQ, as it were. You need permission if you don't wanna get shot. Otherwise, just stay away from the red paint."
"We're looking for food," I was testing the water.
"Who isn't? Look, people have stripped the town of what they can. There's nothing coming in from the outside these days, so we have to manage."
"But you grow your own?"
"Try to. Are you buying?"
"We need seeds."
"Fair enough. If you're buying, none of ours have gone to seed yet."
"But there's a garden centre?"
"I'm not sure there'll be much left."
"Like to try."
"Fair enough," they guy seemed nice, and he seemed relaxed, like there was no ambient apocalypse to be worrying about. He ran his fingers through a short, blond beard, "Well you take the main road, turn left, left again, and there's a road out of town. That's your way. But you won't exactly have gotten there first."
Tristan had parked just ahead of me after he saw me stop. He held up his hands as he stepped out of the car. "Are we good?"
"We're good," I said, "He's okay." I nodded back at Tristan.
"Sure, you look like good guys."
I hesitated, but I spat it out: "So them," and I gestured back at the nearest Gonlogos symbol. "How bad are they?"
"Bad. If you get on their bad side. Look, they run the show. They're pretty organised. I don't even know where they came from, but they took over the town, and there was nobody left to stop them. Once they'd shot up the police station, that was it. If you keep your head down and don't challenge them, they'll mostly leave you alone. If they want something just give it to them, even if it's something you don't want to part with. That's my advice."
"Thanks buddy." I reached into the glove box for a chunk of the apricot cake. "For the info." And as he took it: "Hey, do you know about the hippies?"
"On Curlew road?"
"On the road back that way, I don't know the name."
"Yeah. Sounds like them."
"Are they… dangerous?"
"Dangerous?" he looked actually perplexed. "They grow fruit and veges. They're a bit bloody weird, but I wouldn't say dangerous, not by today's standards."
"Not like a suicide cult?"
"By today's standards, I don't think I'd call that a danger. Those Gonlogos people could mow them down in ten seconds flat if they ever started looking like a threat. It's like families up there, kids and babies and all that. I'd be more worried that they're vulnerable than dangerous."
I thought about the pregnant women. The feeling that pervaded that place. I reminded myself that I didn't know these guys, I had to watch my mouth if I didn't want to put anybody – including us – at risk. "Well, they bake good cake, at least."
"Yeah. Hey, be careful after dark."
I nodded. "I know. We know well enough about the dark."
#
But we had a few hours before the sun was due to set. And we found the garden centre in reasonable condition. There were a couple of cars parked outside. No threatening symbols. But there was something that worried me more: a concentration of gum, gathered around some trees, some of it slinking out on vine-like tendrils into the walls of the building. There were a handful of the puffballs, but still mostly white, and tangles of intestine-like rope clustered around them.
My fingers fluttered on my knife.
Tristan shook his head.
"You know what those'll do if they hatch."
"Don't set them off."
"It could be another kid."
"Or a chain reaction. Don't do it."
The moment pauses in memory. What if we'd done differently? I still wanted to. It felt like a sort of vengeance for Dinah. And leaving them alive and growing behind us made my back itch. But Tristan was hurrying us on. And we did want to get in and out.
Inside, there was evidence of extensive looting. But also, movement. My fingers were on the hilt of the knife. It was becoming an instinctive reaction now. But the movement was slow, calm, belonging to a middle-aged man wandering along a shelf, looking at gardening tools. He turned to see us walk in. He didn't seem alarmed, he kept doing what I suppose was simple browsing.
"Hey," Tristan called out. "Seeds."
"Aisle J."
"Thanks, mate."
It was as we'd been warned. This section had been popular. There were empty shelves, and a scatter of random items, spades and trowels, scissors and Sellotape, clothes-pegs, pliers, a screw-driver. I pocketed some of the clothes pegs, as we started searching for packets of seeds.
"Hey," Greg hissed. He was gesturing towards movement behind some shelves. There was someone or something blue and yellow, it was barely visible behind some leafy shrubs all straying out of their pots, long roots crawling over the floor.
Tristan pulled his machete out. He seemed fond of that. He let it catch a sunbeam.
A figure emerged. This was a girl, she looked about Tamsin's age. She was dressed in faded jeans and a yellow jersey. Behind her a younger girl – Todd's age maybe – walked in her footsteps, eyes wide, hair pinned in a tight bun.
The older one said, "We don't want trouble."
"Us, either."
"We just want netting and rope."
"Keep the birds off?" Greg asked.
"And trap them."
He leaned closer to Tristan: "We should consider that."
"Yeah, yeah. Hey, we're just shopping too. Live and let live?"
The girl said, "Okay."
Well, I couldn't help it, I called over: "Are you okay? Do you have a place to go?"
The girl nodded.
"We have space…" I ignored the sharpness of Tristan's eyes. These were kids. Girls. What was he expecting of me?
The girl said, "We have people. It's okay."
I wondered if it was true. But she said it as if it was. She reached for the younger girl, took her hand, and continued to move through the shelves. The little one waved shyly – maybe younger than Todd, not much older than Dinah? – than Dinah had been – I had to remind myself sometimes that there was no such person anymore. Just a nothing where a kid had been.
Tristan was still glaring.
"What?"
"We don't know these people."
"I think they wouldn't have killed us."
"Maybe. But you heard her. She has people."
"I hope so."
"We can't take everyone in."
I thought: why not? It makes us stronger not weaker. But the two girls were already sliding out of view. And Greg was triumphantly holding up a packet of what seemed to be carrot seeds.
"Nice." Tristan said. And to me: "One day you're going to let in the wrong sheep, and it's going to be a wolf."
You weren't. But I didn't want to argue. We had seeds to collect. There weren't as many as I would have liked, but we gathered up onions, corn, carrots, broccoli and Brussel sprouts. I didn't know entirely how to plant them, but there seemed to be instructions on the back. We gathered up as many as we could, along with a half-dead shrub that seemed to be a walnut tree. We passed an old man walking through the store, and he only gave us a light smile, tipped his hat, and kept walking with a hosepipe around his shoulder. It was like an ordinary Sunday pre-WebWorld, with people just wandering around, doing their stuff. A normal day in a normal small town.
But when we stepped outside, that ended.
I could feel it in the air right away, and I could taste it; the metallic tingle hit me like a wave, and I could feel it running over my infected skin, it tugged at the scales, it slid in there, cold and sharp. And as I looked towards the trees, I saw a wave of cloud-like gum. This hadn't been there when we walked in, and now it was three-storeys tall, and had a surface like cauliflower, and fibrous threads reaching out of it. To the back of the store there were another bloom of the stuff. It could have been a cloud-bank having swooped down to earth, and now it hugged the side of the store, engulfing – eating – it, slumped across one corner with its teeth and tongues penetrating the walls.
What's more, I could see it growing. It multiplied on top of itself, and its threads reached out like hands, shooting towards us, stretching and widening.
"Well, crap," Greg murmured.
"Get to the cars," I shoved his arm to get him moving.
For another half-second he was staring. Mesmerised. It took a harder shove from Tristan to get him running. And even as we were, the gum was spreading. I could see where it might cut us off and surround us. And I admit, looking back, that I didn't spare a thought for that old guy, or those two young girls, or the guy looking for gardening tools. I just saw the car door, became aware of the air darkening and starting to feel heavy, the ground icing over in seconds.
"Run!" Tristan yelled.
I was. And I was reaching for the car door, when the pain sliced through my head. It was beyond any expectation; it was lightning, blinding pain that took complete control of me. It became the world. I was dimly aware of my legs failing to hold up my body, of my hands flying to my head, trying to push the agony out. My vision was a searing mixture of red and black, pulsing red, washed away by black, some kind soft thud that might have been my body falling to the ground. The black growing stronger and hotter, layering on the pain until it felt as if I became it. I didn't shout for Tristan or Greg. I forgot their existence. Evil, lead-weighted darkness came down in torrents. I couldn't fight it off, there was nothing left of me to do it with.
#
And then white.
I don't know how long it took me to become aware of that whiteness, to slowly realise that I was lying on something both hard and sticky, that my ears rang with pain, and my mouth tasted like blood. I moved my hands slowly against the ground, feeling for anything, and coming up against what I thought was a tyre. It took some thinking, some outright concentrating, to realise that I was lying face down, and to painfully turn myself over. I lay on my back, staring at a ceiling of gum – not only white, by striated now with black, and sunset colours. It was an ugly, messy tangle; and it was everywhere I looked. I felt my lungs clench inside my chest as I took in the fact that there appeared to be no way out.
Picture credit/discredit: author's own work