WebWorld (4.7)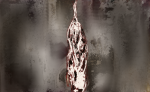 Mon, 30 Aug 2021
When the light came back, I just wanted to swim away from it.
I was having crazy visions. I was swimming in a sea of light; but then the light became a kind of blue, watery darkness; and then became flowers - red, white and orange, growing at the speed of a man running fast; changing shape and spraying a rainbow mist out into the air. Then it was a love scene, my eight legs wrapped hungrily around a soft, springy body, its teeth buried lightly and loving in my shoulder; a flowing scent a bit like oranges, and a wind that skittered over the fur on my back…
I blinked awake.
I regretted it immediately.
The pain washed over me all new and recharged. It all-but sucked me back under. I could see Tristan kneeling over me, he had one hand rested lightly on my shoulder. He looked troubled. I felt sorry for him again. I remembered how much we had to feel troubled about, and the realisation just made me feel tired. Can't I just sleep yet and die yet? Hasn't this been enough?
"Nate? You with me?"
I think I grunted. I made some kind of sound.
"Okay. Slow. You're hurt-"
No shit.
"Just breathe for starters." And he gave me a few seconds to work on that. "Can you talk?'
I braced myself, "yeah."
"You remember where we are?"
"Hell."
"You remember. Great. Now we just have to figure out how to get out of here."
"You need to leave me."
"Fuck off."
"I mean it." Words were uncomfortable, they sliced at my chest. I could see a line of blood right across my shirt, a blotchy red stain.
"Yeah, sorry," he was following my gaze, "the spider was right on top of you, you were right under it, the blade went straight through and then some. I don't think it's all that deep."
"It's okay."
He brushed a couple of strands of hair away from my eyes, and let his hand linger on my forehead. It was weird and almost intimate. "You look bad. I'm not saying you don't. Actually, you're scaring the hell out of me, really. But you're out of your mind if you think I'm going to leave you in here. How much of an asshole do you take me for?"
"I'm not going to live," I felt as if I was explaining this to a child.
"You fucking sad sack. You have no idea if you're going to live or not. I don't know if I'm going to live. But until we find out, we gotta get moving, I don't know where Greg is, I can't see any sign of him, and he was right beside me. He was right next to me when this stuff came overtop of us. He should be here, and he's not. And I really hope it's because he crawled out and went home, but I doubt that's it. So, I need your help."
How's a guy supposed to argue with that? "I don't know if…"
"Me neither. But I'll help you. We'll start with sitting up."
That was rough. It took Tristan with his arms around me to get me sitting, and then we had to wait for my head to stop spinning before I could reposition onto my hands and knees. Then we waited for me to spit up a shit-ton of blood, before we could be ready to move.
"Still with me?" he asked.
"More or less."
Tristan stuffed his pants and pockets with what items of food he could carry. We had a bit of cake left that he helped me eat. Swallowing was rough. Swallowing water was no easier. "You up for this?"
It wasn't really a question, so I nodded.
"The web-stuff's all mashed up in this direction. It could have been something dragging something else."
"Okay."
I imagined Greg finding a way to leave us clues, little pictures or letters carved in the gum, scratches we could follow like they were breadcrumbs. But he'd either never had a chance or he wasn't in any shape to do so. The stubborn thought snagged itself in my head: well, he might not even be alive by now. Honestly, I was somewhat surprised that I was still alive. The way I was feeling, I thought I should just keel over and die at any moment. The visions were attacking me again as well, and showing no more mercy than the pain, there were creatures that were like the spiders, only semi-humanoid, longer-faced, bluer tinged. There were things like tortured jelly-fish, tendrils stretching behind them for miles. There was white light, and a darkness that welled up within the white light. There was something sickly and oily about it, something that had happened…
And then there was fire.
Back in the flesh, my arms gave out from under me; I fell on my face, vomited. Tristan was there, lifting my face just far enough out of it to keep me from choking. I was convulsing, and he held me steady until I could stop.
"See," I murmured, head flopping against his chest.
"You're all right."
"I'm dying."
"We don't know that."
"I know that. I can feel it going through me like barbed wire."
"It hurts. I know."
"Put me down." It all seemed so clear. "Just… put me down."
Tristan tilted my head up to face him. He must be able to see. He couldn't be this naïve. "You look like shit," he admitted, "but I've got to get you home. You have to see that. And I need you to help me with Greg."
"I can't help myself."
"I know. I know. But I still need you. And Zara needs you. You can't tell me you don't want to make it back to her."
Low blow, dude. But, of course, I did. I nodded, and I muttered something that I think was meant to be some sort of curse or savage insult, but there weren't words there to fill my mouth.
"Good," Tristan said, "Because you're not fucking dying in my arms. Okay?"
"Okay."
"You're not as fucked as you feel. Stay with me."
If it was true, it was only because the bar was set astronomically low. But perhaps there was something in it, because against every protest in every muscle and sinew, I could keep crawling along behind him.
There was starting to be a soft pulsing in the fabric of the gum now, it fluttered along the surface, and I could feel a deep, slow beat beneath my knees. Like a heart.
"I can't see anything good coming out of this."
"Unless it's something we can put a knife through."
"I'm pretty sure it takes more than that."
"Then we'll give it more than that."
He didn't give up. He crouched firmly in the mush while he let me lean against him when I thought I couldn't go on any further. I knew he'd drag me if he had to. I'm not sure he'd have had the sense to leave me if I was dead.
And I felt bad. "I never even asked you if you were hurt."
"No, I don't think so. Not badly."
"Wait: not badly?"
"It felt like someone stuck a drill through the back of my head. I got beaten to the ground by a wave of gum. It was like an earthquake and a tsunami and a dentist's drill to the back of the head rolled into one. All that considered, I think I'm just bruised and scraped a bit."
"I'm sorry."
"It's okay. You're way worse."
"You're not lying, are you?" Was he bleeding under his clothes, unbeknownst to me, burnt and bitten and stabbed?
He shook his head, "No. I'm good. I'm good-ish. Can you keep going?"
I had no idea. But I felt like I owed it to him, so I nodded, and started putting one hand in front of the other. I didn't want him to have to drag me, that was just going to hurt both of us.
It was soon after this rest break – third or fourth or fifth, I was losing count – that the passage started to open up wider. There were red patches that looked like bruises. Greg, kicking the walls, fighting back. I tried to make myself believe that. Greg having fought his way free, and now waiting just around the bend for us to arrive, ready to help Tristan drag me out of here and home.
What we came across instead was a chamber opened up in the tunnel, a circular, bulb-like structure that seemed to be held together by ropey white scaffolding. The walls were soft and lightly glittery, they looked like pure, white candy floss. In the middle somewhere, trussed up in more vines, was a suspended shape that looked too humanoid to pretend it wasn't. I still gritted my teeth against it, remembering the other people who'd been in the vicinity. This shape was wrapped as if in bandages, a fully encased cocoon. Only a couple of pieces hung out still, the tip of two fingers, and the corner of one frame of a pair of glasses. Glasses I knew though. And they were Greg's.
Pictured credit/discredit: author's own work