Werewolves (1 of 2)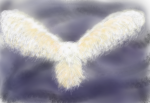 Fri, 13 Jan 2017
She wasn't always a princess. It might be hard to reconcile it these days: dressed as she is in pearlescent silks, draped in lace, her hair all bound high around a foot-tall rod, left floating down in milky-gold curls. She's remade herself in the princess image, fulfilled her role. But there was another side to her once. A discarded life.
And Tresikia remembers it.
She would call herself Tres in those days – which was short for Tresikka, altered slightly to better match her new title. And as Tres, she was anything but a princess. In those days she'd been a wanderer. She'd been a drifter with only scraps of regard for propriety; no moral compass to speak of, certainly no sense of her place in the world, her direction or destiny.
Forest brats don't have destinies. And that's what she'd been. That was the crooked, eve-heavy cottage she'd been born in; the rowdy and over-crowded family she was born into. Her memories are of nights crowded around a fire, twisting acorn paste around sticks and heating it over the flames. Apples when the season was right. A rabbit or a tree snake maybe; a boar when luck favoured her family of ten or eleven or twelve. Days spent racing through the woods with her siblings while her father set traps and chopped wood.
She remembers her decision to leave. The tears. The hugged farewells. They wished her well – all eleven of them. All taking turns to offer their advice, even Lonit, the baby, just about to turn three.
"Whatever you do," said her father, "don't go trusting a minstrel."
"Why?"
"Well, if I gotta tell you..."
"You're biassed is what you are." A singing man had once tried to seduce her mother. Twenty years ago. But her father kept the memory alive in his heart. And kept his axe sharp.
He shrugged. He said, "I know what I know."
And she stored that away over the years of her wandering. Over the years of being a tinker, and a sailor, a soldier briefly, a ladies' maid for a day, a slave until she made her escape, an artist when she discovered her muse and realised this was what she'd waited for always. She kept his words in the back of her mind as she made her way in the world with her small, quirky carvings, with her tangle-woven baskets incorporating dried flowers and berries. She kept it with her as she met minstrels and thieves, scullery maids, generals, wizards and beggars. She still had it somewhere, that late spring night when she approached a roadside inn, saw the sunset turn blood-coloured as stormclouds moved in.
She still had it there when she walked inside and saw a man playing a lute and thought he
must be the most beautiful man she had ever seen.
#
Princess Tresikia remembers him.
And knows it would be better not to. It would be more than frowned upon. And Prince Soldrusk has been good to her, never given her any reason to rebuke him as a husband. He's given her the world in his own way, certainly ensured that she will never want for anything, and nor will her family. And yet, when she looks across the village, past it, out at the woods, the horizon, she finds the memory calling back to her beckoning. Whispering: Run. Run away. Find Freedom.
Foolish stuff.
This night, as she turns to leave the battlements, to return to her fur-walled chamber, she sees something descend from the clouds. For a second she feels ice touch the back of her skull – the memory of when she trekked too far up Dragon Mountain – but she sees quickly that this flier is feathered, is nowhere close in size to a dragon, is a great owl. It's face is sharp and sapient, eyes saffron-gold, it's feathers are white, softly brown, lightly gilded, lightly coppered; collecting autumn colours from a fading sunlight.
The bird stirs memories that hurt and haunt, but equally delight.
"Kitto," she whispers, and she holds out her arm.
The bird lands, he leans in to whisper his message.
#
Oddric had Kitto first. Oddric being the minstrel. That troublesome breed she was supposed to be avoiding. Except that this one was just so lovely she couldn't help herself. Tres ordered up an ale, she took a chair, she slumped into it, letting her bags and bow fall to the packed earth floor. She drank, and she watched, listened, dreamed. This minstrel told such improbable tales, but his voice made her believe in them. It was more than musical, it was... well, he could have come up with a word to do it justice. Tres couldn't. And his good looks were more than she could wrestle words around either. All she could think of those was that she wanted him.
And over the years, she'd gotten used to going after what she wanted.
So, when he was done, she sidled up to him. Bought him a drink.
"You look like you've travelled the world as far as I have," he said.
"Reckon I have too."
"Huh, well, I've been a long way."
"As I have."
"To Crystal-clad Shaylesvale?"
"And back again. And up to the black lake of Tothfierre."
"And under it," he countered, "into the Glowing Cave."
"To the Treelined Coast, the furthest east, where the trees grant wishes."
"West," his reply, "to where they inflict dreadful curses."
And so it became a competition between them, who'd done what, when, how fast and for how long. They traced out a map of the world with their boasting, and they accompanied their talk with fine brandy and dark wine. It seemed inevitable, like a promise given years before, when she followed him up the stairs and into his rented bed. It seemed as if his body were just one more map, just another thing to explore, while his soul made stories out of it.
And as she lay beside him she asked him if he'd make a poem of their night together.
He asked her, "will there be only one night?"
And she, rising up on an elbow. "I assumed. Minstrels being what they are."
"Oh. And what are we?"
"Seducers. Aren't you? Or so my father says."
"Your father hasn't met me."
"No indeed, your head is still attached. But do you mean it, what you say? That there might be more than one night for us?"
"If you'll come with me. Why not?"
So many reasons. But all of them melted in his eyes. Because she had no place to be. No prior calling. So long as she was drifting, why not choose this current?
"So?" he prompted.
"So. Let us make a few stories together for a time."
#
She had yet to meet Kitto. And in the middle of the night she did. She was sleeping there beside Oddric when she heard the shutters rattle. It was windy out there, and the storm had come, had drenched the ground, had torn the trees, and now howled about it to all who would listen. Tres thought at first to dismiss the rattling as no more than the storm, but its persistence snagged in her mind. And Oddric, waking, was drawn there at once, unlatching the window and letting the magnificent owl in.
In truth, he was not at his most magnificent, owing to the wet, to the drenching of his feathers, and to the wind rifling through them, twisting them out of order. But Oddric seemed to know him right away. He took the owl on his arm, leaned in to hear it as it spoke to him. His face told a story as he listened.
"What is it?" She hadn't lived this long by having no sense for danger.
He let the bird hop onto the bedframe before he turned to her. "We've got trouble."