Werewolves (2 of 2)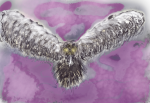 Fri, 13 Jan 2017
They had a burst of resistance, trying to wake the innkeeper, but the word 'bandits' was quick to chase that away. The man threw his door wide open, dressed only in a nightgown, his hair a mess, cheek wrinkled from sleeping on. "What?"
And Oddric explained it. "There are bandits coming. They're heading for this inn. A gang of about fifteen of them. And they're intent on robbing everyting in here, and everyone. Burning the rest down, once they're done sheltering. Decide now," he said, "do we fight for this place or flee into the forest?"
It was as well the innkeeper had faith in Oddric, or was just too stunned to ask how he could know this, because the word of a passing owl might not convince most people. But the innkeeper was convinced, and it only took him a moment to make up his mind: "We fight them."
Tres thought: this man is crazy. They were outlaws, probably desperate, and armed, with insufficient to lose, with a willingness to spill blood that ordinary people can often not learn quick enough. And at the same time, she was glad, she'd hoped he'd say that. She didn't like bullies, she knew how to defend herself, and it annoyed her to think about running from a fight.
But this wasn't going to be easy. With all the guests and staff roused and added together they could at least say they outnumbered the attackers, but not by all that much. There were twenty-one of them in total, and one just a boy of twelve. A sapling of a bar girl, probably fourteen, didn't look as if she could offer much more assistance.
"We'll be all right," the innkeeper said, and he seemed to believe it. The put a hand on the bar girl's shoulder, and she returned a brave smile.
A couple of young men staying in the room next to Tres admitted to being soldiers – deserters actually – and the innkeeper's labourer was at least built like a stout oak.
Tres: she had her bow. A compact model, its usefulness wasn't ruined by the constraints of indoors. She checked it over, tested her arrows for sharpness, looked for a good spot to take her aim; while the innkeeper directed staff and patrons alike where to set up traps.
Oddric, beside her, promised: "We'll take them."
"Oh, I know."
"Do you?"
"I didn't meet the likes of you tonight, just so I could be dead before the next dawn."
#
Bravado aside, it was an ugly handful of minutes. The wooden spikes hammered into the ground outside the door lamed two of the attackers, and the collection of pots and pans hung above the door distracted them when it came crashing down on the first three to enter. Grease on the floor slowed them down for half a spell. But after that it came down to true fighting. And these outlaws were no amateurs, they had better armour than Tres had hoped to see, and most had proper weapons. The battlefield was small and cramped, she managed to get two shots fired off before the first of them was on top of her.
She'd been in her fair share of brawls, but she was taking on a man with a long knife, while she had one arrow in her hand, readying to apply to her bow. She stabbed for his face with that, grazing him as he shimmied aside. And he snapped back up more quickly than she'd have liked. His slash caught her on the back of the elbow she raised just in time in defence. She got a look at his eyes, saw the meanness, and the hunger, the stamped-out humanity. And in the next second she struck, driving the same elbow into his face, punching him in the gut with her other fist.
Oddric, moving behind her: engaged with another foe.
A third moving toward him.
"The left," she called in warning.
And the knife-wielder, stumbling from her blows, recovered his balance, slashing twice at her stomach and almost hitting her. His fist caught her shoulder; and as she re-balanced she felt the blade sting across her forehead, barely connecting, but sufficient to conjure up the bloody image of what might have happened if he'd had a better angle.
She knew: we're outmatched.
But at the same moment she knew that, all at once they weren't. This innkeeper was a consummate keeper of secrets. And now, as his little bar-girl shoved away an ugly meathead with a mace in one hand, he reached beneath the bar, pulling out a bottle filled with sparkling blue mist.
Oh, you haven't...
He had. Held there for just an emergency like this one. While the bar-girl was backhanded onto the floor and her assailant loomed over her ready to deal death, he was unstopping the bottle, setting it firmly on the bar and ducking for cover.
Tres ducked too. She aimed a kick at the bandit's midsection and flung herself across a table into the nearest corner. She felt a warm body – Oddric – collide with her, felt the heat of his breathing against the back of her neck. She closed her eyes hard, but she still felt the brightness as the room exploded in liquid blue-and-silver around her.
#
After that she travelled with Oddric. And they wove themselves a map, making their way to the farthest flung corners, luxuriating in hot pools, or trekking through thick, tangled forests. They walked over ice, over sand, over fire, or glass. As they went he added stories to his memory and told them at inns, around campfires, in the courts of rich nobles or warlords. By his side, Tres carved out her images, taking branches from the forest, or soft stones, and turning them into figures, into beasts, or winding vines. She sold them in the markets by day; Oddric sang for their supper at night.
Kitto was never far away. If he rarely travelled with them, then he never really left them either. He flew by sometimes, with a kill for the campfire, to warn them of prospective danger, or just for their company and Oddric's songs.
And they lived this way for four years.
It was halfway through the fifth year when Oddric told her he had to leave. This was a journey that would take him back to his family, it was dangerous, and personal, and something he had to make alone. He'd never talked about family, and the seriousness of his sudden intent was clear on his face, threaded in his voice. She'd known him for over four years, and she knew he meant this.
"Perhaps you should see your own family," he suggested.
And so they parted lovers and friends. Held each other all night on the eave of his parting. And she watched him go until he was long out of sight. Before he left her he gave her Kitto. "He'll watch over you, until I come back for him, and for you. You can trust him as surely as you can trust me."
Bloody minstrels, her father would have said.
And maybe it was time to see him again.
#
Tres returned to her family. They welcomed her back. The young ones didn't recognise her, but laughed out loud to hear who she was. She had a niece and nephew born since she'd last come this way. They gazed at Kitto with fascination when he chose to fly near. He let them hold out meat from the pot for him to feed on.
"Bloody minstrels," her father said. "You never should have trusted that one. He was destined to leave you."
Maybe. But he'd never promised a lifetime. They'd had their days together, created stories, shared them, fed their souls on the wideness of the world.
"He won't come back. Don't go holding your heart open for him. That one's gone to the wind, he is." Her father was quite sure of his subject.
"Time will tell," she answered.
"Never trust the likes of a minstrel."
"We'll see," she said, not knowing herself, choosing to leave it at that.
And so she settled for a while, was happy enough, bonded again with her family, and spent much of her time out in the woods.
All until one day, two years later, when the king proposed a great feast, and all in the region came to share in it. Tables were strewn across the common, creaking with fine food, with meats and fish, fruits, vegetables, cheeses. All manner of fowl were served – she even saw to her horror a plate of roasted owl – in the company of countless pies, plaited and sculpted breads, snakes and eels roasted and hung alongside each other.
After the feasting there was dancing. The music reminded Tres of her lost minstrel, and even with tears in her eyes she danced the whole time. From the first tune to the last. And at one point a young man came to her, asked her if he could join her in her dancing. He danced beside her, from that moment until the music went quiet. He asked her name, and for her story, asked her to teach him the dances she knew, while he taught her the ones he'd come across. He joined her in drinking, and in taking in the sunrise.
When she asked him he told her his name was Soldrusk.
And so it was that a prince of the realm came to dance with an uncouth, wandering artist, and by the end of the night had fallen in love with her. It was nothing he'd intended, and nothing she had either. It went against propriety, and politics, and common sense. But his heart knew what it wanted, and his mind was made up.
When he came with his invitation – servants in tow, dressed in furs, garlanded in gold chains – there could be no question of refusal. When a prince stands before a common woman and seeks her hand in marriage there can only be one answer.
#
On her wedding night, standing out on the battlements, gazing out at a silver moon, she did the other thing she knew she must. The future queen could not have a wild owl flapping around above her head. Feathers scattering everywhere. And the whispers of danger, though useful, were only going to spur gossip about witchcraft and dark sorcery. This was for the best, she told Kitto softly, he'd been away from Oddric for too long anyway, she was safe here, cocooned in castle walls, she had a wall of pikeman, and collection of brave knights, to keep her safe from any harm.
"I love him too," she confided to the owl, "and you might tell him that I always will. But our paths can't converge. His destiny isn't mine. Find him. Let him know. And be his guard."
She watched Kitto fly away, black against the moon, unhesitating, knowing where he'd find Oddric again.
She never would. She stowed her love away in the deepest corner of her heart, gazed one last time upon it, and locked it in there. She breathed the night for a few more moments, then she turned and walked inside again to meet her husband, and her wedding night.
#
And so now, as Kitto comes to land upon her arm, she leans in to hear him whisper in her ear. She's glad to hear that Oddric is well, that he's reconciled with his family. His travels might bring him this way, and yes, she will try to arrange that he play before the court. There'll be no secret trysts, no foolhardy betrayals, they both have better sense than that. It'll just be enough to see his face, to have him look across the audience, for just a moment to meet his eye, to share a look that says so much and still says nothing.
How she's going to convince the castle that a pack of ravenous werewolves is heading straight for them, on the other hand; that could be a little more difficult...