Why I Find Such Joy in Her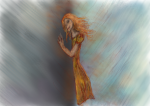 Wed, 29 Apr 2020
She is.
She is: she exists,
And if that doesn't sound like much,
Then you should know that she exists like no other,
Carved into the world in such deep, cursive grooves,
Indelible,
Insoluble,
When all else there is and has ever been is gone,
There she'll be,
In shades of wine and copper, rose and white-gold;
Alone against the grey.
Her voice is without equal.
When she sings to me, I know I would happily cross oceans,
As she flicks back a ringlet of copper-silk hair,
And whispers those thoughts into my ear.
She must know that I would do anything with those thoughts,
That I'd mould them and grow them,
And watch them – all breathless –
As they grow wings and seek out the sky.
Gravity.
Why not? When she burns like the sun?
I revolve around her, you see.
And what imagined world, in any potential universe,
Would be so unwise, or so short-sighted,
That it didn't revolve around her too?
What force could be stronger,
Or what well could sink any deeper?
She goes all the way down,
To the centre of the earth,
And she never comes up for air.
Her fingers that heal me with their touch,
Sliding into the grooves and creases,
Beneath the dark secrets and ugly ideas.
Without fear.
"Take that!" she says to my demons,
Perpetually unafraid of them.
"How would I last a day without you?" I say,
As we're coiled around each other,
And her strength soaks into my weakness, binding it, soothing it.
"You know the answer to that," she says,
Propped up on one elbow, rainbow-fire hair sliding down one cheek.
I do.
A desert, where the grey, grey, grey emptiness rebounds upon itself,
Where nothing grows, and nothing is born;
And the only reason nothing dies, is because nothing lived to begin with.
I don't know if that's the answer she means,
But I know it's the true one.
Picture credit/discredit: author's own work