Lady Gaga v the group that invented a tribute band and became their own support act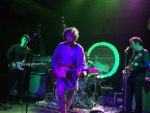 Sun, 21 Feb 2016
In the end, did the world actually need a Grammys tribute to Bowie from anyone? By the time she took to the stage did anyone care that it happened to be Lady Gaga's six minutes?
It felt to me largely that, as usual, people were much more interested in those shortlisted to win, leaving the discussion whether Gaga was any good as a bit of a sideshow.
Duncan Jones dipped into assessing any intrinsic value, if there was some, but offering only a hint of what he thought.
"overexcited or irrational, typically as a result of infatuation or excessive enthusiasm; mentally confused." Damn it! What IS that word!?", he tweeted, enigmatically.
No-one else's verdict was quite the same, but it seems to sum up the feeling the performance never warranted analysis.
Not that coverage was lacking of Gaga's whistlestop tour through Bowie's characters, his biggest known tunes colliding with one another like some slightly demonic, rollercoaster that gives the impression the wheels might come off but actually presents no danger whatsoever as the theme-park owner's too concerned about the insurance.
Indeed, the BBC News Channel was replaying the best bit – the opening strains of Space Oddity segueing into Aladdin Sane, complete with lightning flash and spider crawling across her face – all day.
But, whether it was acceptable as a tribute to such a figure, or just, "was it any good?", never seemed to arise.
D Jones esq. dolls
Perhaps, despite the fact we're talking about Bowie, one of a handful of artists who engendered such a profound outpouring of public grief on their demise, too many weeks had already passed, people had had to get on with their lives, and were now remembering him in their own way, uncaring what the Grammys might bring to the table.
But for me, it was also down to the fact Gaga's performance was just too literal – almost akin to a new range of D Jones Esq dolls, trotted out in chronological order, pull the string in his back and out comes Rebel Rebel, Ziggy Stardust, etc, etc – no sign of a curveball like Cygnet Committee or V2 Schneider, perhaps actually, Lady Stardust...?
It was the antithesis of Bowie's rare ability to combine constant reinvention with commercial acclaim (1985-2000 accepted!) – it made no attempt to push any creative envelope, wrongfoot the audience in any way – the theme-park manager's insurance policy was never threatened.
As Barbara Ellen noted in an Observer debate on the fact a Gaga tribute would take place – her first thought was "Err, why?  Bowie delivered an album, Blackstar, on his deathbed – wouldn't playing the harrowing Lazarus video be a more fitting way to pay homage to an artist whose urge to create and inspire remained undimmed to the very end?
And then, "...there seems to have been a missed opportunity to do something truly amazing and unexpected – say, his new music set to choreography by his early collaborator Lindsay Kemp."
I couldn't agree more – but, it was never likely to happen at the Grammys, was it?
So, take Bowie out of the equation for a minute, but maintain the idea of relentless reinvention, the desire to take your audience by surprise, and then place the show in a slightly out-of-the-way, new venue on the Birmingham block, with a certain reminiscence of a village skittle alley, but with far better beer than the 02 Institute round the corner.
How about deciding to invent a tribute act to one of the least likely bands to warrant one over the last 30 years – Stereolab?
Joke's on the crowd
Then, work up a set of songs and become your own support act – one that leaves the audience's eyebrows arching, with the deliberately ridiculous French-accented lead vocalist dressed as an archetypal 50s schoolgirl, with a shift dress, high neckline, patched pockets with daisies on and a grey, undersized cardigan – completed with lily white, skinny legs, more like strings with knots for knees... 
Oh, and then call the act Stereolad – to top it off, almost like a tribute act to a tribute act, bringing in arch humour to puncture the now ubiquitous, often too serious, circuit of bands aping bands.
How long does your audience take to realise the joke?  Well, you never stop to find out – you play your half-hour set, at the start playing up to the cliché of a nervous support band, stand with your back to the crowd, cold knees apparently nearly knocking, a few fragmentary words between songs, before you tentatively encourage the "reluctant" crowd to take a step forward...
Of course, this band – whilst clearly being cool, simply for loving Stereolab – are not new.  They are 20 years into their career, they have just released their sixth album, they supported the Red Hot Chili Peppers on their 2006 world tour and they played an acclaimed set last weekend at BBC Radio 6 Music's Festival in Bristol - but you've probably never heard of them.  They are Chk Chk Chk.
Frontman Nic Offer is perhaps as compelling as Bowie, though Iggy Pop is a better comparison, owing to the fact there is no real costume – shed of the schoolgirl garb, Offer simply changes into shorts and T-shirt for the main attraction. 
Twenty years in the biz, and still playing venues holding fewer than 200 punters, would surely have left you jaded by now?  Not a bit of it - like Pop, Offer injects a huge dose of hypermania into his performance – running about, treating the whole venue as a stage, unabashed by the idea of getting into the crowd.
The key to that exuberance is the music - !!!, as they are also known, channel a relentless punk-funk vibe that cannot fail to get people moving.
Take Freedom '15!, from the latest album As If... – complemented by a great female vocal in a self-described "disco odyssey" – it doffs its cap to the great funksters of the 70s and takes you by the hand with a huge grin leading you to unhesitatingly dance your ass off!
Cash-cow characters
But, let's not forget where we started, this is not simply a review.  Whilst !!! don't have the Gaga profile, the argument here is that in this time of throwaway social media where people are prone to get instantly bored by things, this largely obscure band has done a much better impression of Bowie by, with a simple twist of imagination, creating a guise to subvert our gig-going expectations and, as a result, ratchet up the excitement of the show, even before the reason we are there issues from the PA.
Gaga has "shocked" people down the years – but, since the so-called controversy of the meat dress, it feels like she has run out of ideas.  Like her approach to the Bowie tribute, she demonstrated the value in creating characters, but unlike Bowie it feels like she forgot to put her soul into – believing taking on otherworldly personas is simply a great way to make cash, perhaps? 
The fact she trod the obvious path – aided and abetted by the likes of Nile Rodgers – is no surprise, she just doesn't have the same compulsion of Thin White Duke to get the show out there. 
But then the world was, and surely never will be, big enough for more than one Bowie. 
There is one final irony, though. Whilst Jones put his all into his ephemeral guises, he was the first to point out their fleeting, "plastic" nature – so actually, he might just have appreciated Gaga's show and laughed at us for expecting to find something of more substance hidden within.