Bat Out Of Hell Part 4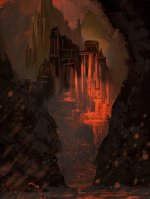 Wed, 29 Jul 2020
    Bat Out of Hell
Chapter 4
By Shane Scott
   With a forty two mile raging trail of Hellfire behind him, now moving at the snail's pace of two hundred miles an hour, Zinkie nudge the throttle lever forward just enough to maintain his current plodding velocity.
     He tapped the analog gauge above his adorable head then did the last thing he wanted to do.  The bat-mobile began a slow curving arc until parallel with the blazing path of Hellfire, heading back towards Hell's Gate.
     "Gotta make sure.  Gotta make sure.  Gotta make sure." Zinkie fearfully whispered to himself, as he went to make sure the Hellfire was being dragged back Downside. He theorized an emergency dump should be OK within a 100 mile radius of any of Hell's Gates.  But Zinkie had to confirm his theory with observation to be certain.
     The problem with Hellfire is it never runs out.  Zinkie started with a single drop in his 500 milliliter fuel tank, but Hellfire exponentially makes more.  The more he burned, the more he had until finally this fuel tank over pressurized forcing him to emergency vent Hellfire.  
     Engaging the auto pilot, Zinkie prayed to You-Know-Who, "Please. Please. Please. Back to Hell it goes.  Back to Hell it goes. Back to Hell it goes." 
     He didn't want to be responsible for Hellfire cutting the entire planet into rubble, sinking from one side of the planet to the other side, then back again, over and over, building and growing until it no longer had anything to feed on, after the planet was gone.  If observation didn't match theory Zinkie would have no choice but to return Downside, bringing the Hellfire with him.
     The bat-mobile, painfully slow at 200mph, made its way back and Zinkie thought about his escape and why his Charmingly Strange Resistor failed. 
     "Should have lasted longer. Should have lasted longer. Should have lasted longer."
****
     After three and a half days, Eek used two of his eyes to oogle and leer at his succubus wife.  He used two additional eyes to worship Misery, tracing the delicate curved lines of her face, shoulders, breasts, hips and legs while half his brains reached consensus with the half that Misery was the finest work of art in all You-Know-Who's creation.  He used another two of his eyes to gaze in wonder at Misery trying to understand how she could possibly love him.
     His last two eyes looked at Misery in fear from two completely different reasons. 
     The first reason, and not that frightening, came from the well known but poorly understood and often side effect, of being fornicated to death by a succubus.  Eek didn't mind being fornicated to death by Misery, but wanted it to be a long, slow, and drawn out death.  Misery seemed to be aggressively pursuing a much quicker schedule.
     Eek's biggest fear came from knowing Misery's Immoral soul was doomed to Salvation. 
     "Misery, I am afraid for your Immoral soul."  He whispered.
     Misery glared at her husband and screamed. "You stupid Lesser Demon, if your Immoral soul is doomed to Salvation you can bet your bony flumpflump my Immoral soul will be with you.  Someone has to take care of your dumb hide."
     Eek filled with love, the Upside hadn't changed Misery, and she still screamed at him with love.  Eek didn't want Misery to change one bit.  But, he did say a silent prayer to You-Know-Who, "I lied, like a good Demon, please a lot more than once, let me tell Misery 'I love you' forever and ever, even if my Immoral soul is doomed for it."
     Misery untangled herself from several of Eek's private parts. "We have to get to work.  It's been long enough we won't get any demerits for working too hard."
     "The Boss said we have to fit it, be undercover to catch stupid Zinkie.  I'm worried about you fitting in here." Eek said scratching his third horn.  Then hesitantly he said, "You are going to have to wear clothes."
     As soon as Eek said those words, his fourth brain pictured Misery in hot, slutty stripper clothes and helping her, all night to slowly remove them, instead of tearing them to shreds instantly as clothes should be. Eek immediately moved that thought from his fourth brain to his sixth brain, the veritable Fort Knox of security for such troubling thoughts he didn't want to think but frequently did. Safely locked away in his sixth brain Eek relaxed.
     Misery looked Eek slowly up and down and in her husky voice said, "You aren't a prevent Eek, you are a deviant pervert.  OK then, what kind of clothes should I wear?"
     "Hot slutty stripper clothes I can spend all night removing."  Eek said horrified, before shoving a tiny breakfast pebble the size of dishwasher in his second mouth, the one his sixth brain used to talk, to keep it busy.
     "You deviant little pervert." Misery said in a low voice that confused Eek. She then finished screaming, "You better take all night removing them too!  If you rip them to shreds I'll make you get more and dress me, twice as slow!"
     The entire interaction confused Eek but eleven of his brains reached consensus his sixth brain should do the talking for a while and he chewed his breakfast pebble faster.
     Misery screamed, "I don't know why you are worried about me fitting in, I look like these people, except stunningly more beautiful than they could hope to be."
     "Right." Eek said hugging Misery with all four of his arms. "We have to make sure you fit in."
     "Eek, you look like a Lesser Demon who just arrived from Downside." Misery laughed, for the first time ever.
     "I am a Lesser Demon who just arrived from Downside.  I don't understand your point." Eek said while eleven brains argued with his sixth brain to share images of Misery in hot, slutty stripper clothes.
     "Oh, Eek.  We can figure something out for you.  I can just fornicate someone to death and get their clothes."
     Eek didn't like that idea. "Uh, I'd rather bite their heads off."
     When Misery looked at Eek strangely he added, "I...I...I won't eat them.  I'll spit the heads out and cook them over a fire for you.  You can have them all."
     Misery smiled, for the first time ever. "That might be the most romantic thing anyone could say to a succubus."