FAITH Chapter 3

Image: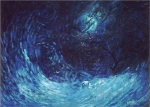 Thu, 11 Jul 2019
FAITH 
CHAPTER 3
By Renee Scott
Virtually everyone tried to get Faith when it first came out.  Most didn't know it lasted only a year or two unless stored at a temperature below negative two hundred.  If it went from purple to clear that gave a solid 100% chance of being taken by the Veins.  Heather knew she shouldn't have been surprised seeing so many Veiners.  Tens of thousands of people were using corrupted Faith trying to heal themselves.
Veiners never said a single word but they were not stupid.  Veiners could operate complicated machinery, take prisoners, and worse.  They could even work together in small groups.  The only thing possibly worse than taken by the Veins was being captured and taken by Veiners.
Heather went to the binnacle.  She flipped up a red safety cover and pressed the button underneath.  A loud bang sounded. A line rapidly removed the sock from a spinnaker allowing wind to fill the large forward sail.
 The catamaran headed for the ocean and open water but Heather knew they weren't going to be fast enough.  Not being pursued by Veiners on water hovers. 
Heather reached down and unstrapped the little pouch removing it from her ankle. She reached inside taking out the only other object, the most valuable thing a person could own, a Theddium core.  Theddium cores were Ancient tek. Although the core only showed a three percent charge remaining that would power the fifty foot catamaran for hundreds of billions of years or longer.
She opened a small hatch at the base of the binnacle and inserted the core into a bottle cap size hexagon socket.  She knew she should have done it sooner, but once installed, a Theddium core could never be removed.  The tek for that had been lost long ago.
"Kompter" Heather shouted "How long before you can integrate that power source and activate the Talon Mark 30 Cannons?"
"Not soon enough Heather."
"Kompter, take over and angle the sails.  Get us out of here."
Heather went to the stern and yanked a canvas cover off a M2 Browning fifty caliber automatic. Older tek, the M2 was simple and just as deadly as a Talon Mark 30.  She pulled a handle back, chambering a round and taking aim at the approaching Veiners, warned Sarah, "This might be loud."
Heather used short controlled bursts to kill Veiners until her weapon jammed.  While she worked to clear the breech Sarah shouted, "Heather, gimme your gun!"
Heather paused clearing the fifty cal and tossed her Talon Mark 12 to Sarah who caught it.
As Heather finished clearing the jam in the fifty cal Sarah gave a terrified shriek. 
Looking up, Heather watched a Veiner trying to board the catamaran.  Before it could the little girl raised the Talon and fired directly into the Veiner's face.
Heather chambered a round and used the Browning to kill most the remaining Veiners.  Those that survived retreated.  The old gun went quiet, smoke wafting from the hot barrel. 
Heather went to Sarah who stared wide eyed where the Veiner tried to board. Feeling less than stable herself she gently removed the Talon from the girl's hands, holstering it.  Putting her arms around Sarah she said, "You are the bravest girl in the whole world."
Sarah, still wide eyed and trembling told Heather, "I...I...I...thought it would look like... you know." 
"So did I, Sarah.  I never actually shot anyone before with a hot charge.  We only used simulated charges during training."
 "It vanished, its head, like magic.  I can't stop thinking Veiners must wear disappearing heads."
Feeling even more unstable Heather considered the effects of the Talon 12.  The results looked nothing like the Brain Blast mutation. When Sarah pressed the trigger the Veiner's head instantly vaporized.  No explosion.  Not even any noise except a small quick hum. No blood, no guts, no bone, no splat.  Sure a headless body remained but even that had no similarities.  The corpse immediately went on best behavior not moving around for five or ten minutes like a Brain Blasted corpse.  A Brain Blast might leave some of the neck or take some of the upper chest.  The Talon Mark 12 took the head and most of the neck leaving a cauterized wound that didn't ooze blood and guts for hours but did smell like burned toast.
Heather wondered who in fucks name would design and pass around weapons like the Talon Mark 12.  Even worse, she would have to use the Talon Mark 30 cannons to reach the ocean.  Not much bigger than the M2 fifty caliber, she knew the Talon 30 was a lot more powerful than the Mark 12 handgun.   Holding Sarah even tighter Heather answered, "I'm sorry you had to see any of this, honey. "
Sarah whispered, "I might be traumatized for life." She then offered a tentative smile. "I don't want to ever do that again, but I will if I have to.  It made me feel, for the first time since the Rot came, I might survive. Like I can help take care of you."
Heather couldn't answer for a minute.  "We take care of each other from now on.  C'mon.  If you are going to be my kid I'm going to have figure stuff out.  The first thing is I don't want my kid running around covered in blood and guts.  Olders knew how to turn the ocean into drink water.  We can make all the water we need so you are getting a shower right now."
Sarah stared at Heather, uncertain.  "I'm your kid now?"
"You're my kid now."
"For always?  Promise?"
"I promise.  For always."
Heather unhooked the safety line and took Sarah below putting her into a hot shower. Going back on deck Heather said, "Kompter, how long until we reach the ocean."
"Less than one hour."
"Blast the wall with the forward Talon Mark 30.  We might want to consider a lower power setting. Take us off shore at least ten miles and head south.  I'm worried about obtaining current charts."
"A ten percent power level on the Talon Mark 30 will be sufficient to destroy a large enough section of the wall allowing us to exit and reach the ocean.  Our most recent charts for this area are more than one hundred years old.  There might be an island nation still alive south and east.  It marks the northern part of a large area of supposedly haunted open water called The Bogeyman Triangle. That translation might be incorrect.  There are numerous other islands further south, any of which might be Rot free."
"Set a course. Secure the spinnaker if you have to. Deactivate the Talon 12 I have and set safety authorized to my command only."
"Course set. Talon 12 deactivated."
Going back below Heather thought about the ten meter thick wall being destroyed by a Talon Mark 30 set at ten percent and what the fuck did anyone need a weapon like that for, but she knew, if they were to survive in this world she did.  She felt satisfaction knowing she installed all three.
Heather knocked on the bathroom door before opening it.  "I got these for you, Sarah." She placed a pile of new clothes on the sink.  "I have more clothes for you as well. Whenever you're done, no hurry, you can find a place to put them all away. After, if you want, we can finish the Watch Me you started earlier."  
She then hung the shoulder holster with the Talon Mark 12 from a hook on the back of the door.  "I have another Talon I can use.  I want you to keep this one, and wear it at all times.  I locked the safety so it won't fire.  You can look at it and hold it. I want you to study it. Tomorrow after your swimming lesson we will have a gun lesson and when you're ready, maybe a few weeks, I'll turn the safety over to you."
Going into the salon area of the catamaran Heather sat down at a navigation desk and activated the Look Everywhere. She stared at the screen marveling at the simplicity of Older tek and how anyone could think of using EM waves to create a detailed picture, for miles and miles, of everything around them and make it work using primitive two dimensional silicon circuits.
Heather then said a quick prayer, offering thanks to a god she never before knew or believed in. "Thank you God, thank you for Sarah.  Please help me keep her safe."
The artificial intelligence navigated the sailboat as instructed.  While it did so it considered if humans had any chances left, any chance at all, it would be Heather and Sarah.
Leaving behind the Veiners, the Rotters and the burning city nation of New Masschester, Kompter had faith in those two girls. 
Enough faith for all of them.