Castle in the Clouds (I.P.)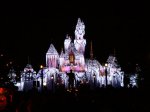 Mon, 02 Jun 2014
Her mother seeks her out – but 
not in her bedroom, for she seldom
sleeps there...
in the yard maybe, curled up
by a rusting mangle; a fat, grizzled tomcat, overspilling
from her arms.
Failing that, perchance she's curled up
in the coltsfoot by the sycamore tree –
root-bare – ripped, years since
from its umbilical ties by a corridor 
of wind – still bemoaning 
its shrivelled fruits, echoes
through the darkling scrim, where
deer and dormice make their homes
and centipedes crawl on stones.
God forbid – she be beside
the railway line; seeking the buzz –
the susurrus...cold-steel against her ear...
nor gazing into the lily-pond
aching to touch her own reflection –
only if she dare. So don't look there.
Look in the cellar, Mother dear,
where crab-apple wine stews and simmers
like Satan's brew... 
wherein she lies, a-dreaming,
of a castle in the clouds, of a princess...
a winsome prince...
a witch, and a spindle; a pin-prick 
that hurts, but, didn't Mother say, love should...
if only a little? 
.