The Lady that Played Piano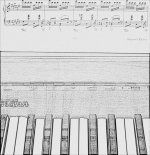 Tue, 16 Feb 2016
A potted palm sits, stalwart, atop her piano; an ancient upright – 
unquestionably seen better days...taking me back in time 
to some erstwhile 'sepia age'; she, and the more than dated 
White Cliffs Hotel, on the sea-front at Dover; me, him, and kids
channel hopping on route to a petit sojourn en France.
Each year we went, making bets as to whether or not the lady
that played piano had 'popped her clogs' yet...Irreverent, 
I know, but we meant no harm...just a bit of holiday magic
family fun.
Fingers, bent and arthritic...stumbled a touch...stuttered, then 
lovingly stroked the keys, as they trembled like a bird's wing;
hesitant to land on a quavering branch lest it should snap.
Her pizzazz had got up and gone, but on the other hand
her sostenuto – wistful...like wind whispering through
the pines, was to almost die for, and the tune fair ached 
with  a longing to be true to itself.  Yet those scattered 
remnants of a melody, she'd half remembered, half forgot – 
more telling than whatever it was foolish enough
to think it was.