The Naming of Bulbs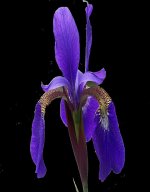 Tue, 22 Mar 2016
1 likes
How impatient they are to be freed – these teardrops
with roots, aching to be rid of their entrapments...
plastic bags or netting.
Each clutch with a name; in twos, threes and fours
and one, all on its own.
How ironic it is that only entombment
will bring life to these shrivelled, brown beings;
some half-naked – stripped of papery raiment,
others – skin intact, yet all with blank faces.
So you dig them graves, bury each deep; summer
a lifetime away, and yet, this chilly, early spring day
soon forgot, as are they.
Out of sight, out of mind; chances are they'll rot, or
be gorged by rabbits.
Don't waste your time dreaming of custard-cupped
beauty...the ruched rapture of theirs;
sweep the dirt from the path, call the dog. Go back
inside in the warm, wipe your feet, and light a fire.
Try not to dwell on why your son doesn't call, and if
his sister were here right now, how old she would be;
she who would have enjoyed this afternoon,
so very much...getting stuck in with trowel and fork
but don't beat yourself up...don't give it another thought...
you, who would give anything... even for a small miracle
like the bearded irises pulling through...
every Debrenee, every Florence and just the one
Daughter of Stars.