One of a Kind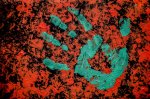 Wed, 13 Aug 2014
Just one of the ones who dreams a dream
of, one day, being a teacher, maybe.
The one – taught themself  to read and to write;
set up a secret school – longed to have a mind
of their own...an identity, a reason, a goal
for the first time in their life.
The one whose home was ransacked;
books, orange boxes – makeshift desks,
rifled and burned; the one was raped...kicked out 
into the night.
The one was arrested, because their shoes
made too much noise on the streets...a brand new law
concocted only that afternoon...
the one was tortured till they admitted 'the truth'. Said,
"Forgive me, please.  I know I did wrong."
The one was stoned to death, 
two weeks before their sixteenth birthday; 
the one they called 'promiscuous'...
the one, subsequently, with child – ripped
from a womb...living proof, they cried.
The one does not ask for your pity, only
prayers that, one day soon, things will change.  
Just one of the ones still dreams that dream –
one day, there will be a resurrection,
of a kind.