Spring in Suburbia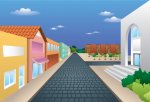 Thu, 24 Mar 2016
This is a dream of a dream...
and today between small brick walls
a budding sapling's home
to a dozen scrawny open mouths,
scream, 'Feed me' to anyone
will listen.
The sky's unashamedly nondescript
and its apathy masquerades as light
permeates the kitchen – weak 
as gnats piss, as the tea in two mugs –
Genoa cake in small slices beside.
Two women sit opposite each other...
no special occasion...in fact it's one
of those days  best described as a 
'nothing much happens round here,
does it?' kind of a day....a 'not a lot
to write in my diary about' sort
of a day.
Hours, weeks, months and years
slip by in backstreets and alleyways
of unrecorded history but happened
just the same. 
Two women sit opposite each other
these are our mothers and our mothers'
mother – we are their babies, mewling
and puking in their arms... girls, boys
with shining morning faces, creeping 
like snails unwillingly to school...
We are starlight - on our way to earth
puts the twinkle in their eyes, and 
the spring in their step – we are
the wolf at the door, the cause 
and the cure – 
the game of chance –
both the ladder and the snake...
the pawn, the king, bishop;
the grandiose, the miniscule.
The small, small-talk
behind it all...