A Sudden Resurrection (I.P.)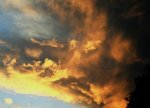 Sat, 19 Apr 2014
1 likes
"...The blood-dimmed tide is loosed, and everywhere
The ceremony of innocence is drowned;
The best lack all conviction, while the worst
Are full of passionate intensity...."
W.B. Yeats – The Second Coming
If ever there were to be a second coming 
what would it be like? Beyond all imagining, or
would a Technicolor-lemon sky, split open like an egg – 
the ether seep out, as if from a cracked, blue bowl?
And would there be a fanfare from a host
of angels and would we all stand – dumbstruck
and pinch ourselves; think we were dreaming?
Would murderers stop their killing...the thief his thieving?
Would atheists start believing, humanists accept that god 
created god, and agnostics – cease wallowing
in unnecessary complexities?
Would the starving be fed – the sick, cured – the paralysed – 
the maimed, would they walk again? The homeless – find homes, 
and the ten lost tribes be found again?
Would the stone be rolled back from every tomb?
Would the lion, truly, lay down with the lamb...
the sun grow dark and the moon – glow blood red?
Would we be ruled by a kind of Manitou – a supreme being 
that, after a thousand years or so, would go zooming off -
back into the great unknown?
And if so, would they take a sprinkling of stars 
and a wedge from each planet along the way, as we may take 
a pebble or a shell from a beach, a brass rubbing from a church...
a feather from an aviary, as a memento we'd been there?
And would they muse, Once upon a time... I was? I even 
bought the T-shirt, saw the film, then wrote the book;
reminiscent, on reflection, of The Wizard of Oz.