Elysia: The Wasteworld (2)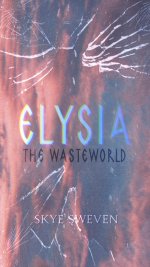 Sun, 17 Feb 2019
Erik and I get a little intimate at the inn.
CHAPTER TWO: THE INN ROOM 
Jessica's POV
It wasn't the neatest nor the safest place to stay the night, to say the least. The ceiling was slumping down and water trickled down the poorly painted wall, leaving forked trails of the ugliest shade of brown I had ever seen. Obviously, something was leaking. The faint stench originating from within the thin wall indicated that. But what was the point of assessing the quality of a temporary stay in this world which was already wrecked beyond repair? I had seen many things, witnessed the most appalling of crimes, and done some on my part. After all, that was how I survived in this heartless, breathless piece of endless land called Wasteworld. My methods hardly ever failed. They kept me alive to this day.
I threw myself on the bed, clothes and shoes on. Hands were clasped behind my head and eyes were shut. The mattress was of course cheap stuff; the kind that would inevitably make my back hurt like a bitch once I opened my eyes in the morning. For now, though, I could call this a decent bed. It was far better than having to sleep under bridges, in abandoned department stores, and inside stolen cars. Though those were my dark days, my bygone past and pathetic times.
"You…," Erik started. I could tell just by his voice that he was still shaky from the incident that had happened downstairs. "You just shot someone. And you can just lay on the bed like that?"
"The bitch wouldn't let us in. And don't worry about it, she won't bleed to death. It's a shucking tiny graze, hon," I murmured as a response.
"Still," he countered. "You know how rare it is for us commoners to have a gun. And to use it? You're an unstoppable terror."
Annoyance got the best of me. I snapped open my eyes and abruptly sat up on the bed, pointing my finger at the golden-haired dumbass. Erik jumped at the sudden movement.
"Listen up, pretty boy. You grew up in the Wasteworld. You know what kind of place it is. There is no real law, there is no such thing as this petty morality you seem to be damn fond of, and there is no paradise. We have lost all systems that bring the world together. The world is slowly realizing that, too, and to be the one that ignores that fact means death. To survive, you gotta do what you gotta do. If you stick to the weak side of yourself that you are, you will lose yourself and lose to the world. You got that?"
Erik merely stared at me with a scowl. No response.
"You ran away from whatever it is that you call home. You must have been pretty wealthy because no commoners these days drive a Cadillac that actually doesn't fall apart after driving a half mile in it. And you're headed to Elysia. The place everyone calls a fairytale simply because it's impossible to get inside. So I'm guessing you have no sense of what kind of place you're in."
"I know damn well what kind of place I'm----"
"No, you don't, you idiot. Getting whisked in a random bar fight proved that you're an idiot in the first place. So for some time, just shut up and watch me. Watch what I do to survive and get my way. Because if you don't, you won't even make it to the quarter point to Elysia," I tossed my hair, shooting him a final sharp glance before standing up.
"Fine," Erik growled after pondering for some time. "I'll watch you and follow along to your grand schemes for a while. But don't think for one moment that you're in the position to order me around because as far as I know this…this relationship we share is based on a mutual agreement. We're here for each other's benefits and no one is the leader." He turned around to see me fixing my hair while looking into the dirt-speckled mirror.
'Dumb blond,' I thought to myself, smirking. 'You're useless once I decide to find myself another guy.' But I kept that thought to myself and looked back at the furrowed eyebrows of Erik. "Sure, whatever you say, darling."
"And stop calling me 'darling'. I have a name," he grumbled, gently washing away the blood stuck on his skin with a cloth.
"Which one? Jackass? Bastard? Or was it Pretty Boy?" I laughed as I toed off my worn high heels and plopped down beside the man struggling to treat his own injuries.
"Go to hell, Jessica," Erik spat.
"Oh, I'm already in hell, darling," I whispered.
"You're really one to not listen to anyone, aren't you," he sighed as a remark.
I took the cloth from his hand and poured disinfectant on the clean side. "Nope. Remember what you said? No leader. No one is forced to bend to the other."
"You literally told me to shut my face do as you say," he complained, although he stayed still while I cleaned off the nasty splatters of dark red fluid mottling his left side.
"And you'll listen to that," I basically ordered. "It's a matter of life and death."
"I don't think putting a bullet through a person necessarily saves your life whenever a small inconvenience comes your way," Erik dryly commented. The cute little bastard would never agree to my ways, would he? I deliberately put force in my hand as I scrubbed his wounds so as to induce a grunt out of him. "Ow." Success.
Choosing to ignore his last remark, I scrunched up the dirtied cloth and tossed it over on the desk beside the bed. "I'd bandage your cuts and give you ice, but you need to take a shower first, bud."
"Do I stink?"
"Yes. Of alcohol, especially."
"I figured," he sighed. He slipped off the bed and rummaging through his bag, pulled out new clothes and then headed toward the bathroom. But he halted on his way and eyed me with suspicion. "If you dare to touch anything that's mine---,"
"Just go in and take a damn shower," I snapped his sentence in half. Once again I was lying on the bed, popped in a piece of gum in my mouth and idly humming to myself. Erik refused to move for the next few seconds but soon sighed and stepped in the bathroom.
As soon as he was out of my sight, I jumped out of the bed and approached his baggage and belongings. The idiot, of course, chose to trust someone who obviously should not be trusted. He had a lot to learn along this long trip that was yet to unravel ahead of us. 'Consider yourself lucky,' I thought. 'I don't mean to steal anything. Just check out what kind of person you are.'
Most of his things were nothing worthy of attention; the basic necessities one needed for survival and hygiene. What information I could gather from looking into his worn bag was that he had for certain prepared for a long journey. Whatever his ultimate purpose or the reason that drove him out into the frangible reality of a world was, Erik was more than merely determined to reach Elysia. At first, I had no interest whatsoever in what his life was like, what his motivation and 'dream' was. Now that I had tossed some words back and forth with the guy, I thought, why not investigate a little more? We were bound to share space for quite a long time from now on. There would be no harm in trying to get to know him, whether that method be discreet or not.
I put everything back in his bag and moved onto his jacket. It was a khaki-colored one with a hood attached and pockets lined here and there. Seeing small smudges of blood blotched on the shoulder part and sleeves, I smirked to myself amused. The man was no fighter, but gallant nonetheless. Back at the cheap old bar, a boorish drunkard with a bushy ginger beard had approached him and spat out curses at him for no reason. Erik had tried to neglect the foul words from the burly douche being poured into his ears for five minutes but once the curses started to involve his family, he turned around instantly and hurled the beer mug right at the bastard's nose. The loud noise of bones being cracked was the indication of the initiation of a fight well worth seeing. Objectively, everyone was aware of the fact that Erik was to get wrecked. And he did. But the way he didn't back down, the way he showed his ire could swiftly engulf him, was what had impressed me. Well, aside from his pretty face and soft blond locks.
I sifted every pocket but found nothing interesting. As I was about to hang the jacket back on the chair, I noticed something---a rectangular shape vaguely traceable through the thin fabric right over where his heart would be. It was a hidden pocket. In between the zipper and the outer layer of the chest pocket flap, there was a tiny slit. I cautiously slipped my hand inside and took out the thing Erik was evidently, but poorly attempting to stash.
It was a picture of a girl.
I tilted my head, a baffled frown soon manifesting on my face. The girl in the photo had sleek black hair, clear cerulean eyes and cherry lips. The smile she was wearing was benign but somewhat faded. A beauty as she was, there was this air about her that puzzled me. Like she was a person from centuries ago or an artificial incarnation of a nonexistence individual. This was odd. Very, very odd.
Myriad thoughts crossed my mind, but nothing seemed to click. Girlfriend? Wife? Mother? Or just a random person? I could not fathom why, but this sole picture filled my skull with a million questions. But I could not ask about her now. Maybe later, when I opened him up a bit more. I quietly put the picture back where it was and hung the jacket back on the chair.
By the time Erik was out of the shower, I was clad in nothing but my underwear and sitting cross-legged on the bed. I was still chewing on my gum and blowing bubbles as I met his eyes on his way out. Erik nearly dropped every item he had in his hands the moment he saw my half-naked form.
"Jesus Christ," he cursed.
"What? Never seen a woman undressed?" I cackled.
"No, I-I just didn't expect you to be…," he hurriedly put his things on top of the bag and turned his flushed face away. Huh, so he did have experience but was shy about it. All the more adorable. I could still see the outline of his pants growing tight.
"I don't mean to be intrusive, but I do have a personal question."
"Well, get on with it," he answered, still looking away.
"What's your sexuality?"
"Am I obliged to answer?"
"No, you don't have to, like we agreed. But I'm just being a curious bitch," I spit out the gum in a tissue and casually threw it in the trash bin. Was I needy tonight? Maybe.
"I'm pansexual," he confessed. Erik sat on the chair where his jacket lied. It was funny, watching him all mentally flustered but body reacting so honestly. This guy was fun.
"Good to know. I'm bi, by the way."
"Yeah. I really wanted to know that," he responded sarcastically. Or tried to respond sarcastically because obviously, it was a failed attempt.
"Be ready by the time I get done washing, then," I said nonchalantly, swinging my legs off the bed and entering the bathroom with my gun in my hand. Couldn't risk him laying his hand on my effective means of threat.
"W-what?" A somewhat panicked voice echoed from the room outside.
"You heard me," I laughed before closing the door.
Thoughts about the mystery girl were still infesting my brain in the shower booth. The weak sprinkle of lukewarm water irritated me, but I kept myself distracted with various questions regarding Erik and obscure future plans. Whether he would be a liability remained unanswered, but there was something about that picture that gnawed at my intuitions. I couldn't tell if it promised something good or not. I always hated my vision being clouded, and this was where I was stuck in a mental maze. I hated it. I hated being confused. So I needed to get laid tonight to drive the obstacles in my mind away.
I quickly got out of the shower and stepped outside with a large white towel loosely wrapped around my torso, gun in hand. My hair was half-dried so I created small trails of water droplets down my back on and the floor.
As expected, Erik was sitting with his back propped against the headboard of the double bed. There was a nervous look about him but the man had already gotten rid of the thin white shirt he clearly had on him minutes ago. I eyed that fit frame with an entertained expression and scrutinized every curve of the muscles on his chest. There were clusters of moisture on his skin; it was impossible to discern whether it was perspiration or water left undried. Either way, I liked it. Not only was his face pretty, but damn, that body was unexpectedly pleasing to the eye. Almost overwhelmingly.
"Ah, you listened to me yet again," I advanced him, polishing the gun with my hand. "I guess you were made to bend to me."
"I'm not down for a chat," he replied. His gaze was fixed on my gun, not my body. That was unfair.
I put the gun down on the desk and hopped on the bed, straddling his legs and softly laying my hands on his bare shoulders. "Then what are you down for?" I cocked my head with an arrogant smile.
His face reddened again. "You asked for it."
"And you don't want it? Fine, if you say so," I started to get off his legs but a hand shot up and grasped my wrist.
"Wait," Erik voiced. Was it desperation that I detected in his tone?
"What is it, darling?" I asked, sitting back down on his legs.
"I want it, too," he timidly whispered.
"Want what?" It was just too much fun messing with him. My playful smile never left my complexion.
"For fuck's sake, Jessica. You know what I mean. Just----."
That was when I suddenly lunged forward and crashed my lips against his. It was getting nowhere, this talk. This inexperienced dumbass was never going to say anything straightforwardly. Better get in action than wait.
My tongue found my way inside his parted lips and suckled the warm insides of his unique taste, exploring every inch there was to explore. The blond responded almost immediately to the kiss, one hand holding the back of my neck with surprisingly strong force and the other massaging my waist. The lewd sound of lips meeting lips and teeth clacking against teeth filled up the small motel room in no time. In the midst of the heated frenzy, I couldn't help thinking how luscious his taste was despite indulging in alcohol but an hour before, which in turn made me wonder if he tasted nicotine and ash in me. I giggled into his mouth, hardly feeling sorry for the man.
Our position got lower and lower until Erik was lying fully on his back and I directly above him with my elbows planted on either side of his face. Already, his face was tinged pink from the daze. My moist brown curls fell from one side and brushed against the undamaged side of his face. Erik bored into my eyes with such a ferocious look one would have mistaken the expression as a livid one. There it was again. The flame I had seen in him previously. I lightly chortled and traced his face with my fingertips.
"You gon' be okay without bandages on, darling?"
Erik nodded without a word before pulling me down into a passionate kiss again.
To my pleasure, the night got wilder than expected.