Elysia: The Wasteworld (3-1)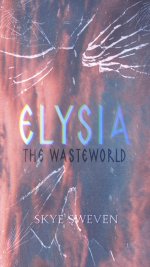 Tue, 19 Feb 2019
Erik's POV
The car was speeding along the desolate highway, windows open wide and music blasting through the speakers. Jessica was stretching her arm out the window, letting the strong breeze whip her hair around, and hollering out the lyrics to the songs I had never heard before in my life. In her small little bag bedecked with garish little badges and antique keychains, there were at least a dozen cd's of albums from the 00s and 10s. She was in charge of the aux cord while I drove in silence. I couldn't sing along even if I wanted to.
"'Wish we could turn back time...to the good old days'," she belted out, bopping her head and tapping the top of the car with her outstretched arm to match the slick beat of the song.
I kind of liked the melody, and the lyrics were sort of standing out to me considering we were close to being stranded in the middle of a desert road while the ongoing apocalypse deteriorated the world bit by bit even at this second. I could barely recall my early childhood, but the remnants of the faded memories swarming in my head were something nice and warm. Worthy of remembrance.
So I asked her. "What's it called?"
"Come again?" she asked, a little pissed off from me interrupting her in the middle of her important singing session.
"What is the name of the music?" I inquired again.
"Oh, you uncultured bastard," Jessica huffed out a burst of incredulous laughter. "It's 'Stressed Out' by Twenty One Pilots. It was a bop in the 10s. You seriously don't know this classic?"
"No, I was never a music guy," I responded. Really? This girl was shaming me for not knowing a song. But I let it slide because the song was pretty neat. My fingers tapped the steering wheel to the beat and a smile began to form on my face. It was an entirely unconscious reaction.
"Pity," Jessica commented. "You have a whole lot more to learn than what I thought."
"Don't think of this as a tutoring journey," I remarked.
"I think we already shared lesson one back at the inn," she giggled and poked my cheek mischievously. My face burned up at the thought. My eyes were glued to the bumpy road ahead and I refused to steal a glance at the brunette doing everything in her power to acquire my attention. Drive away the thoughts, I mentally screamed at myself, because once again blood was rushing to my lower stomach.
"Don't worry, though, because you weren't that bad. I've met worse," Jessica heaved an irked sigh. She was probably recollecting her flamboyant past of intercourse with manifold bedmates. "You're a quick learner, darling. So much potential."
"Shut up," I rubbed my face to scour out the red.
"Whatever, fuckboy," she snickered.
The road stretched on for ages, it seemed. My beautiful Cadillac was eventually running out of gas, and I was concerned. The last time I had filled it up was at a tiny little gas station adjacent to the bar I had been beaten the shit out of. Though rotting away, that gas station was no different from an oasis in the Sahara for me at that time. Now that we were actually driving through a critically arid part of the Wasteland once called California, we were in dire need of an oasis, plus a literal one. Sooner or later we were going to run out of gas and water. Hopefully, Jessica was acknowledging that vital fact, too, as she had led me this way. Taking this road was not incorporated in my original plan.
"Never mind the gas, Erik, and drive on," Jessica intoned in a surprisingly soothing tone. A few hours had passed and she was peering out the now-closed window with her elbow rested on the windowsill. Had she just read my mind or was it just a coincidence?
"How can I not? We'll be marooned in the middle of nowhere at this rate. Look, the sun is already getting low," I pulled out a few strands of my own hair out of frustration. I didn't like how Jessica appeared to be so impervious to any life-threatening situation unless it was her who was threatening life. She seemed so chill and confident in about anything, and when she had pulled the trigger at the innkeeper a night ago, she couldn't look more deadly and apathetic, but strangely avid, too, in some aspects. What if she had for real busted my wasted brain out last night? I could only shiver.
To prove my point, I pointed at the scathingly bright ball of blood red gas sinking lower and lower toward the flat line of the horizon. The sky had turned to a gradient of profuse hues, a vast palette of all colors one could pick out to carelessly paint on the boundless firmament. I would have stopped the car right there and appreciated the desert dreamscape in awe had not the car been warning me of low gas with haunting bleeps. I was then on edge, sitting forward and gnawing on my fingernail like a habit.
"Chill out, bud. We're nearly there," Jessica muttered, words slurred and scattering everywhere. She was dozi---she was dozing off! In this horrible situation! But what did she mean by 'nearly there'?
"Don't fall asleep, you're riding shotgun and you have the freaking duty to be my extra set of eyes," I snapped at her a little too harshly. I bet no one could blame me, though. We were not on a nighttime promenade, or a late night drive through a quiet neighborhood. We were literally in the desert with seemingly no end. To my relief, Jessica shook her head to shoo away the sleep seeping in and sat upright. She yawned once, cracking her knuckles and lightly slapping her cheeks to drag herself up to a level of full consciousness.
"Sorry, ya know, singing and dancing take up a lot of energy."
"You're saying that to a person who'd driven for eight hours straight," I barely contained my irritation sizzling right on my tongue.
"Hey, I've been a good company," she smirked and nudged my arm.
"That's not even important right now. Where do we stay for the night?" I could sense the anxiety building up in my tone. I hated letting it show, but my body always chose to candidly display my mental state in front of anyone, which made it hard for me to ever lie or conceal something...though there were exceptions.
"What, you want a second go already?" Jessica didn't even bat an eye throwing that dirty joke in my face.
"Can't you be serious for once? We're out of gas, we're short of water, and we're not getting anywhere," I barked. She kept on getting on my nerves. The fact that she was unmoved by my attitude or the circumstances we were cast in annoyed me even more. The girl was the one who told me to come to my senses and confront the shitty reality. What the hell was she doing now? What the fuck was wrong with her?
Just then, two faint lights blinking from about a mile away caught my attention. Lights? Headlights? In this freaking portion of a colossal devastated wasteland? Another car in this world could either portend a peril or help. The latter was always less likely. Still, I hoped for the best. Maybe it was because of the naïve side of me, or the desperate situation we were stuck in.
"There they are," said Jessica, lazily. I slowed down the car and turned around to look at her, wide-eyed.
------
Ch3 is too long so I'm breaking it down to two  posts!
Thank you for reading:)