Camp Echo - Chapter 8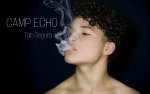 Sun, 16 Feb 2020
Chapter Eight - Introductions
Second Edition
Max woke early, it was cold in the apartment, it was always cold, and he hated that. A bit of sunshine and warmth would be welcome, but it just looked like another grey day. Despite getting up at what he considered the crack of dawn, although it was nearer eight, Max decided against crawling back under the covers. Walking into the kitchen he stopped, surprised that someone was sitting there, at the table, in the gloom.
Disturbed by the footsteps, Nate looked up, thinking it was Aeriol who had followed him downstairs. He too was surprised to see a guy in sweat shirt and underpants, who looked to be about his own age, from what he could make out.
"Ah, hi," Nate offered a greeting.
"Morning," Max moved into the kitchen and switched the light on. "You always sit in the dark?"
Nathan blushed, caught out by the question. "I..."
Before he could attempt any explanation, Max interrupted. "You want a coffee or something?" Max moved across to the kettle. At the same time taking in the newcomer. A pretty cute and very young boy, he thought. "How old are you?" He just had to know, because it would be a first if Aeriol was picking up schoolboys now. He must have come back with Aeriol.
"Why does everyone ask that?"
"How old you are? Because you look...," Max turned to face the boy. "You look young."
"I'm seventeen," Nate replied, a little annoyed.
Max didn't miss the frown. "Yeah, well. You want coffee?" He turned back to fill the kettle.
"Yes, thanks."
"Take it as a compliment," Max took two mugs and moved to the fridge.
"What?"
"That people think you look young. Shit, it's an asset, specially when looks count for so much."
"If you say so, but it pisses me off."
"Okay, sorry. Excuse me." Max thought the day was starting out shitty. He really didn't need some arsehole kid giving him hassle this early, even if he wasn't bad looking.
The kettle boiled and Max filled the two mugs. "Milk, sugar?" He asked curtly.
The tone didn't escape Nathan. "Nothing, thanks. And... sorry." He watched Max walk over to the table, his glance taking in the nice shape, and resting on the bulge halfway down.
Max sat down, handing the boy his coffee. "You gay?" Nothing much escaped him, and he cut straight to the chase. Although he wondered how the boy would react.
"I'm Nathan, Nate," he extended his hand making a fist.
Max bumped fists. Smiling he replied, "Max." He blew on his mug, looking across at Nate. "You know Aeriol then?"
Nate didn't reply immediately, but seemed to be intensely focused on his mug of hot coffee. Max thought it was very alluring the way this boy appeared so innocent. Perhaps not innocent as such, but maybe shy. In any event he blushed easily and was kind of coy.
"We met yesterday," he looked up, trying to gauge Max's reaction. "At the Whole Earth Cafe," he added, like that explained everything.
Max laughed. "Hey, I'm not making fun," he told him, trying to regain his composure. "But what you mean is..." He looked Nate in the eyes. "He picked you up."
Nate nodded.
"So I was right. You are gay?"
Nathan looked at him. "I never said I wasn't."
"Me too. I never said I wasn't either."
That made Nathan smile. Max watched him as they drank their coffee in silence.
"You've met Nate!" Aeriol announced as he entered the kitchen. "Okay, Nate?" He glanced across as he went to the cupboard. "You snuck out of bed real early."
"Yeah. I woke up, and... Often I don't sleep well in a strange bed."
Aeriol flicked the kettle on and stood leaning back against the sink.
"So Nate, what you doing today?" Max asked, although he reminded himself he needed to contact Davy and he also needed to see with Aeriol about getting a job in the warehouse. Even temporary, but he needed some work, he'd given his notice for the present job.
"I need to go home, shower, change. Nothing much." Nathan wondered if he shouldn't excuse himself and leave now.
"You wanna hang out with me?" Max asked, but not sure why. Except he kind of disliked the idea that Aeriol would probably dump the boy. Aeriol had work anyway, but he was off.
"You boys do whatever. I've got to go to work." Aeriol announced. "Is there any hot water?" He looked at Max.
"Yeah, should be. I put it on when I got up. But leave some for me."
"Nate," Max had a weird thought in his head. "Will you come back tonight?"
Nathan wasn't quite sure what to make of either Max, or the request. He'd only just met Aeriol who hadn't said anything, just gone to take a shower. Max he didn't even know at all, yet there was something, hard to nail exactly what, just something. If he thought about this for too long he would either end up walking out and probably that was the end, or he could simply say yes, and see what happened. It raised loads of issues for him, all those questions he had no answers to, but what was he doing? He had no idea, nothing, nothing at all.
"I can see the cogs clicking in your brain. Come on, what you got to lose?"
"Nothing, nothing at all," Nate stared at Max. "I don't understand why you want me to come back?"
Max didn't understand himself, or more truthfully he didn't want to look and admit what he knew. It was all very clear, it was lying there waiting for him to uncover. Not even to uncover, only to pull back the cover and look. Recognise it. Jealousy? He couldn't deal with Aeriol, he loved him, but he could never own him, it hurt. He couldn't keep him for himself. So what did he do? No, shit, he didn't want to go there.
"I want to get to know you." What a lame thing to say, he thought. He was smarter than that. Yet, sometimes. Yeah, sometimes you meet people and you connect. Not like Aeriol. Aeriol is about sex. He didn't think Aeriol could commit to anyone, but that's a different story. For now, Max needed someone and that someone was the guy sitting at the kitchen table. And he couldn't or wouldn't explain it.
Nathan stood up and crossed to the sink, turning on the tap, he rinsed his mug and left it on the draining board. Max followed him with his eyes, turning in his chair. He knew it would hurt him for one reason or another if Nate said no.
"Max," Nate smiled, turning to look at him. "That's pretty lame. You want to get to know me. Really?"
"Why not?" Max felt he was clutching at straws trying to convince a boy he'd just met five minutes ago.
"Get to know me, means what exactly?" Nate gave him a hard stare.
"No man, I'm not Aeriol, it's not a pick up line. Oh shit, yeah. I can see how all this sounds. Honestly, Nate, I don't know. I guess I like you. I promise not to sleep with you. Is that okay?"
"You mean," Nate grinned. "You like me, you want to get to know me, but you wouldn't want to go to bed with me?"
"You're teasing. You know what I'm saying." Max stood up.
"I've got to go. Thanks for the coffee." Nathan went to leave, then turned back. "I'll see you tonight then. Tell Aeriol, bye."
Nathan left Max standing in the kitchen, wondering if he would come back or he'd scared him off. He didn't even know where Nate lived and he was sure Aeriol didn't either.
Max had all day and nothing to do, except Aeriol told him as he was leaving to drop by the warehouse after lunch, about two. The boss would be there and he could see about getting a job. Although it was only working in a warehouse, he decided he should make an effort and at least arrive there looking clean and smart. Which meant his morning was taken care of because he needed to go to the launderette, and he didn't want to spend the money on a service wash, so he would sit there watching the machine spinning and talking to Esmeralda.
"Well I'll be, if it isn't my favourite young man," Esmeralda had that playful glint in her sparkling eyes.
Max returned the smile, "How are you Esma?" He had always shortened her name, from the very first day they met. Max had been surprised that they still had someone there who did a service wash for customers who preferred to dump their dirty clothes and pick them up in the evening, all clean and ironed.
"Much better for seeing you," she replied. "Now I've got someone to keep me company. Unless that is, you've come to ask old Esmeralda to do your laundry?" She phrased it as a question, but she knew full well that Max was not one of her better off customers who always paid for her service. Nope, he was usually without funds, or at least not flush enough to squander his pennies.
"Oh Esma, if only. But this poor boy don't have no sugar daddy."
That made Esmeralda chuckle. Max looked on, watching that huge bosom heave up and down as she continued folding someone's clothes. Esmeralda was a heavily built lady, with huge arms and an always smiling round face. She wore colourful dresses that flowed around her rather full figure and brought a touch of the Caribbean to a rather dull North London.
"So what is Maximillian doing here today? Is it your day off?" She turned away from him to check the drying machines.
Max began filling one of the empty washing machines. "All days are my day off now, Esma."
"Oh I see, you dun got yourself the sack?" She was half looking towards Max whilst digging her hand into the deep pocket of her pinny to remove some coins for the machine.
"I quit," Max announced with a certain satisfaction. When he saw Esmeralda giving him her deep stare, he added, "I never really liked it there. It was like still being at school. Besides, I only ever got given crap jobs."
"Ah ha!" she exclaimed in a tone that said she didn't quite believe that.
But Esmeralda never judged others, commented sometimes, or offered support, but never judged. She'd once told Max some of the story of her arrival in England as one of the many immigrants from the West Indies. Although her stories were always funny and comical, if you paid attention and read between the lines, you would see the hardship, and the prejudice. Both had to be faced and overcome. Perhaps that was why Max liked her so much, in a way he too sometimes felt he had to face and overcome people's preconceptions and bigotry. But unlike Esmeralda he could hide, even if it hurt to do so, she could not disguise the colour of her skin or her accent.
"Well anyway, I'm going to see about a new job this afternoon."
"So that's why your doing your dirty laundry," she laughed her booming deep throated guffaw.
"You got it. Thought I should at least make an effort."
"That you should Maximillian, that you should."
The warehouse was in Kentish Town, a large building in a street of ordinary terraced houses. The type of houses emblematic of the sprawling capital, or should that be the inner boroughs of the metropolis. Because the outer suburbs tended towards tree lined avenues and semi-detached residences. It might somehow be the dividing line between the middle classes and the working class. Further emphasised by the proximity of the railway and even the canal. But then again, you can't really draw up rules. It simply all changes as run down areas get gentrified and what was once a canal basin for working boats becomes a market and music venue.
It was another trait of Max's, his mind would run off at tangents, continuously reflecting on the state of things and there inevitable change. He'd lived here all his life. Not in Kentish Town, but in a similar inner London borough. Before his parents moved out to leafy suburbia. He viewed his living environment much like a reflection of himself. Diverse, multi-faceted, and not without a contradictory inner turmoil. Something yet to be resolved. His whole life was like this. Right up to this point in time, and it didn't look like it would change any time soon.
"You made it," Aeriol had spotted Max as he walked into the large open warehouse.
"Yep," Max greeted him, trying hard to hide his feeling of nervousness.
"You... look smart," Aeriol observed. He almost said anxious, but decided he didn't need to make Max more worried than he obviously already was.
"I did the laundry."
Aeriol ignored that last remark and put an arm around Max. He led him across the floor towards the only partitioned space, other than the shelves where goods were stacked in rows.
"Alan is a great guy, don't sweat it."
Max took a deep breath as they entered what was presumably the office. There were two table desks, papers, trays, telephone, a large planner and calendar on the rear wall. A man of about thirty, as a good guess, looked up from what he was doing. His eyes met Max's.
"This is my mate, Max. The one I was telling you about, who is looking for work."
Max got a completely new picture of Aeriol as he introduced him. It was like another side of the guy he thought he knew.
"Hello, Max," Alan extended his arm and Max shook hands.
He couldn't help wondering if his handshake was right, or too soft, too gentle. But his vision fixed on the guy before him. Long hair tied in a pony tail, scraggy goatee beard, jeans and plaid shirt. He caught the tattoo on his lower right arm, but couldn't make out what it was.
"Hi," Max smiled.
"So, why would you like to come and work for us? Tell me what motivates you." Alan sat down in the desk chair.
Max looked like a rabbit lit up in the headlights of a car. It wasn't what he was expecting. Was this really an interview?
Alan chuckled, "Don't look so worried. I'm just joking with you. When can you start?"
Wow, shit, did he just say, "When can I start?" He repeated.
"Yeah, man. You got the job, we need someone. Sooner the better."
Aeriol was grinning from ear to ear, he slapped Max on the back. "He can start straightaway."
"Yeah, that's right. Shit, this was your wind up," he turned to look at Aeriol.
"Okay, Max. Think of it as your initiation, a baptism into life at Nature's Foods." Alan smiled.
Max returned the smile, "Thanks, I think."
"Aeriol can show you around and you can start tomorrow. Come and see me when you get here and I'll sort out your hours. Okay?"
"Yeah, great," Max focused his attention to Alan.
"Oh, and bring your P60."
Aeriol led him back out into the main part of the warehouse.
"You bastard. You set me up."
Aeriol just smiled and nodded. Then gave Max a short guided tour and introduced the two other guys who were working today, Joel and Jacob. Despite Aeriol's practical joke, Max left feeling pleased. Getting the job outweighed being led up the garden path. Perhaps because it was a relief to know he'd be earning again. Maybe he'd figure a way to get Aeriol back for this, although he did get him the job.
https://www.abctales.com/story/talo-segura/camp-echo-chapter-9