Dreaming in Deep Space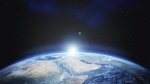 Wed, 27 Jan 2016
Part I
Deliberately destitute in the desert
On this place of mostly water.
Stripped of clothing and of pretence.
We, as human beings, are ever drawn to this arid place.
We cannot tolerate the comfort of the water.
We are not alone in our travels,
But we have only a vague and fleeting awareness of our fellows.
There are many temples in this desert.
Temples as far as the eye can see.
I have not explored all of them,
But I will tell you of the ones that I have seen.
Part II
Here, there is a cluster of three temples
    Grouped together inside a stone circle.
What is this first temple?
It is shaped like a triangle.
Each side contains a seemingly endless cascade of rooms.
In the courtyard lies a serenely dead man.
The people in the temple prostrate themselves towards the man,
Alternating their prostration with argument:
   Each side of the triangle argues with the other two
   And each room argues with the ones around it.
"Come to us!" the worshippers say to me in unison,
"And take part in this man who is not dead but alive,
"For that is how our books say that you may find answers and salvation!"
"Ignore them", say the austere and severe men in the second temple,
    Which is divided in three.
"Read our books and you will see that they have no reason
"To believe that man will save them.
"We are the elder and wiser and we have the truth."
"They are both a bit correct..." says the voice calling from the third temple,
"...but they muddled the story with their prejudices.
"We have clarified it once and for all.
"Read our book and you will find that true."
This temple is split in two
And various groups of individuals cluster together on both sides.
Part III
Moving on from this circle, there are another three temples.
They are not contained within any circle,
But rather they face inward toward each other.
At the centre of this gathering of structures is a pot of vinegar,
From which the residents of each temple are drinking.
The first is a perfect cube.
Strains of precisely measured music sound from within.
"The past and present are in disharmony." say the people there
    As they sit upon unnaturally straight mats.
"Our lives must be ordered by ritual.
"Go; learn, travel, be of this world.
"Strive to be virtuous, humane, loyal, righteous."
The second temple is a circle with eight flames burning along the top of the outer wall.
Upon the wall is a faint painting of a four-armed deity.
"You need not feel pressure to heed my words..." begins a robed man
    While he sits beneath a tree in the front of the temple,
"But the following is what I have found to be the truth:
"It is this world and things of it will cause you to suffer.
"Is the root of all suffering not the found in the pursuit of temporal things?
"We are not asking you to starve yourself, only to understand that nothing lasts.
"The key word is 'transcend'."
"How foolish!" chuckle the inhabitants of the third temple,
    Which is covered with vines.
"'Ordered by ritual?' Life is chaotic by its nature!
    "To force it into a human perception of order is not only a waste of time,
    "But a source of harm the natural world and suffering for the orderer.
    "For if it were not already perfectly ordered, surely nature would not behave in such a way!
    "Compassion, Moderation and Humility are the only rules you need.
"And you there, in the robe; you're close, oh, so close!
    "For indeed, things of this world are temporal and are not to be paid too much mind.
    "But how can you say that we must transcend?
    "Are you saying there is nothing to learn from this world?
    "That observing the rivers and the animals and the plants and all the ways of nature
    "Will not bring enlightenment?"
Part IV
Further travel brings me to a forest growing out of the sand.
Intrigued, I enter; passing through and over shrubs and undergrowth.
I walk until I reach a clearing in the apparent centre of the greenery.
In this clearing stand a man and a woman.
    Both nude,
    Hair woven with leaves,
    Facing each other,
    Left-hand fingertips pressed together,
    The sun on his brow, the moon on hers.
"Excuse me..." I ask, "...could you direct me to the next temple?"
She turns to me.
"Can you not tell?" she asks.
"Is this place, this pinnacle of nature's creation, not its own temple?
"This place of life and green?
"All of nature is burning with divinity!
"Surely you cannot tell me you have never felt it:
"The buzzing in the woodland air that evades description;
"The music of the wind and birds and rushing water?
"The primal, transcendent ecstasies of sex;
"The unparalleled sensation of wrapping yourself into another body?
"The awe and enthralling expanse
"Of the night sky as it rushes infinitely away?
"Look not to the temples of brick and stone.
"Look to the wood, to the stars, to the human body.
"There is your divinity."
Part V
I was tempted to remain in the forest,
    To stay with that radiant couple,
But I felt the call to press on.
Stepping from the tree-line,
I discovered that night had fallen on the desert.
The temples, which once seemed to go on forever,
Now all appeared to be behind me.
Ahead was only a faint orange glow
Dancing against the black star-flecked sky.
Wondering what this glow might be
    And what business it had being in a place so unconventional,
I walked on towards it.
I soon discovered that it was a small fire;
A fire around which sat four people.
    One played softly upon a guitar.
    Another was busy writing in a book.
    A third appeared to be drawing elaborate patterns in the sand.
    The fourth simply stared up at the sky and sketched what he saw in notebooks.
Each person was surrounded by evidence of their craft:
    The guitarist was sitting in the midst of a wild array of instruments.
    The writer sat by several nearly waist-high stacks of books.
    The sand-artist was at the epicentre of a sprawling series of designs.
    The star-gazer's feet were surrounded by many, many more notebooks.
"Why are you all here?" I asked the star-gazer.
"Shouldn't you be back at one of the temples?"
The star-gazer looked to me, asking
"Why are you here?
"Why aren't you back at one of the temples?
"I'm willing to bet that you went through a few of them
"And couldn't quite buy into any of it.
"If that's the case, you're just like us.
"You know in your heart that none of those people in the temples
"Can actually know the whole truth as they claim.
"After all, each one can only look out their own windows.
"That's how we ended up here.
"We've all discovered at one point or another
"That the only truth we have is our own truth
"Found only with what we have before us on this desert spinning through space."
Part VI
Thus ends my journey through the desert,
At least for the time being.
I could very well be again moved to wander its expanse.
Perhaps I will see you out there as well.