Bermuda Dreams Chapter 1 (Revised)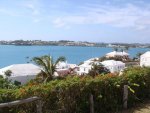 Sat, 23 Mar 2019
 Chapter One
Tom dreamt of golden triangles. They flew at him in flashy arrays, lighthouses at their tips, framing views of seas below. He didn't want to be flying here alone, no, not in this dream, when fine young ladies could've been up there with him too, nice-hot thots to squeeze love juices out as he fell, spreading it all above him to form a parachute of sweet marmalade! He would glide through the portals, a black trojan, forgetting all about the flung engagement rings. No, love would not shine with such brilliance as the glittery speck he noticed shoot across skies over combers, the orb transforming, when he got closer, into a pair of spread out wings against a passenger airliner.
Suddenly he found himself inside this aircraft, idly lounging in a recliner to the left of a cabin's walkway, a view of the cockpit in front breathing wide in his peripheral and then with a gaze forward, shrinking to an indiscernible chamber. In his dreams these faraway areas had always been like invisible lungs, retracting to remind him of their nonreality, then expanding only when they became significant.
Above the aisleway, a digital sign spelled out an enigma in red letters: Bermuda. The invisible lungs breathed in the title, bubbling it out to show the profundity in all its clarity, yet the announcement did not sail forth with bliss, rather, it flung an anchor of worries into Tom's thoughts. Bermuda, a familiar haunt, a group of rocky islands nestled in a crescent amongst oceans, boasted limestone hills of false sanctuary against troubles.
Tom cringed at mistakes made in his last trip, even admitting to himself, he had dug way too much into pockets to pay for those Dark n' Stormies and other cocktails in Hamilton. The pubs on Somers Island, a stony octopus, stung tentacles into rich blood, sucking them dry for a living wage, yet Tom, a black dude from Cali, debt-ridden and struggling through college, felt more obliged to visit its sister island, at the eye of the Bermudian hook, Saint George's, where respite came in cheap takeaways.
Saint George's decor kept a colonial modesty, a contrast to Hamilton's downtown commercialism with its patchwork of highrises skirting waterfronts crammed full of yachts. The eastern island's ancient dwellings, limbs of an old mariner, wore stone vestments of pink and yellow pastels, candy kisses of charm below hats of limestone pyramids, and these lively mascaras, hiding wrinkles and cracks from nature's time-long harassment, went belly out for a tourist's favor.
In this town, Tom's dream took him to the porch of a two-story inn, an old Georgian mansion, a wink of white under sunny skies, and a living testimonial to a families greatness centuries ago. He remembered this house on his last visit, but the chalky limestone on its pyramidal cap, a smear against steps, shown differently, reflecting casts from a dying light, and its airy balconies, with their lawn chairs inside thrown amok, hinted a hurricane's havoc.
Tom opened the front door, his pushes met by resistance from rusty hinges, but after putting more muscle into a shove, it gave way, and a smell, reminiscent to moldy newspapers, escaped from within to hit his nostrils. The lobby he knew from the past, a line of rooms flanking a desk with travel pamphlets, morphed into an expansive suite of beds laden with luggage, clothes strewn about its tile floors.
Guests ran by him, picking up messes to shove them into suitcases, hurrying to get done. One middle-aged fogy, sporting wavy black hair above a high forehead of dark skin, halted to size-up a new arrival. Tom knew this guest as family, his uncle, who he had not seen since a year prior at a wedding ceremony. It amazed Tom to see him.
"We're goin' to be late for the plane!" Uncle Charles threw Tom a plane ticket. "But I found your pass under all dis clothes. So lucky for you, you'll not be stranded here."
"For reals?"
" Yah, we gonna be late!"
"But I jus' got here. How can we be leavin'?" Tom began to brood over missed opportunities. He never got to explore the island's western hook on his last trip. With family here, the excursion for the Royal Dockyards would have been worthwhile, but now, in surprise, an escape plan had got them busy.
A wiry old Asian woman, Aunt Lin, bent over Uncle Charles efforts, watching him as he shoved piles of shirts into a suitcase. She swiped away at loose strands of her close-cropped black hair in nervous anxiety.
Behind them, children ran about the place, causing a ruckus. Two kids played tug of war with a beach towel, as another got onto a mattress to hop on it, mocking a father's struggles with laughter.
"Hey, Ted. " Uncle Charles wove his hand in front of the springy monkey. "Get off dis' bed, now! I done tol' you, ya can't be jumpin any beds here! You want Mama to get you with the switch?"
"Nah, Pa. I just having fun."
"Fun? Vacation already over. Bye, bye, now."
A knock at the door threw silence. Tom shivered against an onset of chills, wondering if a maid had busted open a freezer. An explosion shot into the room. Powerful gusts hit Tom's back, launching his muscular frame into the air, and flung him against a far wall. He floated there in a paralyzed stance, breathless, and distraught.
"What the hell?" Tom looked behind him.
A scarecrow, a white-clothed oddity, struck a dance in the doorway, its skirts flashing glowy pink and yellow tassels. The lively wooshes of snaking vibrancy from its jig, kept the conductor, a Gombey dancer, afloat, but tense-ridden. Tom wanted to shout at him for a release, but he had no voice. He felt like a helpless spectator forced to view a dark ceremony.
The dancer's face, hidden behind a mask, with painted impressions for eyes and an agape mouth, shown like a scowling mound of soil—its plot, support for stems in a vase cap hidden behind fluorescent hues—its outgrowth, tall peacock feathers.
Tom tried to break free from his invisible chains by kicking, but his legs hung limp. He wanted to embrace Uncle Charles to say goodbye, but the family ran out. Another chance came, when the old man, in forgetfulness, ducked back in to go for one last bag.
He took up the luggage, giving Tom a googly-eyed look, and then turned away to leave, with an oddly spoken farewell.
"You shouldn't have ate Keazah's cakes! Now she go hungry fo shure!"
Uncle Charles legs caught the reverb of the nearby dancers shuffle, and went bouncy on his exit.
Keazah? Yes, Tom remembered her from his last trip, an island beauty, who had clung to him, jumpy from nights in a club. She had a sparkle in her eyes mirroring the island's waves at lap against a beach under moonlight and when her smooth mocha skin touched his brawny arms, it felt silky. Why would Uncle bring up such a woman he hadn't known?
The Gombey dancer, now alone, threw more flair into his colorful act. He shuffle danced from one wall to the next, florid neons swishing about the place in explosions of light. It made Tom feel floods of renewal rush at him—the pink throwing cherry blossoms, the yellow, a wash of escapes. He wanted to just reach out and grab these beautiful realities, but a godly power held him hostage. Who was his master? Not the dancer, since he had no whip. Tom could only guess a spirit kept him from the fulfillment of his desires.
An unseen snare drum, beating out a tattoo, intensified the dancer's movements, and the sea of emotions it flung up, made Tom recall more and more those sleepless nights in Keazah's arms. She had sprung into his life, out of pink Bermudian sands, a temptress, a new flower hungry for blossoming experiences.
It terrified him to think something had befallen her. They did everything safe together, or had it been enough? Tom knew of miracle babies, the Jesus kids, grown from ghost seeds, but their rarity struck like a patch of roses growing out from a toilet. Kids just didn't happen that way.
Fate from nightmarish diseases then grappled his thoughts, invisible killers, and he feared viruses got inside her. No, Tom could not recall a time he got really sick from making love.
The Gombey dancer threw himself into a frontal flip, made a pounding stomp against a tile on his reentry, and then stood at attention. A silence fell over the room.
"We don't invite no Tom fooleries in Saint Georges!"
The Gombey's exclamation came out in a haughty rebuff, with a flourishing wave of his arm until it stopped horizontal midair, the movement trumped with a nod.
Tom fell to the floor. He felt a release from hidden fetters, got to his feet, and ran for the door, forgetting his tormenter in hopes to catch up with family.
Outside, a pink metro bus, a metallic cupcake amongst a backdrop of stone shops and still harbor waters, drove off, the scene swallowing Tom's approaches, until it went dirty behind spat out exhaust.
"Stop that Jimmy Hat! Stop it!" Tom hit against pink metalside panels sliding past his fingers, hoping to get the drivers attention. He needed this ride to make a flight back home. Above him, in passing windows, passengers laughed down at his struggles. The bus kept on.
A stuck boulder in the shuttle's path, a massive limestone rock, with a tunnel cut through its face, shutout an opening too narrow for a fit.
The bus rammed into the cave, scratching sides against its walls, and fled into the darkness. Tom gasped in relief, realizing his avoidance of a near disaster.