Bermuda Dreams Chapter 2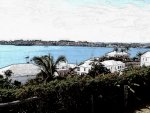 Sat, 18 May 2019
Chapter Two
"Wake up...wake up fool!"
Tom awoke to find Big Roy hollering at him from an adjacent seat across an aisleway. He felt a bump of turbulence, a pop in his ears, and noticed his roomie's chubby dark face lit aglow by an orange haze shot through viewports by a sunset. Big Roy sat sweating in a draping pink shirt embossed with a white tiger.
"We almost there, " said Big Roy, pointing at the overhead luggage containers. "You best be ready."
Tom began to realize he had not awakened to another dream, but rather, his return flight to Bermuda.
"How long I out?" Tom drawled out the words in a yawn, rubbing his eyes. The aircraft dipped down and he felt a sudden drop in his chest.
"Not long, dawg. But they got some funny cartoons playin up in here. I've been watchin' them." Roy bent down to hide his face and let out a laughing bellow. A passenger, who sat in a squeeze next to him, muttered angst-ridden accusations under his spectacles against Roy's slamming arm. The blimp sat plugged into a seat, incapable of avoidance in stopping a free elbow.
Big Roy took this flight to celebrate his 21st birthday, aided by monies left over from his pops, a dead gangster, who had left him an estate. His pops, a rich Caribbean thug, had swam in Benjamins, and kept smart about his whole black enterprise, leaving it as an unscathed operation, clean from police intervention. Now the illegal diamond trade, staving off demise, had sent Big Roy, and, Tom, a trusty cohort, to do some thieving amongst familiar stomping grounds, Hamilton Harbour, all under the guise of a celebration.
On the television screen above them, two cartoon hamsters went racing about floors, fleeing a gorilla in a tophat. The rodents wore sweaters, stitched with the letter "M", and who could not guess, in their frantic jumps, darts, and then stops, what the titles meant. Big Roy looked up, only to wheeze, then laugh, his eyes watery, as he slammed his hand down on the forward seat, throwing off spectacles worn by a cussing passenger. He swung his hand back up to pat sweat away from a shaven scalp, his elbow thwacking the man again.
" Those are some funny cartoons," Tom said, scooping up a paper in his lap, a customs declaration.
Tom didn't know what to write on the customs slip, forgetting all about it before he fell asleep. He focused on the line asking about primary purposes for island visitation. The word "business" emblazoned in bold print caught his interest, as if the quip tried to trap a fool into blabering out a falsehood! He looked at it for a moment, convinced some hidden camera above caught his pause, and then came to the realization of Biggie's birthday. Forget the plight to steal diamonds, a super-sized celebration could drain wallets faster than filling them, so no, with a penmark flourish, he did not fly here on business.
He looked out his window. A wing cut through clouds, making a smooth downward push for a watery basin, an oceanic mirror, its reflection, a day's death in purple and orangish glows.
The beautiful sights made him think back to his home in LA, a contrasting gloominess. In the States, he awoke every day to a reality of forklift beeps, plopping crates, and a buckling warehouse, a clashing sonata against his focused labors behind the controls of an order picker. The work left him no liberty to daydream about a paradise.
In his mid-twenties, he should've been thinking about his next climb out of a sinkhole, and Big Roy became his savior, offering money, extra days off for college, and a cheap room at a quaint bungalow downtown. Biggie's help got him through a lot of garbage shoveled out by debts, but his funds came from gangsters, and to be associated with an income from thugs, brought doubts towards his future.
In Tom's mind, the forklift beeps from his nightmarish past had thankfully fallen silent, surpassed by real metallic whines outside his viewhole from the descent of wingflaps. His stomach churned as the aircraft dove low to skim over seas. Below the plane, greenish rock patches stuck out from murky depths, like many hairy ruins of an Atlantis, and passed by quick under the wing.
The turbulence in this low flying glide shook Tom's nerves, making him feel like he'd been placed onto a magic carpet for a hover ride above islands. The journey kept rough. Tom, buckled in for the aerial surf, held on tight to his armrests, until a jolt from wheels touching down on a runway, threw him hard against his seat.
When the plane came to a screeching halt, he tugged at his pink shirt in relief towards a triumphant landing. He bent over the aisleway and patted his roomie on the shoulder. Big Roy gave a resounding clap in reply.
"Thank be Jesus! We made it!"
Passengers, not thrilled by Big Roy's loud enthusiasm, let out a grumble-filled chorus.
"Yeah, I think I just left my other me in tha' triangle." Tom winced at recalling his escapes in the dream. "But look! We're not dead, we're not boo-jizzling ghosts, you see, we all still here Big Roy! Planet Nibiru too small for us."
"We gots too much skrilla against them aliens, fool! I bust a belly punch into them foes as they tried flying through the triangle!"
"Yeah, you got that right. You got all of em gone, they can't mess with our mojo."
"Well, we've reached heaven!" With a grand smile, Big Roy shut his eyes in a reverie. "We've made paradise! They'll be fine ladies walkin all them beaches this Spring, young and juicy bootie!"
"I can't wait Big Roy, I'll help you get some, you know me, I never let a brotha' down. On this island, Nizza is king! We will get some."
"Nizza ain't king in Bermuda. More like peoples acting white!"
"Hey's don't trip! They all still good. All you need is a good heart. The people here, they all have heart."
Big Roy sidled in his seat, trying to ease himself out from a wedgie. Tom helped him. When he got Big Roy to a stand in the walkway, a trapped passenger, a wrinkly red-skinned crony with tossled hair, and messy attire, dove over him, and got away.
"Hey, you forgot your glasses!" Big Roy flung the eyepieces at the distraught man, who stood nearby, hurrying to get his luggage out from an overhead rack.
Passengers in front spilled out of their seats into the aisleway for debarkation. When Tom and Big Roy had waltzed off the plane into the huge lit cave of the airport terminal, the people with "heart", Bermudian customs officers, stood like a wall of guards to block the exits.
Customs let most of the new arrivals go with only brief checks, feels, and openings of their luggage on tables to find contraband items, but when the duo got their inspection, the officers took out wands, swiping all their stuff, even combs, brushes, deodorant, and soap boxes, to examine them on a scanner machine for narcotics.
Officers did such a thorough job at seeking out baddies, it made Tom nervous. Sweat beaded on his shaven scalp, as he watched an officer jab a stick into pockets of a folded sweater in his suitcase. Tom feared the wand would emerge with traces of weed. It had been months since his last smoke, but technology always hid ways to chain a fool. The search found nothing.
Nearby, a night darkness bled through sliding glass doors to drape the exits with a cloak of consolation. Still, the diamond plot had not been found out, their secret operation open for success. They left the airport, into the night air, thugs of a smarter profession.
Outside, under the airport veranda, they didn't need to flag down a taxi, for on their left farther along a curb and across a street, a pink bus, sat in wait. As its doors swung open, Tom knew the bus would more than likely whisk them away to their inn.  He left behind luggage and ran, footing a step into its frontal entrance. A driver's dark face, lit up bright by interior lights, nodded an assent to wait.
" Driver!" Tom spoke with a glance back, grimacing at his followers slow progress. Big Roy lumbered at a snails pace under two burdensome weights--suitcases and extra fluff. " You headed for Saint George's?"
"Yeah.  That's my next stop. Come on board. Your friend need any help?"
"Nah, he okay."
"Are you sure? I wouldn't mind leaving here to help him."
In answer, Tom ran back to his roomie, who kept on for the bus in a wheezing struggle. He took away Big Roy's burdens, two suitcases, then walked beside him the whole slog, their efforts overseen by the inside driver, a gray-haired and lanky servant, whose shadowy figure backlighted behind a towersome windshield, shown like an underwater pillar sulking below a bed of seaweed, its tops, vibrant leaves blossoming into a digital readout: St. Georges .
Big Roys weighty entrance onto the bus, squeaky and full of strain against floorboards, made Tom worry they'd be kicked off, but the driver didn't even flinch. Once everyone had found their seats, he strapped himself into his cockpit and got the transport rolling for its next stop.
A nightly drive for Saint George's, held similarities to a ride through windy roads in a golf resort, with its white houses hugging placid lakes, and the sheen of a full moon casting a neighborhood's riches in silvery ripples on waters. A bridge took them away from the reach of Saint David's Island and over some mean depths. When the bus reached the other side, the approach rounded a bay, an anchorage crowded with motorboats, then took them past shops, that then fed into a town's center, a market square full of relics harkening back to a seafarer era, where in corners, two-story silhouettes of white limestone stood in ghostly protest against the night.
The bus let them off here, leaving the two alone on a dark stretch of asphalt between cottages. In the orange glows cast from ancient streetlights, the town whispered death amongst its graveyard quiet.  It wouldn't have been a surprise to meet a spirit on a sidewalk posing as a city guide ready to unveil a town's evening delights.
 An alleyway, rising uphill between shadows of close-knit homes, hinted of a conniving snake in a directionless meander, and Tom knew from his last trip, without his phone, he would only lose to the labyrinth.  Tom led the way, helped by a handy GPS,  trailed by a hungry follower, who wolfed down batches of stashed cream cookies to support the trudge.
"So when's this homey of yours gonna show?" Tom turned around, wove a hand over Big Roys sagging pants, then dipped it into a pocket, taking out a phone.  "You call him?"
"He be waiting for us, fool." Biggies voice came out garbled with a mouthful of yummies.  "Jus' get us there."
"An' if he ain't there, then what's we supposed to do?"  A feeling of hope arose in Tom, filled with chances of forfeiture in their upcoming yacht heist. 
"We fly outta here.  I don' know.  Jus' keep cool and go, yo!"
"Aight."  Tom swallowed down a knot in his throat. 
They hiked up a cobblestone driveway for a shadowy stone gate, its tops hidden in bushes, and to the right, near a gash in the outgrowth, a figure stood holding up a lit phone.  The stranger wove the light above him to get their attention.
At a closer glance, Big Roy recognized the dark skinned greeter, whose gotee and hawklike face,  accentuated by eyes of fiereness, showed a serious nature.
"You made it! Glad you could fly here." The host's welcoming voice came out tinged with a Carribean accent.  His head of hair, scraggly dreds tied up in bunches, hung aloft a thin trunk snug within a red shirt, swimming shorts, and white sneakers.  His presence gave off Jamaican airs.  "So you all ready for this or what? I'm glad to see you've brought a friend with you.  I got kind of scared thinking it was only going to be you showin' for this thing.  An' he looks ready for it too.  Boy look at that muscle! I can see those arms under your pink shirt even out here under this pale o' moonlight.  I'm Dillon, nice to meet you, is it Tom?"
"Yeah." Tom shook the guy's hand, his fears for the future qualmed by the man's veteran-like attitude.  He also smiled at the remarks on his physical strength. Dark and brawny in a pink shirt, Tom stood tough like a burly flamingo. He didn't have to take his shirt off to show he kept in good enough health to conquer any challenges thrown at him.  His powerhouse of muscle, sinews born from years lifting weights and doing pushups, added masculinity to a hard-boned face, with its big dreamy eyes and a pudgy nose.  He got anxious, desiring to know more about an absent gangster met on his previous visit. "Big Roy tellin me your cousins with Jean?  I met tha OG on my last trip here.  He hooked me up with Big Roy, and got me a crib back in the States."
"Oh, Jean?  He in the Bahamas, man. Got spent in this work, couldn't take it no more.  Anyways, I'd rather not be talking about that out here, maybe we go inside and have ourselves a little chit chat."
He cut past the gate onto a walkway between wet lawns, the two following suit. He broke into a dash as the path neared the grounds of an ancient two-story mansion.The house, its limestone breadth and pyramid roof, a pale-blue under moonlight,  faced them with pillared balconies, its bottom jaw, a patio mouth to an entrance of cedar doors.
Dillon already had the door open for the two when they got under the patio roof.  Tom, thinking this place kept quiet vigils, got rudely mistaken with a glance at a table nearby with its full bucket of empty beer bottles readying to fall off an edge, a leftover from parties and drunken mayhem.  In eagerness to drop his luggage, he bolted inside a lobby, took up a key on a desk, and went down an adjacent hallway for the suite he had remembered from memory. When he found his match, the key threw open the lock, and got him into a dark room, its insides overtaken by musky smells.
A flip of a light switch lit up a lair of gracious accommodations: a king size bed, nightstand, dressers, and in front of a leather sofa, a flatscreen television hung from a bunkerlike wall.   Although the suite had only one bed, Tom knew he could getby with a blowup pad in his suitcase.  On this trip, they went as inconspicuous tourists, invisible, and budget saavy, the perfect mask for covert operations. 
Big Roy, visibly in love with the suite, let out a cheer, and sat in a couch.  The surroundings became cozier when Dillon got the portable air conditioner to run, replacing its swampiness with cool breezes.  The hum and chill given off by the machine made Tom forget for a moment his paranoia about the suite being bugged with hidden cameras.  He stood, letting himself fall into a calm state of relaxation, with arms spread against the wall,  knees bent,  and legs stretched out.  He needed to rush into a closed bathroom at his left to take a shower, but Dillon went straight to business.
"So get this!"  Their host flapped his hand down, inflecting his desire for them to converse in hushed voices.He kept on in a high whisper. "The Saudis have sailed in with a superyacht.  The big Dubai. They brought all their bling with them too.  Those rich booshi, got a big diamond.  It is worth millions!  One of our jewelers confirmed the purchase.  Our soldiers been tracking its movements ever since.  Now GPS has it pinged in Hamilton Harbour.Our mission, get it back.  The princes have been here for a few days already, and I've got their cellphones tracked to monitor their movements.  They've been leaving the thing at night on their boat, so that's the best time, I think, for you to go in there and steal the bling."
"What?  That easy!" Tom smiled in sly astonishment.  His doubts grew, knowing he could die in this thing.  They dealt with Arabs, not mere have-mores on a vacation.