Armitage - Chapter 10 - Madeline's Mistake (Part 2 of 3)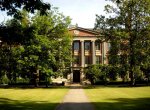 Wed, 19 Nov 2014
'Like I said in my book,' said Sebastian, sighing once again. 'I am unable to bring any harm to my sire and this compound must find its way into the bloodstream for it to be effective.  This is why I have tried, so far in vain, to enlist the help of Mason's quarries before it was too late, and that is currently you.'  Madeline's gaze dropped from Sebastian for a moment and the heavy silence that filled the room stirred Sebastian to continue.  'I understand Madeline, truly I do, were there any other way to stop Mason without involving an innocent such as yourself I would never have come to you, but you are the one and only hope, and I tell you this because you have to understand the vital importance of what is at stake here, success can be our only outcome.'
'But this is so unfair,' said Madeline, a quaver clearly audible in her voice.  'Why me?'
'I wish I knew, I have spent decades trying to fathom his methods but all for nought.  The only thing I can be sure of is his rampant misogyny.'
'His what?'
'Oh yes, I have puzzled over his pathological hatred for women time and time again but it simply makes no sense.  It didn't then and it doesn't now.'
'What do you mean it didn't then?' asked Madeline.
'Well as I said he has done this many times before, but there was one particular period that garnered an unprecedented amount of attention, in which he revelled deviously in.'
'What are you talking about?'  Sebastian looked hard at Madeline for a second or two before continuing, trying to work out the best possible way to tell her what he knew he must.
'This is the one thing that I have agonised over more than anything else,' said Sebastian, running his hand through his dishevelled hair.
'But you've already told me that Mason's apparently a vampire,' said Madeline.  'What could possibly be worse than that?'
'Why do you think I wrote my book under the name Sickert?' asked Sebastian, his haggard features unwavering.  Madeline frowned in confusion for a moment or two, casting her mind back to the book she had read but a week ago, and as her eyes widened in abject shock Sebastian knew that she had made the all important final connection.
'No way,' she said.  'No way!'  She began to pace the room as she spoke.  'You can't be serious, this is just too much.'
'Madeline I am sorry but it is the truth.  I did not believe it myself when I first found out, as I did not really know him at the time, but it is something that all vampires sired by him eventually learn.'
'But him?  He was Jack the Ripper?'
*          *          *
Learning that her history professor was a vampire was enough of a shock to the system for Madeline, but to be told that he was also the elusive killer she herself was writing a paper on was madness.  She had been forced to accept a lot of outlandish claims over the past couple of weeks but this one was just too much to take.  She simply could not believe that being told someone was a vampire would almost pale in comparison to being told they were also one of history's most vicious and mysterious killers, but her extensive research into the Ripper case gave this already chilling ordeal an even more frightening undertone.
'This can't be happening,' said Madeline to herself as she sat back down, repeating the phrase again and again.  'This just can't be happening.'
'I cannot tell you how sorry I am,' said Sebastian, placing a comforting hand on her now trembling knee.  For the second time in Zeb's shop Madeline's emotions got the better of her and she erupted into a fit of tears, burying her face in her hands, sobbing uncontrollably.  After a moment or two Zeb poked his head through the curtain with a concerned look on his face.
'Everything okay in here?' he asked from the doorway, not wanting to intrude on what he knew to be a private moment.
'I'm fine,' sniffed Madeline as she forced back the tears and pulled a handkerchief out of her bag.  Zeb and Sebastian shared a knowing look before the shopkeeper went back in front.
'I really am sorry, Madeline,' said Sebastian, the sincerity etched into his voice.  'It pains me to see you like this, no one should have to go through something so terrible, but had we not met that monster would have toyed with you and taken your life at the merest whim.'  At this Madeline broke down in tears again, her face returning to her hands while Sebastian cursed whatever insane creature spawned Mason.  'I so wish there was a kinder way to break this all to you but only the naked truth could do justice to such horrible facts.'
'So what happens now?' asked Madeline before noisily blowing her nose.
'Take this,' said Sebastian, handing the small vial to her.
'Are you sure?' she asked, holding the vial reverently in her still shaking hand.
'I can do no more with it, you will have to find a way to get Mason to ingest the compound.'
'How am I supposed to do that?'
'Alas I do not know, but I will help you all I can.'
'Really?'
'Of course,' smiled Sebastian.  'I may not be able to bring harm to my sire but that does not mean I will not aid you in this more than arduous task.'
'Thank you, Sebastian.'
'I only wish I could do more.'
'Well I'd better be going,' said Madeline, standing up.  'I'd like to get back before it gets dark.'
'Very sensible of you,' nodded Sebastian.
'What should I do about Mason though?'
'I do not mean to alarm you but he could have struck at any time since choosing you as his latest prize but he has not, meaning that he is biding his time.  So as you can see time is something we do not possess much of.'
'Well I'll think of something,' she said, slipping the vial into her pocket, all the while trying to calm her tremulous hands.
'Thank you for taking this so well,' said Sebastian, as he stood to see Madeline out of the backroom.
'You think I took it well?' asked Madeline incredulously.
'Well I was able to tell you all I needed to; I have rarely gotten that far.  You did not run off screaming or try to kill me, so I would say yes, you took this grave news extremely well.'
'Thank you, I think,' said Madeline, a half smile briefly flitting across her lips.  She pulled back the curtain and Sebastian stood aside, avoiding the afternoon sunlight that found its way into the shop.  Zeb looked up from his comic as Madeline re-entered the shop and made his way to the front door to unlock it.
'I hope you're okay,' he said as he opened the door for her.
'I've been better,' said Madeline, glossing over the fear that lay like a sickening ball of lead in the pit of her stomach.
'Well I hope you feel better soon,' he said.
'Thanks, see you around.'
'Look forward to it.'  Madeline smiled thinly before making her way back to campus, Zeb watching her walk out of view before returning to his shop.  He walked across to the curtain and spoke through it, rather than flooding the backroom with sunlight again.  'So what did you tell her?' he asked.
'Everything,' said Sebastian, his reply seeping through the thick material.
'Really?  Wow, I'm impressed.  She didn't even spaz out.'
'I know, she could be the one.'
'Hope so man, I sure hope so.'
*          *          *
Once around the corner from Shelob's Lair Madeline blew her nose one more time before opening her bag to put the handkerchief away, but as she did so she felt her fingers brush against something that caught her attention.  Fishing it out of the general debris of her bag she found it was Sergeant Thomas' card and as she looked at it a thought entered her mind.  She was clearly way in over her head, so what was the sensible thing to do?
Call the police.
Madeline felt a little silly wondering what she was going to tell the sergeant but she knew that if everything Sebastian had told her was true she was going to need as much help as she could get.  She rummaged in her bag again and pulled out her mobile phone, keying in the number that was on the card.
'Sergeant Thomas,' said a voice as the other end of the line was eventually picked up.
'Hi, this is Madeline Jameson, we spoke the other day at the university meeting.'
'Oh yes, Madeline, hi.  What can I do for you?'
'I think I have some information on the recent murders.'
'You do?  Can you come down to the station?'
'Only if you can give me a ride back to campus afterwards.'
'It's a deal, see you soon.'  Madeline closed her phone and along with the card slipped it back inside her bag, closing the clasp and heading in the direction of Armitage Police Station.  As she walked away a black Mercedes with tinted windows sat idling at the side of the road some several yards back.  The driver of the car was also talking into a phone.
'She has left the establishment,' said Andreas, Mason's personal assistant.  'Do you wish me to follow her?'
'No,' Mason's replied, his voice indulgent and rich with malice.  'Sebastian is the issue at hand.  I could have sworn that we took care of him in France, but it appears that he is more full of surprises than we gave him credit for,  That little insect has caused me unending headaches and I want him stepped on, hard.'
'Yes sir, I will deal with him at once.'
'No, don't do that.  Come and pick me up first, I want the satisfaction of removing this thorn from my side personally.'
'Yes sir.'  Andreas slipped the phone back inside his immaculately tailored suit jacket and the Mercedes purred around the corner in the direction of Mason's house.
*          *          *
As Madeline entered the police station she didn't even need to ask for Sergeant Thomas at the Reception, as he was waiting impatiently by the desk.  As soon as he saw her he strode up enthusiastically and shook her by the hand.
'Madeline, thanks for coming.'
'It's okay,' said Madeline somewhat bemusedly, as the sergeant continued to shake her hand vigorously.
'Would you like a coffee or something?'
'No thanks, I'll be fine.'
'My desk is just back here; follow me.'  Sergeant Thomas led Madeline through the station to his desk, which was stacked with files and papers.  'Please, sit,' he said.
'Thank you,' said Madeline as she took a seat at the side of the desk.
'So what've you got for me?' asked the sergeant eagerly.  Madeline guessed from his forthright questioning and the mounds of paperwork on his desk that he wasn't getting very far in the case she had come to discuss, so she hoped that the bizarre tale she had to tell would help in some way.  Madeline began her story hesitantly, expecting at any moment for Sergeant Thomas to accuse her of wasting his time but instead he just sat there in silence, only breaking eye contact to make the occasional note in his pad.
'Wow,' was all he had to say when Madeline was finally finished.  He laid his pen down and placed his hands together before continuing.  'That's quite a story.'
'You don't believe me, do you?' asked Madeline.
'I didn't say that,' said the sergeant.
'I barely believe it myself.'
'So, let me see if I understand you, you're saying that vampires are real?'
'Yes,' said Madeline.
'And this Mason guy is one of them?'
'Apparently so.'
'As well as this Sebastian guy?'
'Yes.'
'Come with me.'  The sergeant rose from his desk and beckoned for Madeline to follow, they made their way to the station entrance and once outside Sergeant Thomas walked over to his squad car.  'Get in,' he said.  'You can toss your bag in the back if you like.'  Madeline quickly threw her bag into the backseat and climbed into the car, fastening her seatbelt before the car pulled out of the station car park and drove off into Armitage.
'What's going on?' asked Madeline.
'We couldn't talk in the station,' said Sergeant Thomas, keeping his eyes on the road.  'This case has already gotten me a reputation and even if you're lying to me I don't need anymore hassle.'
'I'm not lying to you,' protested Madeline, although she wished she were.
'I'm not saying you are, but you can hardly blame me for being a little cautious.'
'I guess not.'
'So this Sebastian can corroborate your story?'
'Yes, just don't ask him to prove he's a vampire.'
'What do you mean by that?'
'Nothing,' said Madeline, smiling to herself.
'So where can we find this Sebastian?' asked the sergeant.
'At a comic book store the other side of town, why?'
'Because that's where we're heading.'
'We?' asked Madeline.  'What do you need me for?'
'I'm sorry Madeline but I have to find out if this story of yours is true and as much as I hate to say it if you are feeding me a load of crap then we're going right back to the station.'
'Oh,' said Madeline quietly.  They drove in silence until Shelob's Lair came into view.  'This is it,' she said.  Sergeant Thomas pulled up to the curb and looked at the shop exterior.