To Catch a Thief - Part Five - The Best Laid Plans (2 of 2)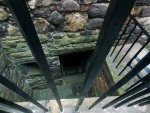 Wed, 26 Aug 2020
Tick.
Tock.
Someone shoot me!
Vimes stood to rigid attention in the corner of Lord Rust's drawing room, scanning the space for any slight movement, any indication that they were not alone.
But they were.
Gods, he was alone with Lord Rust!
One of them!
And Rust was loving every second of it.
'Come come, Vimes,' said Rust smoothly.  'There's no need to stand on ceremony.  While I greatly appreciate your personal attention in the maintaining of the sanctity of my hearth and home there really is no need to stand there like a…like a toy soldier.'
How dare you, thought Vimes.
'Please, do take a seat.'  Rust indicated the plush lounge chair opposite his.  It looked like it cost more than the house Vimes grew up in.  Or had, one day.  On closer inspection, Vimes saw that it was showing some signs of age.  Looking up and about the room, he noticed a bare patch of wall above the fireplace.  His mind cut back to one of the many interminable social functions that his title of Duke of Ankh forced him to attend, and he realised that something was missing.
'Wasn't there a mirror above your fireplace, your lordship?'  The last two words stuck in his throat like barbs, but if he was going to play the game, he was going to play it to a fault.  'Quite a big one, as I recall.'  Vimes could not help but notice the momentary change in Rust's expression.
'It is…out for cleaning,' said Lord Rust, after a moment's pause.
Touched a nerve, have I, thought Vimes.
Good.
Rust recovered remarkably, though.  His usual look of superior self-satisfaction washed over his face again as he waved a lazy hand in the air.
'I'm sure you can appreciate, Commander, now that you have joined the better half of society in this city, that it can be difficult to keep track of one's many possessions.'  Rust smiled a smile that would have made Death himself grimace.
How bloody dare you.  Vimes quietly seethed as he remained in full On Duty mode, absolutely refusing to play Rust's twisted little games.  It was common knowledge that Sam Vimes had grown up dirt poor – hell, it was a mark of pride for Vimes and he made no excuses for it whatsoever.  But to have this jumped up, pompous viper try and rub his face in his pathetic little pile of gold was turning Vimes' stomach.  He normally felt a barely controlled urge to smack members of the aristocracy in the teeth for their entitled arrogance, but right now he'd happily hand his badge over to the Patrician on a satin cushion for the right to smash old Rust right in his stupid simpering face with his own sodding chaise-lounge.
But he didn't.
The one thing, besides the Duty, that kept a lid on Sam Vimes from going totally spare at Rust and his insufferable cronies was Sybil.  He knew, as they all did, that Lady Sybil Ramkin was considerably richer, and much bluer in the blood, than the lot of them combined, and Vimes revelled in that.  He hadn't married Sybil for her money, but he loved how it made the rest of the nobby lot in Ankh squirm with barely repressed jealousy.  And to see him, a commoner, married into the quite possibly the oldest and richest family in the city, well that was a permanent thumbing of the nose that kept Vimes warm on cold nights.
So, try as Rust might, Vimes was not about to make this a social call.
'If it's all the same to you, your lordship, I'll stand.'  Rust looked at Vimes with almost hidden contempt.
Almost.
'Very well,' he said, indifferently.  'Have it your way.'  He reached for a glass of sherry and took a sip from the exquisitely cut crystal.  'Can I at least offer you a drink?'
'No, thank you.'  Vimes continued to stare ahead.
'Oh yes, that's right,' oozed Rust.  'Sybil told me that you're off the drink these days.'
'That's right,' said Vimes.
You knew that already, you little shit.  Go ahead and take your jabs.  You and I both know that all I have to do is look at you sternly and you'll wet those pantaloons of yours.
'Had quite the problem with it, back in the day, did you not?'       
'I did.'
'Amazing what a good woman can do for a man,' said Rusk, briskly.  'Even one as colourful as I believe you used to be.'
'Yes,' said Vimes, passing over the back-handed compliment and storing it for later, just in case.  'Lady Ramkin sends her regards.'
You bloody liar, said Vimes to himself.
'A fine woman, Sybil,' said Rust, sounding damn near sincere.  'Do give her my best, won't you?'  Vimes allowed his fixed gaze to flit to Rust's for a moment.
Bloody hell, he thought.  I think you actually mean it!
'I will,' said Vimes.
The stilted conversation was interrupted by a movement in the grounds that Vimes caught the briefest of glimpses of through the ornate patio doors that led into Rust's immaculate garden.  Immediately Vimes was tense, poised, ready.  He crossed the room in a few strides, his hand placed on the pommel of his short sword, his brow knitted and his eyes keen.
'Vimes?  What is it?' said Rust, sitting up in his chair.
'Shhh!' hissed Vimes.  He squinted through the window out into the garden, keeping as much of himself hidden from view as possible.  He couldn't discount the possibility that this could be his thief, and that he could be armed.
But it wasn't.
It was a member of the Watch.
It was Constable Visit-The-Infidel-With-Explanatory-Pamphlets.  Vimes sagged and opened the patio door, stepping out into the gardens.
'Constable?'
'Commander.'  Constable Visit peeled off a salute as he fought for breath.  Vimes allowed a couple of seconds for the Constable to steady himself before pressing him on his sudden appearance.
'What is it, Visit?'
'It's Foul Ole Ron, sir.'
'Foul Ole…?  What about him?'
'Commander Vimes?' said Rust from within the drawing room.  'Is everything alright?'
Vimes ignored him.
'Visit, what's going on?'
'Sir, if you'll recall Foul Ole Ron was being brought into the Watch House by Sergeant Littlebottom as we were setting out on our present mission.'
'Yes.  Roaring drunk, wasn't he?'  A treacherous part of Vimes' brain added lucky bugger to the end of his sentence.
'So we thought, sir.'
Vimes frowned.
'What do you mean "So we thought"?'
Constable Visit shifted uneasily under the unwavering glare of Vimes.
'Well, sir…'
'Out with it, man.'
'Well, sir,' said Visit, swallowing hard.  'The thing is, I helped Sergeant Littlebottom escort Ron into one of the cells.'
'Go on.'  Vimes felt his fists begin to clench.  He was starting to get the feeling that he wasn't going to like where this conversation was heading.
'I even locked the cell door myself.'
'Constable, please get to the point.'  Vimes was now convinced he wasn't going to like what Visit had to say, so he reasoned he may as well go ahead and say it.  Constable Visit shuffled his feet for a moment before continuing.
'Well, sir, I was stationed in place, just as Corporal Nobbs' plan dictated, when I smelled something.'
Wait.
'What was it?'  Vimes' brain was already skipping ahead to the end of the chapter and the outcome that was bearing down on him was making him angry.
Please don't let it be true.
'It…it was Foul Ole Ron, sir.'
There wasn't any smell on that chap, was there?
Vimes chose his next words very carefully.
'Are you sure, Constable?'
'Definitely, sir.  He still has the pamphlet that I gave him some months back.  I believe he uses it as a handkerchief, sir.'
'But why did Sergeant Littlebottom let him go so soon?  He's normally in for the night when he's gotten into the drink.'
'Um…' Constable Visit looked at his feet again.
'Visit.  What is it?'         
'Sergeant Littlebottom didn't release Ron, sir.  I checked at the Watch House before coming to find you.'
'Constable, you're not making any sense.  How can one man be in two places at the same time?'
'Well, our lord Om…' began Visit, never one to miss a chance to spread the Good Word.
'Oh shut up,' snapped Vimes.
'Sir.'
'Are you absolutely sure you ran into Foul Ole Ron in the street, Visit?  Maybe you were mistaken.'
'No sir, it was him.  I'd recognise that smell anywhere.'
That smell!
That smell!
'Oh, bugger!' said Vimes.  He turned on his heel and tore back through Rust's house towards the main door.
How could he have been so stupid?
There was no smell!
Stupid!  He should have known.
'Commander?' said Lord Rust, but Vimes was already sprinting down the immaculate driveway towards the city.
He prayed he wasn't right.
But he knew he would be.
Constable Visit was left standing on the patio of Lord Rust's garden while the old aristocrat stood in the middle of his drawing room, looking a little lost.
Constable Visit reached into his bag and pulled out a pamphlet on the benefits of worshipping the Great God Om.
Never one to miss an opportunity.
*           *           *
Some minutes later, Commander Vimes skidded through the door of Pseudopolis Yard.  Worried faces greeted him as he surveyed the assembled Watch.  Many of those who had left with him to enact Nobby's heretofore brilliant plan had returned, presumably after hearing the same news that Constable Visit had given Vimes.  His frown locked in place, Vimes strode through the Watch House and down into the cells.  Even the one or two miscreants who were also incarcerated dared not speak as he stormed past them.  Vimes was radiating an air that told everyone round him not to mess with him any way, shape, or form.
He arrived at the cell that had held Foul Ole Ron.  Or whom they'd thought was Foul Ole Ron.
It was empty.
Well, almost.
Laid out neatly on the bed were the following: a pile of clothes; the metal bars from the window (expertly sawn from their mouldering mounts) and a neat white card.
No, thought Vimes.
No!
Shaking with barely suppressed rage, Vimes stepped into the cell and picked up the card.  It read:
See you at the ball, Your Grace.
Vimes swore again.  Much louder than before.