To Catch a Thief - Part Six - A Formal Affair (4 of 4)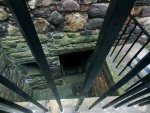 Mon, 31 Aug 2020
'The foolish thing was to put my trust in a Vetinari,' he said, putting as much derision in the name as he could. 'I should have known that I could never fully trust a son of yours!'
'A son of ours.'
It happened faster than anyone in the room could have seen.  Even Angua.
One second she was not there, the next she was.
Lady Margolotta had her hand to Lord Rust's throat, her teeth bared.  It was common knowledge what Lady Margolotta was, but it was never spoken of in polite conversation.  So, to see this normally refined woman – the epitome of quiet grace and elegance – flashing viciously in the eyes and baring terrifyingly in the fangs, was to many a truly horrifying sight.  Vimes, still tensed for action, looked at her hard, wondering how many people he could save, or how many he would lose, if Lady Margolotta decided to drop all pretence and savage the lot of them.  He cast a sideways glance at Captain Angua, and he could see that she was tensed even more than he was.  The muscles in her legs were bunched and her stance was that of preparing to pounce.  Her steely eyes were fixed on the woman now making Lord Rust go rigid with terror.
He knew what she was, too.
Against the point of the knife, Clarence smiled.
'Poor move, Rusty,' he said, smugly.
'Be quiet.'  It was Lord Vetinari who spoke.  Vimes' head whipped round to look at the Patrician, who was standing stock still.  He looked tense, too.  Gone was the air of coolness that Lord Vetinari had perfected, replaced instead with a hardness in the face and a stiffness in the body.  He frowned at the scene in front of him.
The three of them – Clarence, Lord Rust, and Lady Margolotta all looked at him.  Clarence was still grinning in a decidedly self-satisfied way.
'Wipe that silly smile off your face,' said Vetinari, sternly.
Clarence did so.
The Patrician looked past his son to Lady Margolotta.
'My lady,' he said, the tiniest note of pleading in his voice.  'Don't.'
Lord Rust whimpered as the iron grip of Lady Margolotta stayed fixed around his now clammy throat.
She did not take her eyes off Lord Rust – her prey – as she spoke.
'He dares to threaten our child!' she hissed.  'In my home!'
'I know,' said Vetinari.  'But let me deal with him.'  At this, Lady Margolotta shot a look to the Patrician that would have sent anyone else screaming and blubbering to the floor.  But he remained steadfast.
'You?' she said, almost mockingly.  'What will you do that I cannot?'
'Forgive him,' said Lord Vetinari.
It was like a huge bell that tolled silence had been struck in the very centre of the ballroom.  Eyes, many disbelieving, were fixed on Lord Vetinari, a man not famed for his powers of forgiveness.
But his face showed nothing but sincerity.
Lady Margolotta's, however, looked shocked.  Shocked and affronted.  She increased the pressure on Lord Rust's throat another foot-pound or so.
'Release him,' she said, icily.  Lord Rust had completely forgotten himself.  He still had his arm raised and the knife was hovering inches from Clarence's throat.  His bulging eyes swivelled downwards, took in what he was doing, and his fingers snapped open, the knife falling to the floor with a clatter.  He released his other arm as well, the one that had been holding Clarence in place, and snapped both arms by his sides, still locked in Lady Margolotta's vice-like grip.  Now free, Clarence stepped forward and turned to face Lord Rust.  He opened his mouth to speak, but he was cut off.
'Clarence, come here.'  There was no suggestion of Lord Vetinari not being obeyed, and with a smirk, Clarence turned on his heel and walked over to stand next to his father.
Vimes noted just how much they looked alike now that he was able to get a proper look at them.
Lady Margolotta let go of Lord Rust and he practically fell to the floor, his body deflating after being wound like a spring for such an extended period.  Lady Margolotta stepped past him and began to walk over to where Lord Vetinari was standing.  Halfway there, she turned and looked directly at Lord Rust.
'Don't move,' she said, fiercely.
Rust did not move.  At all.
Lady Margolotta approached Clarence and Lord Vetinari with a frown creasing her perfect brow.
'Don't do this,' said the Patrician, looking deeply into Lady Margolotta's eyes.  Clarence at least had the good sense to let his parents have this moment, all cocksureness gone from his demeanour.  It was, after all, the first time that he had been in both of their presence at the same time.  He looked from one to the other, drinking it in.
'What this man has done,' said Lady Margolotta.  'Is unforgiveable.'
'I'm sorry, but you're wrong,' said Lord Vetinari, quietly.
'What?'  The word snapped out of Lady Margolotta's mouth like a whip-crack.
'Please, think,' said the Patrician, still speaking calmly and quietly.  'If you kill him now, in front of all these people, in front of the City Watch, what will your defence be?'
'Defence?'  Again, Lady Margolotta sounded as if she almost found the situation amusing.
'Yes, defence,' said the Patrician.  'You are, of course, always welcome in my city, as a guest, as a dignitary, even as the woman I love.  But I will not stand here and allow you to become a fugitive.'  Lady Margolotta looked at Vetinari for a second, and then she cast her eyes towards Vimes and Angua.  She looked back to Vetinari before speaking again.
'You would set your dogs on me?'  At this, Vimes laid a warning hand on Angua's arm.  Whether Lady Margolotta meant this as an insult to the werewolf in the room he didn't know, but the last thing anyone needed was a vampire and a werewolf tearing into each other.  Angua flinched at Vimes' touch and snapped her gaze to him.  For the briefest of moments, Vimes thought she was going to strike.  He moved back an imperceptible amount but held his gave on his Captain.  He felt her relax ever so slightly, and she did nothing more.
The Patrician too had looked to where Vimes and Angua were standing.  He then looked back to Lady Margolotta.
'Yes,' he said, simply.
Lady Margolotta took a step back, as if Lord Vetinari had just slapped her in the face.  When she didn't say anything, he continued.
'The law is the law, my dear.  I can no more allow it to be circumvented by you than I can by me, or anyone.'
'But he…' said Lady Margolotta, pointing a pale finger to where Lord Rust sat, bedraggled, on the ballroom floor.
'Will be dealt with, of that you can be sure.'  Lord Vetinari never broke eye contact, never wavered in his steady tone.
'But…'
'Tell me, my lady, how go vampire relations currently?  What is the general mood, out there?'  Lord Vetinari swept his arm to indicate the wider world.
The question seemed to confuse Lady Margolotta, as her frown returned.
Lord Vetinari continued.
'I hear good, and I pride myself on being a relatively well-informed man.  So, how would it look if you were to tear out Lord Rust's throat here and now?'  At this, Lord Rust could be heard whimpering.  Someone in the crowd whispered – a little louder than necessary – that he had probably wet himself.
'Or even if you were to drag him off,' said Lord Vetinari, continuing.  'And do what you would to him in some darkened corner or recess of your stately home, people would know.'
Lady Margolotta resumed some of her normal self and addressed this point.
'What do I care what people think?  This man has insulted our collective honour!'
Lord Vetinari sighed.  It was small, but it was there.
'You should care,' he said.  'As an ambassador to your country, and to your kind, you should most definitely care.  What are we if we stoop as low as those who seek to wrong us?'
But you,' said Lady Margolotta, no small amount of accusation in her voice.  'I have seen how you rule.  You rule through fear.  That is just as bad!'
One of Lord Vetinari's eyebrows went up.
'Do you really think so?  I may be somewhat lax in quashing the rumours that circulate this city as to my methods, but kill indiscriminately?  No.  That is no way to rule.  That is no way to act.'
At this, Lady Margolotta flushed anew.
'Who are you to tell me how I should act?'
The ruler of the city you are in, I am afraid.  But, more importantly, I am the father of your child and the man you love.  So, I ask you, my lady, as all three of those men, please, don't do this.'  Silence rang out between the two, and Lady Margolotta looked into the eyes of Lord Vetinari.  She could kill him, kill them all, with terrifying ease – well, maybe not so the werewolf – but he knew her.  She was no monster.
Eventually, her expression softened, and she bowed her head slightly.
It was done.
'Very well,' she said, quietly, and with a touch of hurt in her words.  The room seemed to fill with air again, as if someone had lifted an enormous bell jar from over the ballroom.  Vimes took in the moment and stepped forward, determined that the law was going to take charge from this point.
'Captain Angua,' he said, authoritatively.  'Take Lord Rust into custody on charges of blackmail, grand larceny, conspiracy to commit grand larceny, and attempted murder.'  Angua strode forward, casting a wary glance at Lady Margolotta as she did so, and hauled the aged lord to his feet.  He did not resist at all, but allowed himself to be led, head hanging low, from the room.
He looked exhausted.
Once Lord Rust was safely out of the room, Commander Vimes turned back to face the trio of Lord Vetinari, Lady Margolotta, and their apparent son.
The thief.
Vimes frowned.
'I want answers,' he said, sternly.  'And I want them now.'  His steely gaze moved between the three of them.
'And you shall have them,' said Lord Vetinari, as calmly as ever.  'Tomorrow.'
Vimes blinked.
'I'm sorry, what?'
'I said, Commander, that you shall have the answers you seek tomorrow.'
Vimes' frown intensified.  He knew that he was treating with his boss – with everyone's boss – but the law was the The Law, and Vimes' career had not been spent flying this flag to have it trampled on by the mere whim of one man, no matter who he was.
Lord Vetinari made to leave the proceedings, but Vimes stepped in front of him, barring his way.
'I'm sorry, sir, but I cannot allow you to leave.  Not yet.'  The Patrician looked at Vimes, but instead of the dreaded eyebrow raise there was simply a man.  A father.  When Vetinari spoke again it was with uncharacteristic humility.
'My dear Commander, you have my word, one father to another, that all will be revealed in due course.  Clarence will not leave my side, and he will be present when you report to me at nine AM tomorrow morning.  My office.'
'But…' Vimes tried to interject.
'In the meantime, though,' said Vetinari, cutting across him.  'I ask that you allow me this evening to enjoy the company of my son, a luxury that you enjoy daily, and one that I have not had these past eighteen years.'
Vimes looked at the man standing in front him of, and perhaps for the first time he saw not Lord Vetinari, Patrician of Ankh-Morpork, but Havelock Vetinari, the man.  Just a man, asking to be permitted time with his son.  He thought of his own son, of Young Sam, and his insides squirmed unpleasantly.
He couldn't do it.
Vimes stepped aside.
'Thank you, Sam,' said Lord Vetinari, placing a hand on the Commander's shoulders.  No one else heard it, but Vimes felt his mouth drop open upon being addressed by his first name.  The only other living person who ever called him Sam was his wife, and to be spoken to in such human tones by the Patrician was a sensation that his mind was simply not prepared for.
Sam Vimes stood there, not knowing what to do and what to think, as Lord Vetinari and Lady Margolotta left the ballroom with their son.
*           *           *