Headology 101 - Chapter 7 - From Beyond the Veil (Part 1 of 2)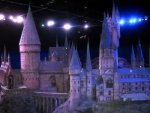 Sun, 01 Mar 2015
It was nighttime, at least Harry assumed it was nighttime, Grimmauld Place was certainly quiet enough for it to be so, but that was just it, he could have sworn the Christmas holidays had ended and he had returned to Hogwarts, but here he was.  Sitting on the edge of his bed with nothing but the pressing quiet surrounding him, he could not even hear Buckbeak moving about upstairs; the house was completely still.
And then something caught his eye.
Someone, or something, had moved silently past his doorway but he was not quick enough to see what it was.  Breathing deeply from the shock, Harry moved cautiously to his door and peered tentatively out into the hallway.  He was just in time to see the back of a head disappear down the stairs, and even though he could not see a face there was no mistaking those dark, tousled locks.
It was Sirius again.
Harry instinctively called out to Sirius but his voice simply echoed around the hallway, garnering no response.  Flinging his door aside, Harry started down the stairs after his late godfather, missing steps as he hurtled along after Sirius.  Harry was quite sure there were not this many stairs in Grimmauld Place and no matter how fast he ran he only ever seemed to catch mere glimpses of Sirius turning a corner or disappearing down another flight.  Continuing to call after him, Harry pursued Sirius for what seemed like an eternity until finally he came to the last set of stairs and was left standing breathless in the main hallway.  Ordinarily, the kind of noise Harry was making would have roused Mrs. Black from her slumber and set her off on another tirade about blood traitors but the only sound that Harry could hear was the blood rushing in his ears and the deep, ragged breaths he was drawing.  This was of little consequence to him though, as Sirius had gone.  Harry turned to call out again but noticed that the kitchen door was slightly ajar, which was odd because Mrs. Weasley always closed it at night.  Venturing forward, Harry pushed the door to the kitchen open slightly and stepped inside.
Sirius was here.
Standing in front of the large table that occupied most of the floor space, Sirius looked upon Harry was sad eyes and a smile.  Harry could feel the tears welling up behind his eyes and his throat constricting, but Sirius said nothing.  Around the table, other members of the Order were seated; Dumbledore, Snape, Professor Weatherwax, but none of them looked up when either Sirius or Harry entered the room.  Instead they sat in complete silence, totally oblivious to the world around them and Harry was about to try and talk but Sirius' gaze left his godson and he walked slowly around the table, passing each of the seated Order members in turn before coming to rest behind Professor Weatherwax.  Gently, Sirius laid a hand on her shoulder and once again smiled at Harry, but Professor Weatherwax now too turned her gaze on to Harry, and that was when Harry became aware of the noise.  It grew out of the silence, steadily getting louder until Harry realised that it was his name he could hear.
It sounded like…
'Harry.'
Harry blinked open his eyes to see Professor Dumbledore leaning over him, his bright blue eyes steeped in concern.  Harry looked around to find himself in his bed at Hogwarts; Ron, Neville, Seamus and Dean were all standing around the bed looking worried and tired.
'Wha…' was all that Harry managed to get out.
'Get dressed Harry,' said Dumbledore.  'I must see you in my office at once.'
*          *          *
After explaining briefly to his roommates what had happened in his dream, Harry made his way as quickly as he could to Dumbledore's office.
'Come in Harry,' said Dumbledore from the other side of the door before Harry even had chance to knock.  Stepping inside, Harry saw that Professor Weatherwax was sitting just to the side of Dumbledore's desk and both she and the Headmaster watched him as he crossed the room and took a seat.
'I am sorry for bringing you up here so early on a Saturday,' said Dumbledore.  'But there are things that we need to discuss, particularly that dream you were having.'
'How did you know about that?' asked Harry.
'Well you were making an awful lot of noise,' said Dumbledore with a slight smile.  'Mister Filch says he could hear you all the way out in the corridor, he was less than pleased.'
'Oh, I'm sorry,' said Harry embarrassedly.
'Not to worry, but I do feel that your dream is important.  You saw Sirius again, didn't you?'  Harry was about to ask how the Headmaster could have known about that but he realised that he had been calling out Sirius' name in his dream so he guessed it was no surprise as to who he had been dreaming about.  Instead he nodded mutely.
'And what happened this time?'
'I was back at Grimmauld Place,' began Harry uncertainly.  'It was all quiet and then I saw something pass my door, Sirius.  I called after him but he didn't answer so I followed him down to the kitchen.  And you were there Headmaster, and you Professor Weatherwax, and Professor Snape, but none of you seemed to notice us.'
'Go on,' said Dumbledore.
'Sirius was just standing there, looking at me, but then he walked around the table and stood behind Professor Weatherwax.'
'Did anything else happen?'
'Yes, just before I woke up Sirius put his hand on Professor Weatherwax's shoulder and you looked up at me, and that's when I woke up.'
'I see,' said Dumbledore, clearly turning it all over in his mind.
'Professor, what does it mean?' asked Harry.
'Sirius Black was a good man,' said Dumbledore solemnly.  'I never wanted to believe the charges that sent him to Azkaban but he was strong enough to survive that hellish place, and it seems part of him was strong enough to even survive death.'
'But why couldn't he come back as a ghost?' asked Harry, remembering the disappointment he felt when this didn't happen right after Sirius' death.
'Not everyone can,' said Dumbledore.  'And there are no reported cases of people who were unfortunate enough to fall through the veil ever being seen or heard of again, until now.'
'What do you mean?' asked Harry.
'I know Sirius, if he could have come back as a ghost he would have but that door was apparently not open to him, so he found another way.'
'In my dreams?'  Dumbledore simply nodded.
'But what does he want?'
'Why, to see you of course,' smiled Dumbledore.  'And to help.  He loved you dearly Harry and that love, coupled with the strength he no doubt possessed, must have forged enough of a link with you that he, or at least part of him, could return.'
'But he never talks!'
'Perhaps he is unable,' said Dumbledore more seriously.  'Perhaps it takes all the strength he has just to appear to you, maybe that is why you do not see him all the time, he may have to store up strength for his, shall we say, visits.'  Harry looked at his hands for a moment and the silence hung in the air like a velvet cloth.  Eventually Harry spoke.
'I miss him.'
'We all do,' said Dumbledore reassuringly.  'I know this must be hard for you Harry, to be able to see but not talk to Sirius must cause you great pain but it is my firm belief that he is revealing himself to you in order to aid in your fight against Lord Voldemort.'  At the mention of The Dark Lord Harry heard Professor Weatherwax tut to herself and mutter something that he could not quite make out.
'That, I am afraid Harry, is the good news.'
'What?'
'I am afraid so, it may not be much comfort for you to be able to occasionally see Sirius in your dreams but never talk to him but it seems clear to me that he is indeed pointing you in a certain direction.'
'What direction?'
'Mine,' said Professor Weatherwax.
'Yes Harry,' said Dumbledore.  'I believe Sirius was prophesising the vital role that Professor Weatherwax will play in our struggle against Voldemort, but this leads me on to the bad news.'
'What is it?'
'After his unexpected visit at the Halloween Ball I realised, with no small amount of displeasure, that Lord Voldemort has also forged a strong link with you.'
'But didn't we already know that?'
'Yes, but I was not aware of the extent of this connection, and I do not believe that Voldemort was either, not until recently anyway.'
'So what does this mean?' asked Harry, who did not like where the conversation was heading.