Headology 101 - Chapter 7 - From Beyond the Veil (Part 2 of 2)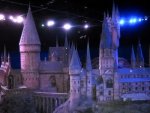 Sun, 01 Mar 2015
'It means,' said Dumbledore grimly.  'That Lord Voldemort has the power to enter Hogwarts when I thought we had enough magical securities in place to keep him at bay.  I regret to say that I was wrong.'  There was something Harry definitely did not like about the idea of Professor Dumbledore being wrong.
'So we're helpless against him?' asked Harry, who could feel the panic rising inside of him.
'In a pig's eye we are!' snorted Professor Weatherwax.
'Not at all Harry,' said Dumbledore.  'We still have the means to fight him, and with Professor Weatherwax I feel confident that we have a certain advantage, but what this does mean is that Voldemort can, and very likely, bring the battle to us here at Hogwarts.'  Harry opened and closed his mouth a couple of times as he thought of all the students that attended Hogwarts, all of the students and their families.  Voldemort would simply love the opportunity to cause the kind of mayhem he could cause inside Hogwarts.
'We can't let him,' said Harry finally.
'Damn right we can't,' said Professor Weatherwax.
'Perhaps I should explain why our dear Professor Weatherwax has been so vocal on the subject of Lord Voldemort,' began Dumbledore.
'Don't call him that Albus,' said Professor Weatherwax disdainfully.  'No matter how you dress him up he's still little Tommy Riddle, always will be.'
'You know him?' asked Harry.
''Course I do, knew him when he was just a lad…before he came to Hogwarts,' said Professor Weatherwax when she saw Harry was about to ask a question.
'Why didn't you say anything before?  You knew we were fighting him.'
'I did not,' protested Professor Weatherwax.  'I knew you were fighting some bloke calling himself Lord Voldymort or something silly, but I didn't know he was Tommy Riddle.'
'But how do you know him?'
'I used to catch him scrumpin' apples back in Lancre.  Nasty little piece of work he was, which was a shame 'cos his Mum and Dad were nice, hard working folk.  Must've broke their poor hearts when he turned proper evil.'
'Proper evil?' asked Harry.
'People like Tommy Riddle don't just decide one day to be evil, at least not as evil as him, they're born like it.  It just depends on whether you decide to go professional with it.'
'So what can you do?' asked Harry, still unconvinced that the Order was prepared enough for a direct battle with The Dark Lord, but the look that Professor Weatherwax gave him said that she could show him but chances are he would not like it one bit.
'Regardless of the actual methods,' cut in Dumbledore.  'I have every confidence in Esmerelda's abilities but that is no reason to let our guard down.  While it is true that our defences may not keep Vol…Tom Riddle out of Hogwarts, we have enough set up that we will know when he is near.'
'Right Albus, if you're done with me, I'd like to get ready for my next class,' said Professor Weatherwax, standing up.
'Of course Esmerelda, of course,' said Dumbledore, smiling.  'Now Harry,' he said after Professor Weatherwax had left the room.  'As for my role, I have to say I am impressed with the progress you have been making with your Occlumency studies but I would like to test you if I may, right now.'
'Why now?'
'Because you have not had time to prepare, and that is almost certainly the situation you will find yourself in when facing The Dark Lord.'
'But I promised Ron and Hermione that I would meet them for breakfast.'
'I think,' smiled Dumbledore warmly.  'That Mister Weasley and Miss Granger have more pressing matters on hand at the moment.'
*          *          *
Wrapped up against the cold, Ron and Hermione were walking together through the snow around the edge of the lake, which had been charmed not to freeze over on account of the giant squid.  Ron was concerned for his best friend but if he was honest with himself he was glad for the opportunity to be able to spend some time with Hermione alone.
'I'm worried about Harry,' said Hermione, her breath fogging in the crisp winter air.
'Hmm, me too,' said Ron quietly.
'Are you alright Ron?  You've been acting really funny lately, is there anything the matter?'
Look how red her cheeks get in the cold, thought Ron.  God she's beautiful.  Say something you idiot!
'No, I'm fine.'
Smooth.
'Okay, but you would tell me if something was bothering you?'
'Yeah, 'course.'  Silence set in again as they doubled back on themselves to avoid The Whomping Willow but inside Ron's inner voice was screaming at him.
Talk to her you fool!
Say anything!
Compliment her hair, her eyes, anything!
'Er Hermione, I love…what you've done…err…with your eyes today.'  Somewhere inside Ron his inner voice kicked itself.
'Er thank you Ron,' said Hermione.  'That was very sweet of you.'  They continued on for a few paces before Hermione somehow lost her footing and fell slightly to the side, bumping into Ron.
'Are you alright?' he asked, as he helped her to his feet.
'Yes, thank you,' said Hermione, but as they continued to walk she did not take her hand out from the crook of Ron's elbow.  Swallowing hard, Ron could feel the heat rising in his face and he knew that his ears must be turning pink and heading straight for red.  Once again, Ron's inner voice could not contain itself.
Are you blind?  She did that on purpose!
She likes you, go for it!
Stopping in his tracks, Ron turned to face Hermione, causing her hand to slip out from his arm.
'Hermione, I…err…'
'What is it Ron?'
'I just wanted to…I mean I…You…We…'  Words completely failed him and his inner voice was being no help at all, it had apparently given up on him and shut up shop for the day, but when Hermione took his hands in hers and smiled Ron thought he was going to die.
'It's alright Ron, I know.'
'…You do?   How?  I mean…'  Hermione giggled slightly before continuing.
'Ron, I'm a girl, we just know these things.'  Ron felt like he was trying to swallow a cauldron sideways and his legs felt as if they would give out on him at any moment.
'Why didn't you say anything?' he managed, finally.
'Because it was so sweet watching you try so hard,' smiled Hermione, giving his hands an affectionate squeeze.
'I…I don't know what to say,' stammered Ron.
'Obviously,' said Hermione, as she leaned in to kiss him.  However, just as their lips were about to touch a snapping twig sent Hermione swivelling on her heel.  She managed to catch a glimpse of a small hooded figure stooped beside a tree before it darted back into the Forbidden Forest.
'What was that?' asked Ron.
'I don't know,' said Hermione.  'But we should tell Dumbledore right now.'
'Not yet,' said Ron, pulling Hermione back as she went to run off in the direction of the castle.  Almost tripping on her own feet, Hermione stumbled into Ron and before she knew what was happening he had her face in his hands and was kissing her.  She melted into him and slid her arms around his neck for what seemed like an entire lifetime, but the immediate danger of the anonymous hooded figure quickly came back and she reluctantly pulled away.
'Come on,' she said, breathing heavily.  'We need to tell Dumbledore.'  As she started towards the castle both Ron and his inner voice exclaimed a mighty 'Yes!'
*          *          *
Approaching his mater's chamber nervously, the hooded figure fretted endlessly about what awaited him.  He had been seen and he knew his master would know, he always did and secrecy had been a top priority.  He stopped at the correct door and was about to knock when a thin, raspy voice stopped him cold.
'Get in here!'  The hooded figure opened the door and scurried dutifully over to his master's chair, where he immediately stooped himself in deference.
'You were seen!' said Lord Voldemort.
'My humblest apologies master, I…'
'Silence!  Do not waste your pitiful breath apologising, it sickens me.'
'Yes master.'
'They will run to their precious Dumbledore, the old fool, and he will know I sent you.'
'It was a dreadful mistake my lord,' grovelled the figure.
'Evidently, and one I am sure you are anxious to make amends for.'
'Oh entirely master, entirely.'
'Good.'  With a casual wave of his thin, bony hand, the hooded figure was instantly engulfed in crippling, agonising pain, his anguished screams echoing throughout the room, reverberating off the walls, floor and ceiling.
'They will be expecting me soon,' said Voldemort to himself.  'I would hate to disappoint them.'